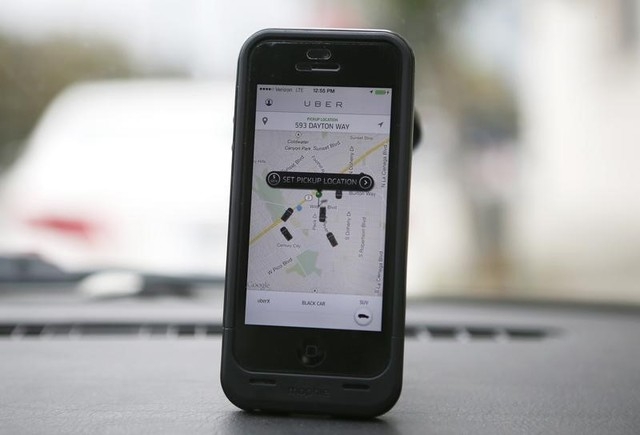 The head of the state's Business and Industry Department met Monday with representatives of Uber, but there was no indication that there is any change forthcoming that would enable the company — shut down since Wednesday — to restart operations.
"I met with several representatives from Uber today to learn more about the specifics of their business model and to discuss possible paths they can take if they wish to operate legally in Nevada," Director Bruce Breslow said in a Monday email.
Breslow didn't elaborate on details of the meeting, who attended, how long it lasted or whether another meeting is scheduled.
Uber officials also didn't provide any details about the meeting, but a spokeswoman continued to criticize state regulations, emphasizing that the shutdown the company is calling temporary is preventing its contracted drivers from generating income.
"There's a clear disconnect between the governor's staff and the urgency of so many jobs lost due to outdated regulations," Uber spokeswoman Eva Behrend said. "No one understands that urgency more than the nearly 1,000 Nevadans who need to get back to work. We're hopeful a quick solution will help support them in this effort."
Uber, the San Francisco-based ride-sharing transportation network company, began offering rides to customers on Oct. 24, but disabled its app to customers and its contracted drivers within the state on the eve of Thanksgiving, vowing to return when it could determine a way to operate legally in the state.
Because Uber has refused to license itself as a common motor carrier by obtaining a certificate of public convenience and necessity, District Judge Scott Freeman in Washoe County issued an injunction on Nov. 25 forbidding the company from operating throughout the state.
Uber contends it isn't a transportation company but a technology company that matches people with cars to people who need rides.
Although there was no apparent movement in Uber's bid to restart operations, the company continued to encourage its contracted drivers and its customers to appeal to state leaders for policy changes that would lift the ban.
Christine Hubel, who operates Christine's Concierge Service and in mid-November contracted to drive for Uber, is among the estimated 1,000 people who can no longer drive for the company.
"The additional income derived from this position has given us (her family) the ability to purchase more goods from local businesses and has resulted in additional tax income to our local community, state of Nevada and the federal government," Hubel said in a letter she sent to Gov. Brian Sandoval and members of the Nevada Senate, the Assembly and the Clark County Commission.
"This company is probably one of the best examples of American free enterprise that exists," Huber said in her letter. "It allows individuals to make their own free decisions and yet demands necessary standards be met. I am able to decide what times I work and which assignments I accept. In return I have had to submit to a background check, show proof of insurance and submit proof of possessing a valid Nevada driver's license. My car has also been fully inspected by a licensed auto repair center before I could continue to accept assigned rides."
Huber said when she was driving, she would provide four to five rides a day. She's in the midst of selling a house-cleaning business and looking toward retirement, but saw Uber as a means of supplementing her income.
"Let's be honest," she said, "Uber does not want dangerous cars or hardened criminals giving service to its customers. They also are not interested in creating costly unwanted lawsuits. The need for government to overburden them with too many costly regulations because someone thinks they are responsible for everyone else who does not promote a free society.
"As a driver, I can assure you, all my Uber customers have enjoyed the services they have received and are looking forward to Uber remaining in business here in Nevada."
While Uber has discontinued operations, it continues to advertise for drivers on Craigslist.