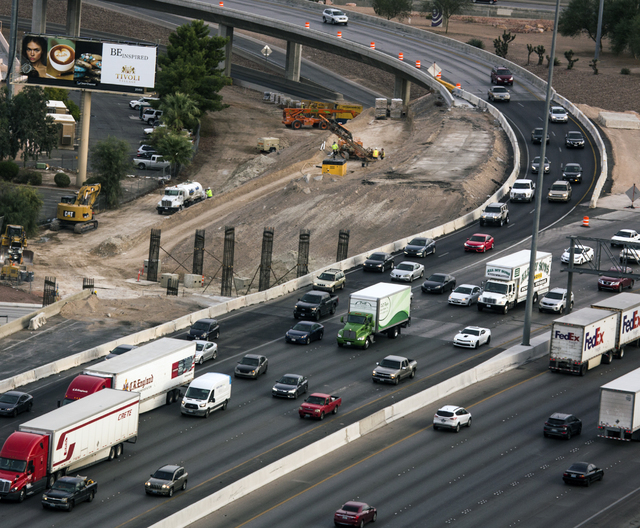 The morning commute will get a little easier Wednesday morning in downtown Las Vegas.
The construction storm known as Car-nado will start to subside at 6 a.m., when the ramp linking northbound Interstate 15 to northbound U.S. Highway 95 reopens, the Nevada Department of Transportation said.
The ramp was closed for three months as part of Project Neon, a $1 billion effort to redesign and add traffic lanes along I-15 from the U.S. 95 interchange to Sahara Avenue by July 2019, NDOT spokesman Tony Illia said.
Since October, crews moved the ramp farther north to make room for an 81-foot-tall high-occupancy vehicle flyover that will span 2,606 feet.
Car-nado will wind down over the next several weeks, Illia said. The Martin Luther King Boulevard offramp from the northbound U.S. 95 is scheduled to reopen March 5, while the street's offramp from the northbound I-15 reopens on March 30.
Car-nado officially ends April 24, when the ramp connecting southbound I-15 to the northbound U.S. 95 reopens.
Car-nado marked the first of three major closures connected to the larger Project Neon. The next phase for Nevada's largest freeway infrastructure project begins in mid-March, when U.S. 95 will be narrowed to two lanes in each direction between Rancho Drive and the Spaghetti Bowl interchange, Illia said.
The next round of restrictions will last through December, coinciding with periodic closures along freeway ramps and surface streets. NDOT officials plan to announce another pithy nickname by early March.
Contact Art Marroquin at amarroquin@reviewjournal.com or 702-383-0336. Follow @AMarroquin_LV on Twitter.