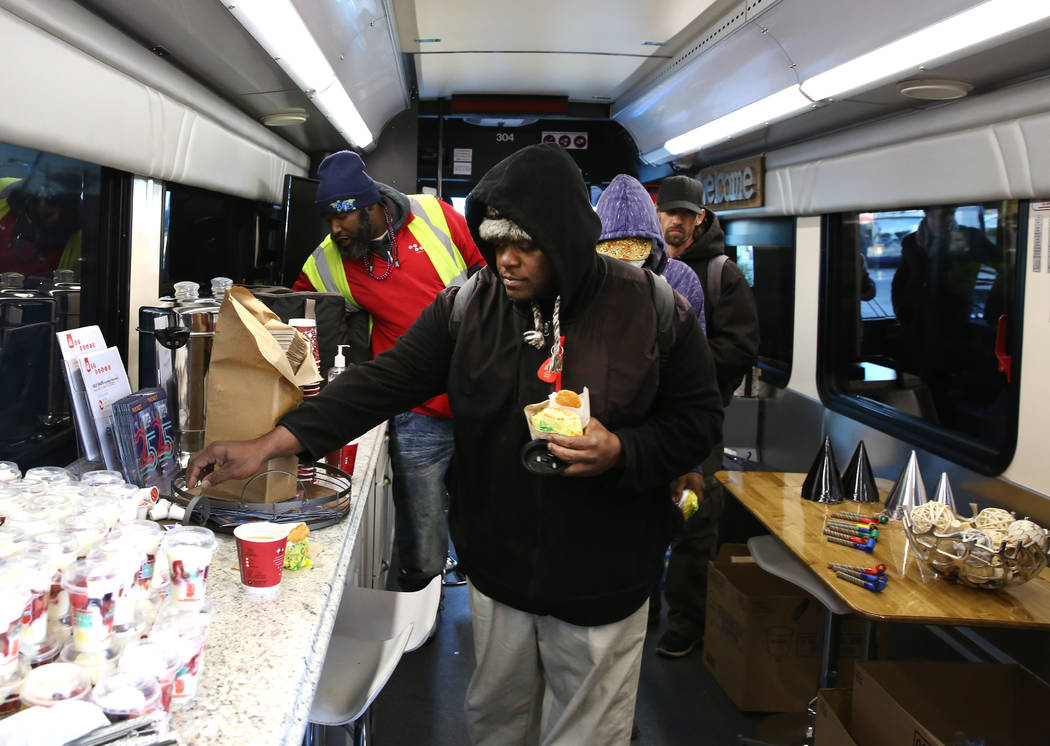 Al Evans walked away with a Las Vegas 51s swag bag, complete with a T-shirt and ball cap bearing the minor league baseball team's logo.
Ricky Tucker scored a small cleaning pad for his cellphone.
Bus riders braved the blast of winter wind early Tuesday to collect gift cards, some food and transit-related trinkets to mark the Regional Transportation Commission of Southern Nevada's 25th anniversary.
"This is a good deal for everyone," Evans, 44, of Las Vegas said while collecting his prize at downtown's Bonneville Transit Station. "I've been riding the RTC since 2005. I got my pass and I ride all day all over town."
RTC officials handed out about 100 free items at 10 bus stops across the Las Vegas Valley to celebrate the agency's founding on Dec. 5, 1992.
Las Vegas bus service was operated by a private company until state and Clark County officials established the Citizens Area Transit, which evolved into the RTC.
The transit system has grown from about five bus routes to 39 routes served by 400 buses and nearly 4,000 stops, RTC spokesman Brad Seidel said.
RTC officials are now examining 25 heavily used corridors in Clark County, including a light-rail project under consideration for Maryland Parkway. Several "high capacity" options also are being studied, including express commuter bus lines, with a report expected to be released by the end of 2018, Seidel said.
"I think they have very good bus service with a lot of places they go, and they're pretty much on time," Trienda Lighten, 59, of Las Vegas said as she boarded a bus bound for UNLV.
McDonald's donated coffee and breakfast sandwiches that were distributed inside the RTC's 40-foot-long "community engagement bus" Tuesday.
Nearby, bus riders signed up for a raffle to win a year of free bus rides or tickets to a Vegas Golden Knights hockey game next week at T-Mobile Arena.
"I'm looking for work, so I ride the bus so I know where to go," Ricky Tucker, 46, of Las Vegas said as he entered the raffle. "Hopefully, it will pay off."
Contact Art Marroquin at amarroquin@reviewjournal.com or 702-383-0336. Follow @AMarroquin_LV on Twitter.
Holiday bus schedule
RTC buses will run on a Sunday schedule on Christmas Day and New Year's Day.