Sneak peek at sculptures, park envisioned as Project Neon's snazzy centerpiece
January 3, 2017 - 10:34 am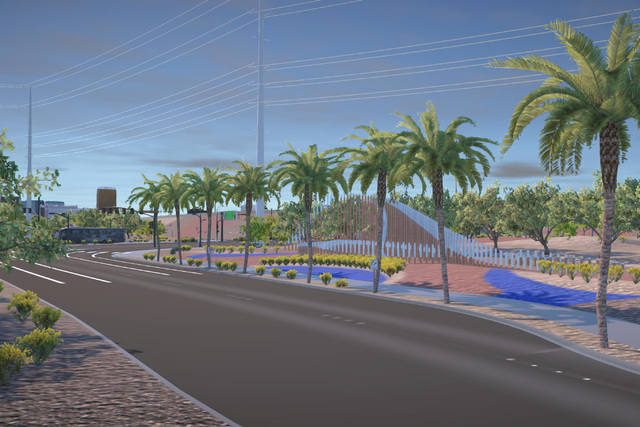 Project Neon will eventually live up to its flashy name.
Final designs are underway for two sculptures that a team of local artists and the Nevada Department of Transportation are hailing as part of a new landmark that will welcome motorists into downtown Las Vegas by 2019.
"We really enjoy the desert landscape and we also obviously like the signs and lights that make Vegas iconic, so we tried to embrace those elements in our artwork," said Zak Ostrowski, one of three artists from Punch Architecture who designed the $2 million sculptures that will be placed at Charleston Boulevard and Grand Central Parkway.
One known as Hot Dip — a series of steel posts in varying heights and colors — is a 250-foot-long undulating structure that will reach a height of 35 feet in the desert-scaped area at the northwest side of the intersection.
Across the street, a perforated metal mass of purple swirls known as Found Font, about 60 feet long and 25 feet tall, will appear to be emerging from the ground.
Both sculptures created by Ostrowski and longtime friends Drew Gregory and Clemente Cicoria will be coated with a graffiti-resistant resin.
"The idea is that each sculpture appears to move every time you pass by it," Cicoria said. "A pedestrian slowly walking by the artwork is going to have a different experience than the drivers who are going by at different speeds."
The artworks on opposite sides of Charleston Avenue will be part of Neon Dunes, a 5.5-acre oasis of sand hills landscaped with cacti, yucca trees and other drought-resistant plants inspired by Nevada's natural topography.
Energy-efficient LED lights will illuminate the $600,000 garden area, making for dramatic shadows and patterns that are meant to evoke the classic neon lights found in downtown Las Vegas.
"It's going to be one of those iconic, must-go-to locations in Las Vegas, just like the city's welcome sign," said David Farley, a senior architect with Atkins, the lead design company for all of Project Neon's landscaping.
Smaller pieces of art also will spring up as part of Project Neon, the $1 billion project redesigning and adding traffic lanes along Interstate 15 from the U.S. Highway 95 interchange to Sahara Avenue.
Metal plants and animals will dot the roadside by the time construction wraps up in July 2019, while several new retaining walls will be adorned with graphics of desert landscapes, providing a visual treat for motorists in the roughly 300,000 vehicles that travel daily through Nevada's busiest highway interchange.
During planning for Project Neon, NDOT officials wanted a snazzy centerpiece of artwork and aesthetics that would stand out to passing motorists — a reward, of sorts, for enduring three years of construction as crews rebuild the Spaghetti Bowl interchange.
Punch Architecture emerged as the winners of a competition three years ago to build it, and have since worked with NDOT to refine their plans for the artwork.
The final designs for the sculptures are expected to be approved early in 2017, with fabrication starting by summer.
The sculptures will remain in storage, waiting for installation when Project Neon wraps up in July 2019, NDOT spokesman Tony Illia said.
"It will be to downtown Las Vegas what the Space Needle is to Seattle, what the Golden Gate Bridge is to San Francisco, or what the Empire State Building is to New York," Illia said. "Those are all structures that are ingrained in the identity of their respective cities, and we're looking to create the same emotional connection here."
Contact Art Marroquin at amarroquin@reviewjournal.com or 702-383-0336. Find @AMarroquin_LV on Twitter.