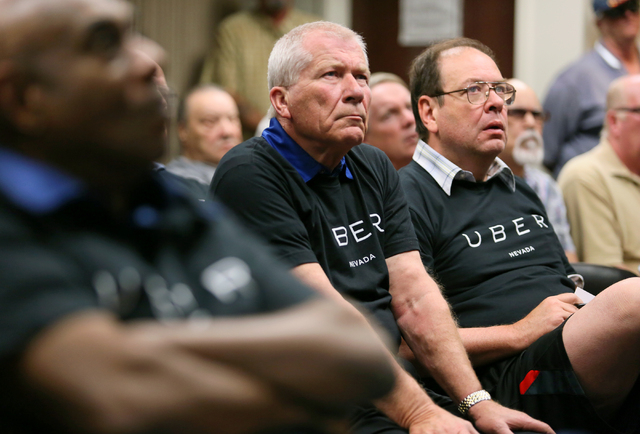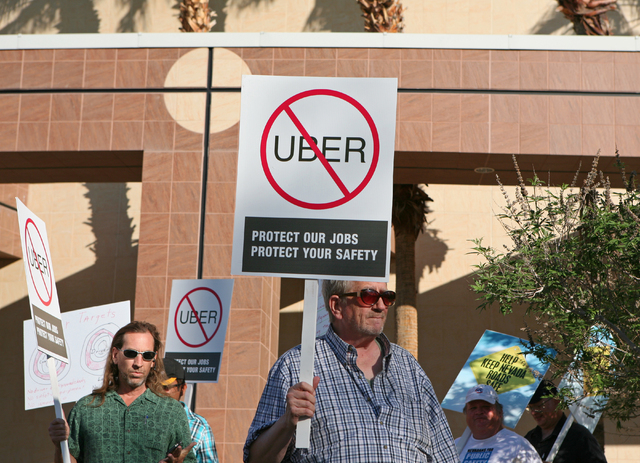 Somebody's going to be disappointed when action is taken on Senate Bill 439, the so-called "Uber bill" that, if enacted, would enable the operation of transportation network companies in the state.
Trouble is, no one knows yet who that will be.
Members of the Senate Commerce, Labor and Energy committee gave no indication which way they were leaning on the bill that got its first public hearing on Monday.
Steve Thompson, general manager of Uber Nevada, and Jonathan Schwartz, a director for Yellow-Checker-Star, the second-largest taxi group in Clark County, were both happy with their respective presentations and felt they offered strong points for the committee to consider.
Proponents and opponents of the bill attending the hearing simulcast from Carson City to Las Vegas had plenty to cheer and jeer about.
Persuasive documents from both sides of the argument were presented as evidence to the committee.
Will it be enough to persuade lawmakers to vote to establish a new regulatory system within the Public Utilities Commission of Nevada?
Adding to the intrigue is the fact that passage of the Uber bill would require a two-thirds majority vote to win approval. Sen. James Settelmeyer, R-Minden, who chairs the committee, said creation of a regulatory framework prompts the two-thirds approval.
Uber leaders on Tuesday said they're undaunted by the two-thirds requirement.
"We weren't surprised by it," said Thompson. "We've seen a lot of different regulatory systems and we work with them all the time. We've been approved in more than 30 jurisdictions across the country."
Uber's phenomenal growth is one of the reasons the Uber Nevada team is confident. The company now arranges 1 million rides a day worldwide between customers and contracted drivers and 750,000 a day just in the United States.
One of Uber's biggest challenges is working to stay ahead of negative news about the company and trying to spin negative stories into positives.
Earlier this week in Denver, for example, an Uber driver was arrested for burglary after giving a customer a ride to Denver International Airport and then allegedly breaking into the customer's home.
"You know how he was caught?" said Uber spokeswoman Eva Behrend. "We were able to provide police with his address and a picture of him."
But doesn't that show a failure in Uber's background checks?
"He had no criminal record prior to the incident," she said.
Thompson said he wasn't intimidated by the taxi industry's big-gun lobbyists, which included former Democratic Sen. Richard Bryan and former Republican Gov. Robert List.
And actually, it was Schwartz who delivered a comment that seemed to provide the most contemplation for committee members — that there are already two regulatory bodies that deal with transportation issues in the state, the Nevada Transportation Authority that oversees limousine companies and taxis outside of Clark County, and the Nevada Taxicab Authority that regulates Clark County cab operations.
Schwartz said Uber could simply apply to be regulated by one of those agencies and that would provide the level playing field the taxi industry wants.
Schwartz initially said he would still oppose Uber entering the market regardless of whether it applies for common carrier status.
Tuesday morning, the Livery Operators Association, for which Schwartz serves as vice president, issued a statement saying the organization is not opposed to transportation network companies entering the market as long as they follow the regulations for commercial motor carriers.
"But I don't expect them (Uber) to apply," Schwartz said, "because they don't want to comply with those regulations."
Behrend concurred that Uber wouldn't apply because the company doesn't consider itself to be a transportation company.
That's a point Bryant and List repeatedly hammered, suggesting that Uber had more interest enriching the company than playing fair competitively in the state.
While Uber is the company battling publicly, another transportation network company is watching the debate closely.
A representative for Uber rival Lyft attended the hearing and made a brief comment about Senate Bill 440, legislation that would modify state insurance rules to enable transportation network companies to obtain policies that would turn on and shut off depending on whether a contracted driver is carrying a passenger or trolling for rides. Observers expect Lyft would enter the Nevada market if Uber is successful in lobbying passage of SB439.
Settelmeyer expects to put the proposed legislation back on the committee's agenda next week.
Several supporters and opponents have submitted written testimony on the bill, including officials with McCarran International Airport who suggested an amendment that would make it clear that if the Public Utilities Commission does regulate transportation network companies that there would be no restriction on the airport charging fees for vehicles that pick up passengers, just as taxis already do.
If the Uber bill is passed, the Public Utilities Commission would return to overseeing ground transportation. The commission regulated some ground transportation until 1999 when the Transportation Authority — then called the Transportation Services Authority — was formed by the Legislature. The name was changed two years later when people confused Nevada's TSA with the federal TSA, the Transportation Security Administration.
Uber is regulated by public utility commissions in California and Colorado.
Contact reporter Richard N. Velotta at rvelotta@reviewjournal.com or 702-477-3893. Find him on Twitter: @RickVelotta on Twitter.

RELATED STORIES
Henderson business leaders back Uber's return
Despite Uber petition, service is still illegal in Nevada
See all of our coverage: 2015 Nevada Legislature.
Related
Uber rallies support to let it operate legally in Nevada
Despite Uber petition, service is still illegal in Nevada
Uber tries to rally public support for its technology
Nevada judge rules against ride-sharing firm Uber
Henderson business leaders back Uber's return
EDITORIAL: Legislature must let Uber operate in Nevada
Uber faces off with Nevada taxi industry in court
Uber holds first meeting in Las Vegas with prospective drivers