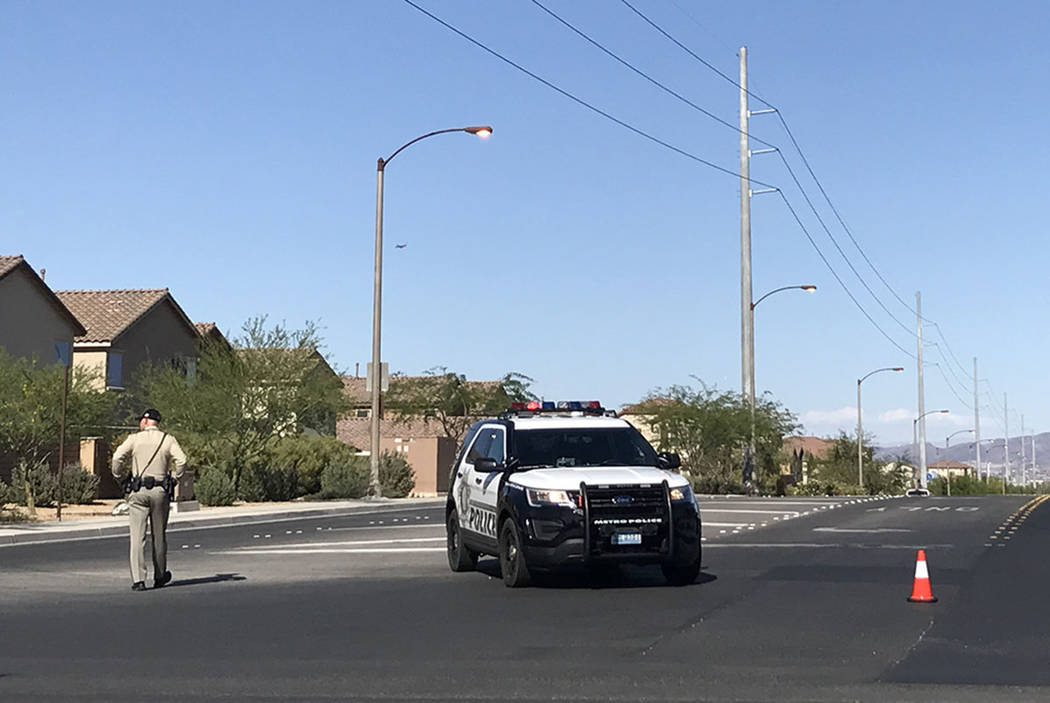 A 13-year-old boy driving a motorbike under the legal age was critically injured Saturday afternoon after he ran a stop sign and was struck by a car in the far southwestern Las Vegas Valley.
Just after 1:50 p.m., Las Vegas police were called for reports of a pedestrian down at the intersection of West Erie Avenue and South Coldwater Creek Road, near South Buffalo Drive. Arriving officers found the teenager, who was not wearing a helmet, in the street with what police were calling life-threatening injuries.
He was transported to University Medical Center's trauma unit.
The preliminary investigation showed the boy driving a 2014 Motovox was struck by a 2006 BMW 330i after "he completely disobeyed the stop sign right into the pathway of the vehicle," Metropolitan Police Department Sgt. Paul McCullough said at the scene of the collision.
It wasn't immediately clear at what speed the teenager and the BMW's 32-year-old driver were driving, but McCullough said the collision happened in a private residential street.
According to the Nevada Revised Statutes definition, scooters are considered motor vehicles in Nevada.
"For you to operate a vehicle on a roadway, you need to be at least 16 with a valid driver's license," McCullough said regarding the boy's age.
As of Saturday evening, the teenager's parents were not facing any charges.
The BMW's driver stayed on the scene and was cooperative with police. McCullough said impairment is not suspected "at all."
Contact Rio Lacanlale at rlacanlale@reviewjournal.com or at 702-383-0381. Follow @riolacanlale on Twitter.
Coldwater Creek Road and West Erie Avenue, Las Vegas