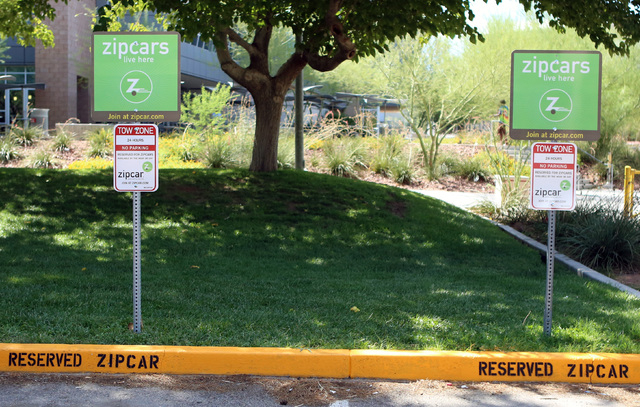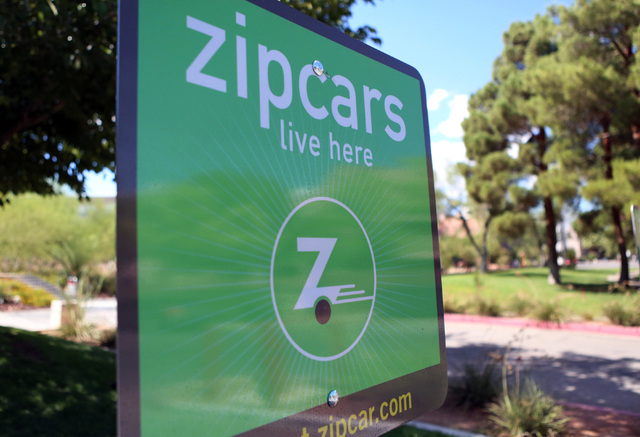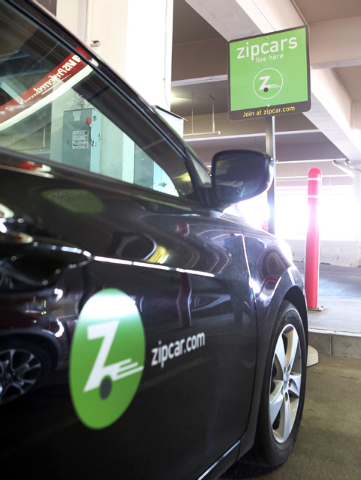 Here come the Zipsters.
You don't have to own or rent a car to drive one now that car sharing has come to Southern Nevada.
Zipcar, which calls itself the world's leading car-sharing network, arrived at the University of Nevada, Las Vegas campus and McCarran International Airport's Rental Car Center on Wednesday. Two campus cars were already checked out Thursday as evidenced by the open Zipcar parking spaces on campus.
Zipcar, a subsidiary of the Avis Budget Group, already is on 350 college campuses in North America with 11,000 vehicles, and there are 850,000 members — known as "Zipsters" — worldwide.
UNLV students, faculty and staff members will be able to use cars by the hour or day with a car-sharing membership thanks to the new partnership. Zipcar would not disclose terms of its agreement with UNLV.
Two vehicles, a Toyota Prius and Ford Focus, are available on campus for $7.50 an hour or $69 a day after paying a one-time $25 membership fee. The cost includes gasoline and insurance and 180 miles of driving per day. Cars can be reserved through iPhone and Android smartphone applications, on Zipcar's website or by phone.
UNLV officials view car sharing as a sustainability project since most of the cars provided by Zipcar are low-emission, hybrid vehicles. With more shared cars, parking capacity issues, a perennial problem at UNLV, would be eased.
"Zipcar's presence at UNLV is a continuation of our efforts to add convenient alternative transportation options for our faculty, staff and students," said Tad McDowell, director of UNLV Parking Services.
"As more students choose to live on campus and as the UNLV community turns to mass transit for their commute, Zipcar provides the freedom and flexibility for those without a car on campus to get where they need to go," McDowell said.
Boston-based Zipcar first developed relationships with college campuses in 2002 with the Massachusetts Institute of Technology and Harvard University, according to Katelyn Lopresti, general manager for Zipcar University.
"Our philosophy is to deliver wheels when you want them," Lopestri said.
She said she and UNLV officials would monitor use rates and would add cars to the UNLV fleet as needed. Past experience indicates one car can serve about 40 to 60 members.
UNLV has about 27,000 students and 2,900 faculty and staff.
Lopestri said the company carefully vets people seeking Zipcar membership.
Members must be at least 21, but students at Zipcar-affiliated universities can be as young as 18.
A prospective student member must have a driver's license and have had no more than two moving violations that are accidents in the previous three years and no more than one in the previous 18 months. Members can't have a major violation in the previous three years and no alcohol- or drug-related violations in the previous seven years.
The company's online application form takes a few minutes to complete. Once completed, the company reviews traffic records and mails a Zipcard by mail within three to seven days.
Cars are reserved free online or through the company's app or, for a $3.50 fee, by phone.
The Zipcard, which is about the size of a standard credit card, is then waved in front of a card reader in the windshield, which unlocks the car.
Since membership and use fees include gasoline, members are asked to leave at least a quarter-tank of gasoline in the tank when they drop it off. Gasoline is purchased with a gas card in the car or is reimbursed if a station doesn't accept the card.
Six other Zipcars are available at McCarran's car rental facility. Cars at McCarran include a BMW 328i, a Mazda 3 Hatchback and a Toyota Prius.
Cars are limited to 180 miles a day, but cars used over several days can use the mileage cumulatively. The company charges 35 cents a mile for use beyond the permitted mileage amount.
Contact reporter Richard N. Velotta at rvelotta@reviewjournal.com or 702-477-3893. Follow @RickVelotta on Twitter.