Nevada Poll shows Joe Heck and Catherine Cortez Masto are in close race for U.S. Sen. Harry Reid's seat
October 7, 2016 - 12:34 pm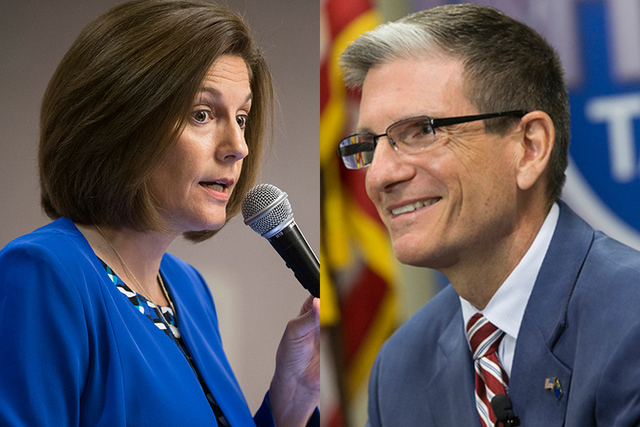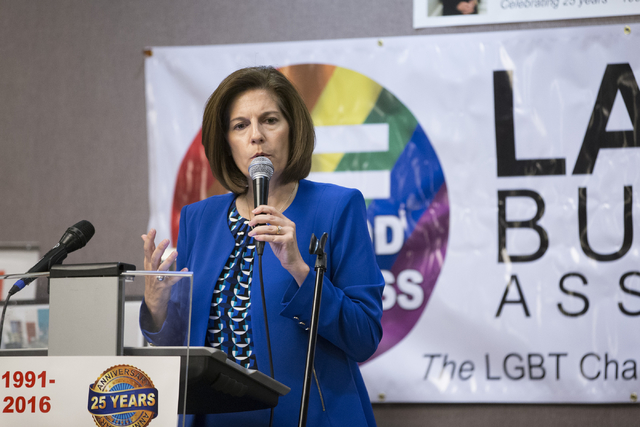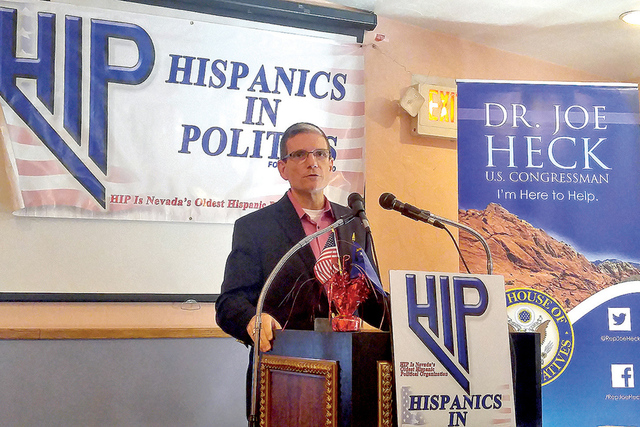 The race to replace retiring U.S. Sen. Harry Reid is still a toss-up, according to a poll of 800 likely voters commissioned by the Las Vegas Review-Journal.
The closely watched battleground race is one of the most competitive in 2016 and could determine which party controls the Senate following the Nov. 8 general election. Reid, a Democrat who has held the seat since 1987, is the current Senate minority leader and has served as majority leader.
In the poll, 47 percent of voters support Republican Rep. Joe Heck and 45 percent support the Democratic candidate, former Nevada Attorney General Catherine Cortez Masto. Eight percent of voters answered "Don't know/no answer."
Forty-one percent of the voters polled were Democrats, 39 percent were Republican and 20 percent were nonpartisan. Bendixen & Amandi International conducted the poll Sept. 27-29 in English and Spanish. It has a margin of error of plus or minus 3.5 percentage points.
Anthony Williams, special projects director of the polling firm, said the candidates are "statistically tied," because the polling margin falls within the margin of error.
Eighteen percent of voters responded "Don't know/no answer" when asked whether they found Cortez Masto to be favorable or unfavorable, compared with 13 percent for Heck.
Williams said that difference could simply be Heck having better name recognition among voters, and that could be the reason behind the slight lead.
Williams also noted the small pool of undecided voters.
"Positions are hardening," he said. "And really it's going to turn into a (voter) turnout operation."
Democrats outnumber Republicans by about 72,000 in the state as of the August voter registration statistics from the secretary of state's office. Williams also said the Democratic Party has a better ground game in Nevada.
"The state is so evenly split, this race is one where boots on the ground should make a difference, and that should give a slight advantage to the Democrats," Williams said.
Sarah Zukowski, a spokeswoman for the Cortez Masto campaign, responded to the poll results by email Sunday.
"There was never any question that Nevada's U.S. Senate race was going to be close," Zukowski said in the statement. "Joe Heck knows it, as do his billionaire benefactors the Koch brothers and the Washington special interest groups that are spending tens of millions of dollars to prop up Heck's campaign. Joe Heck has spent over half a decade in Congress choosing his Party over Nevadans, and Nevada voters are going to reject him on Election Day."
Heck campaign spokesman Brian Baluta offered his take on the poll results in an emailed statement Sunday.
"This is yet another public poll in September showing us in the lead," Baluta said. "It's obvious that their over-the-top negative ads are seen for what they are, an attempt to distract voters from Cortez Masto's partisan record as AG and that she is the handpicked candidate of Harry Reid."
The Review-Journal spoke to several Nevadans who participated in the poll to get their thoughts on the race.
Hector Nunez, a 30-year-old Democrat in North Las Vegas, said Sunday that he is worried about Heck's support of Republican presidential candidate Donald Trump.
Nunez said he doesn't have issues voting for Republicans but called Trump "a whole different issue."
Specifically, he said he's worried about two major issues: immigration and Obamacare.
Nunez's grandmother immigrated to the U.S. from Mexico and his grandfather from Cuba, so Nunez said he prefers Cortez Masto's stance that he considers more favorable to immigrants.
He's also concerned with Heck's history of trying to repeal Obamacare.
"I know it's not the best right now, but I have some friends and family who are on it and it's working pretty well for them," Nunez said.
Registered nonpartisan Shawna Freeman said the television ads thus far in the election cycle have heavily influenced her to lean toward voting for Heck.
"If half of what is displayed in the commercials about Cortez Masto is true, she needs to go to jail," Freeman said. "I don't think the ones about Heck are that bad. There are negative commercials about him, but I believe him to be an honest man."
But Marian Christopher, a 75-year-old retired patent paralegal living in Reno, feels exactly the opposite about the physician and U.S. Army Reserve brigadier general.
"I think Heck lies a lot," she said.
Christopher said she's not exactly sold on Cortez Masto as a candidate but feels as if she has been more honest in her campaign than Heck and more "forthcoming" when responding to criticism.
Fernley resident Sandra Staples, a 64-year-old registered Republican, said she dislikes Cortez Masto's personality and is supporting Heck.
"She doesn't show any sign of compassion," Staples said of Cortez Masto. "I just don't like it."
Staples said she isn't thrilled about the candidates themselves but is enthusiastic about getting a fresh face into the seat Reid has held for 20 years.
"I'm just excited that anyone besides Harry Reid will be in there, to be completely honest," Staples said.
The voters polled were selected in a two-step process that started with a general voter pool that included newly registered voters and registered voters with a history of participation in voting in the past three election cycles. Potential participants were asked directly whether they're likely to vote. Only those who indicated they're likely to vote were included.
Bendixen & Amandi International, based in Miami, has done projects for clients including The Washington Post, Hillary Clinton's 2008 presidential campaign and Barack Obama's 2008 and 2012 campaigns.
Contact Colton Lochhead at clochhead@reviewjournal.com. Follow @coltonlochhead on Twitter.
2016 Nevada Poll by the Las Vegas Review-Journal by Las Vegas Review-Journal on Scribd
METHODOLOGY
Sample: 800 likely voters in Nevada
Dates of interviews: September 27-September 29, 2016
Languages of interviews: English, Spanish
Margin of error: +/- 3.5 percentage points
Source: Bendixen Amandi International
RELATED
Nevada pot ballot measure too close to call
Nevada Poll: Likely voters back expanded background checks for firearms
RJ's Nevada Poll shows Clinton and Trump are in statistical tie
Nevada Poll: Voters strongly support Questions 3 and 4