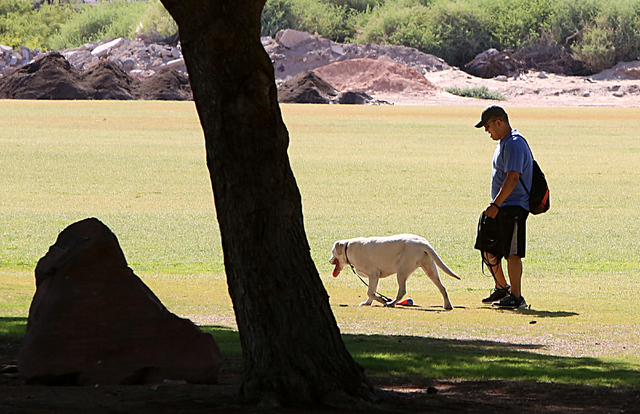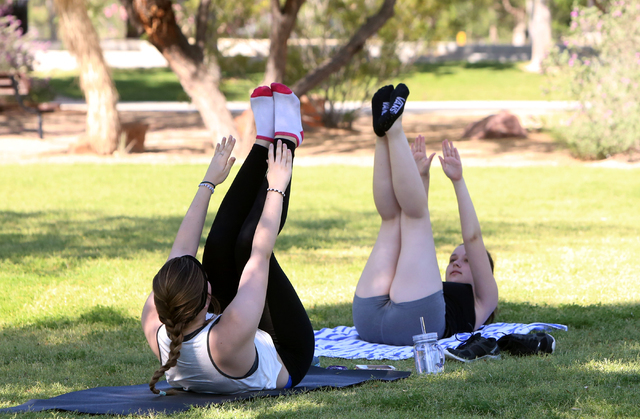 The Las Vegas Valley saw this year's first triple-digit temperatures Wednesday, and weekend temperatures are predicted to be slightly hotter than previously reported, resulting in an extension of the excessive heat warning.
Just after 2 p.m., the weather service monitoring station at McCarran International Airport recorded the first 100 degree temperature of 2016, National Weather Service meteorologist John Salmen said.
Wednesday's triple-digit high is expected to top out at 101 degrees, but temperatures will get even hotter as the week progresses, the weather service said.
Thursday's high will be near 105 degrees with a low of about 84 degrees. The low temperatures are expected to be in the low 80s through the weekend, according to meteorologist Caleb Steele.
The high temperature for Friday's date, June 3, was 107 degrees, set in 1957, and it is expected to be broken with a 108-degree high, Steele said. The high will kick off the excessive heat warning at 10 a.m. that day, he added. The heat warning will expire at 8 p.m. Sunday.
Saturday's forecast high could tie the current record of 109 degrees, set in 1996, according to the weather service.
Sunday will see a high near 107 degrees, just 1 degree shy of the record high, and may be breezy with south and southwest winds between 10 and 15 mph, Steele said.
Clark County officials warn Las Vegans about the dangers of heat-related medical issues and remind them to drink plenty of water, dress appropriately and apply sunscreen.
Contact Lawren Linehan at llinehan@reviewjournal.com or at 702-383-0381. Find @lawrenlinehan on Twitter.