Outskirts of Las Vegas Valley grapple with 'graupel'
Updated February 5, 2019 - 7:06 pm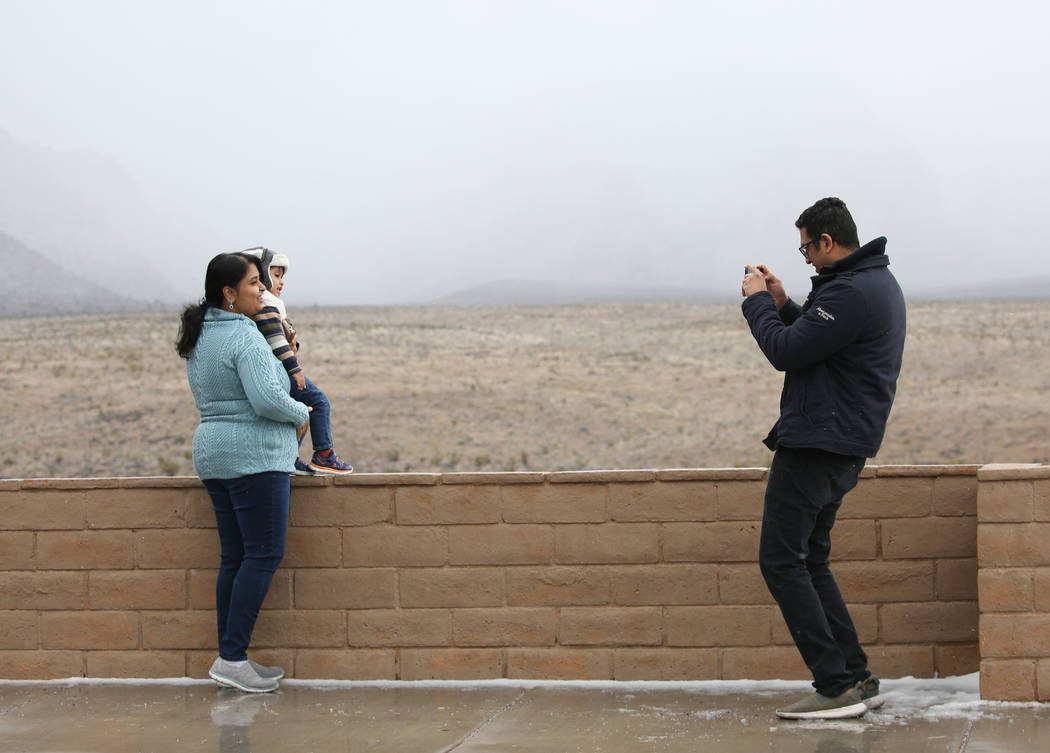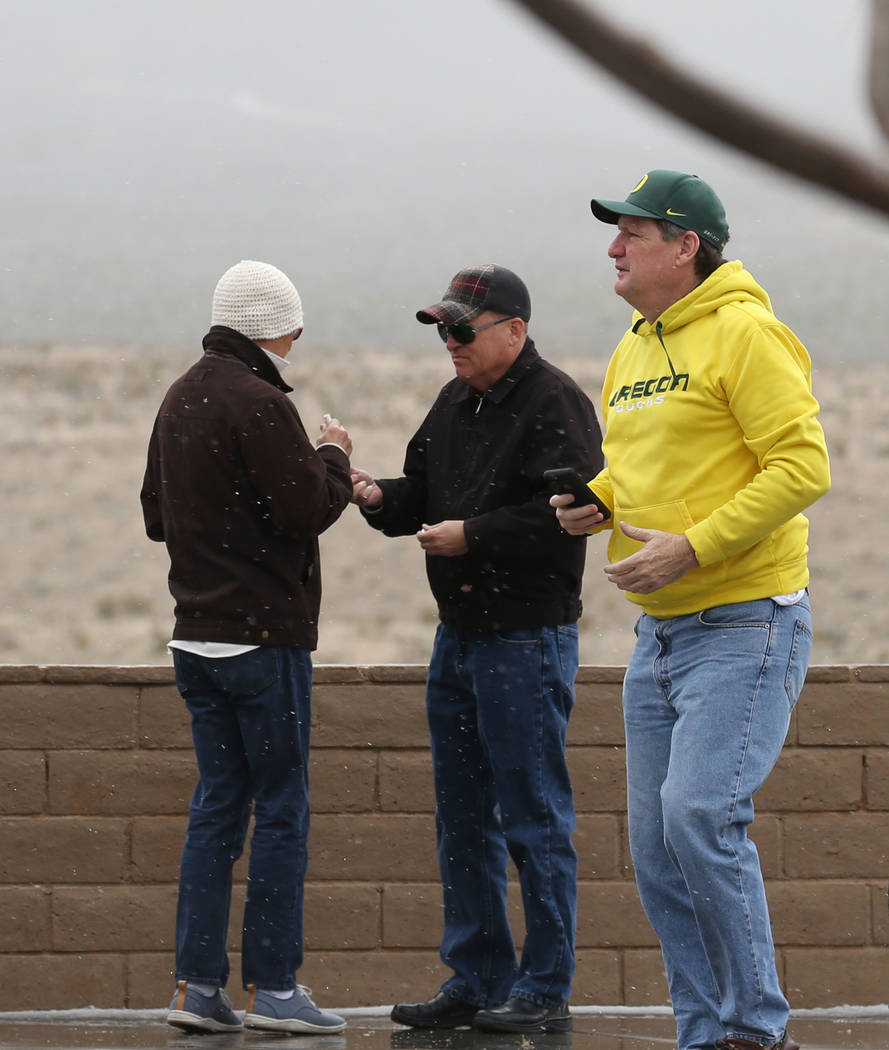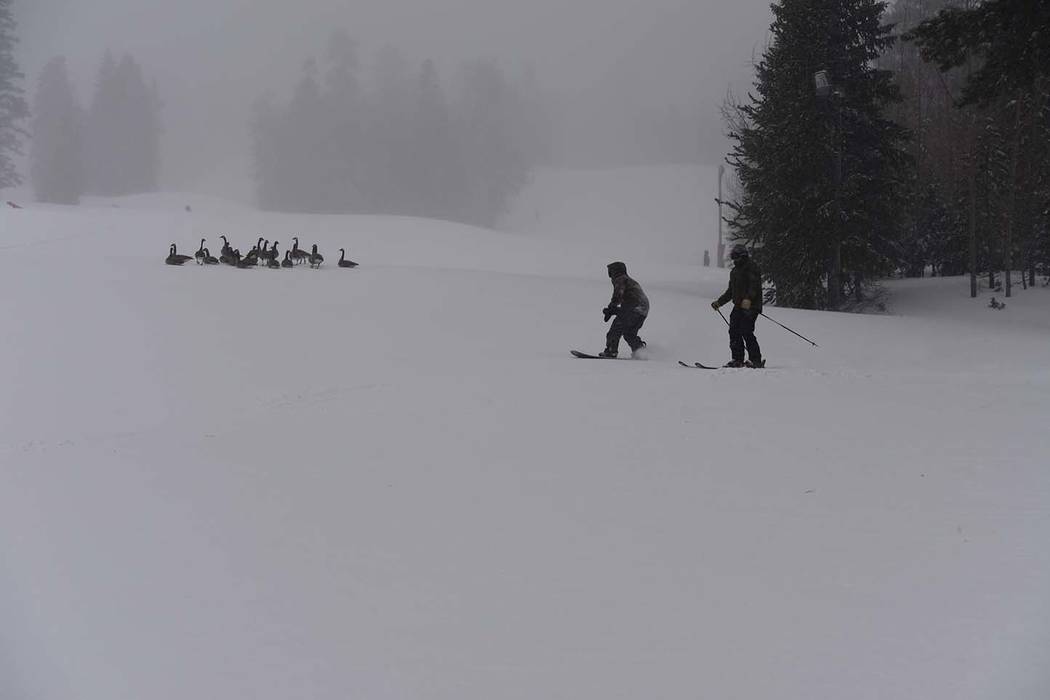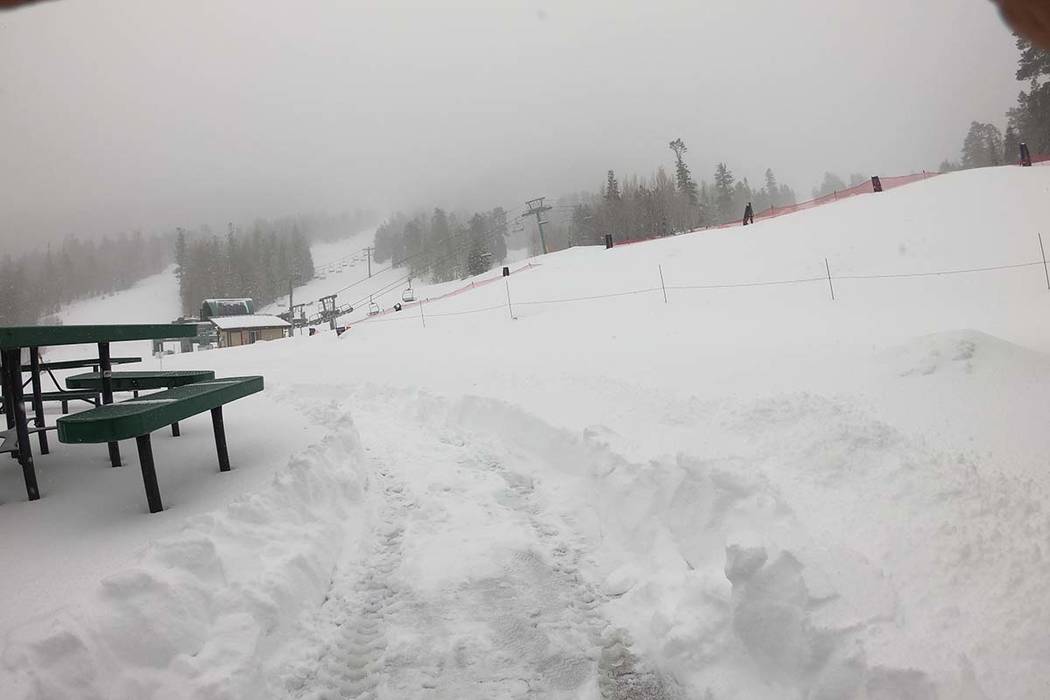 Don't call it sleet, snow or hail. Parts of the western Las Vegas Valley on Tuesday grappled with graupel, a somewhat unusual form of precipitation in which snowflakes become coated with supercooled water droplets.
Graupel, also known as snow pellets, falls from nimbus or cumulonimbus clouds, the same types that produce snow or thunderstorms, according to the National Weather Service.
It is formed when the snowflakes in the clouds encounter the supercooled water, which is still liquid even though it is below freezing. The water droplets then freeze onto the snowflakes, giving the graupel a round shape. The weather service described it Tuesday as being softer and lighter than hail.
🤓 NERD ALERT: What IS falling from the sky? We are getting this question a lot this morning. Mostly likely- most places are seeing GRAUPEL today, but how is that different from other types of frozen precipitation #nvwx #cawx #cawx #vegasweather #Science pic.twitter.com/cjvQevAZyc

— NWS Las Vegas (@NWSVegas) February 5, 2019
The first reports of what residents took to be hail came in shortly before 10:30 a.m., the weather service said.
"Soft little ice pellets coming off the mountains are hitting the ground," meteorologist Alex Boothe said. "But it's nothing that's going to be impactful to anyone."
The graupel was widespread across the valley and seemed to stop by 2 p.m., meteorologist Clay Morgan said Tuesday evening.
As was the case in the Las Vegas Valley on Tuesday, graupel can fall when temperatures are well above freezing on the ground.
In addition to graupel, parts of the valley saw some snowflakes. And many more areas experienced on-and-off showers throughout the day. The intermittent rain was accompanied by light winds of about 15 mph, with gusts up to 20 mph.
By about 6:30 p.m., most of the valley only saw about one-tenthof an inch or less of precipitation, Morgan said.
Precipitation chances were much lower going into Tuesday night as temperatures were expected to drop to about 34 degrees, he said. Wind gusts could increase to about 30 to 35 mph overnight.
"If we were to get anything in the valley the rest of the evening it would be a sprinkle," he said.
Clear skies are expected the rest of the workweek, with forecast highs of 48 on Wednesday and Thursday and 52 on Friday. Lows should remain in the low 30s through the week. The average high this time of year is 60, the weather service said.
Saturday and Sunday will see highs of 55 and 56, respectively.
Las Vegas likely won't see warmer weather until late February, the weather service said.
Hail and freezing rain are falling in Summerlin @reviewjournal pic.twitter.com/gQh5nGIdlg

— Bizuayehu Tesfaye (@bizutesfaye) February 5, 2019
Contact Jessica Terrones at jterrones@reviewjournal.com or 702-383-0256. Follow @JessATerrones on Twitter. Review-Journal staff writer Katelyn Newberg contributed to this report.