Companies investing in Las Vegas convention business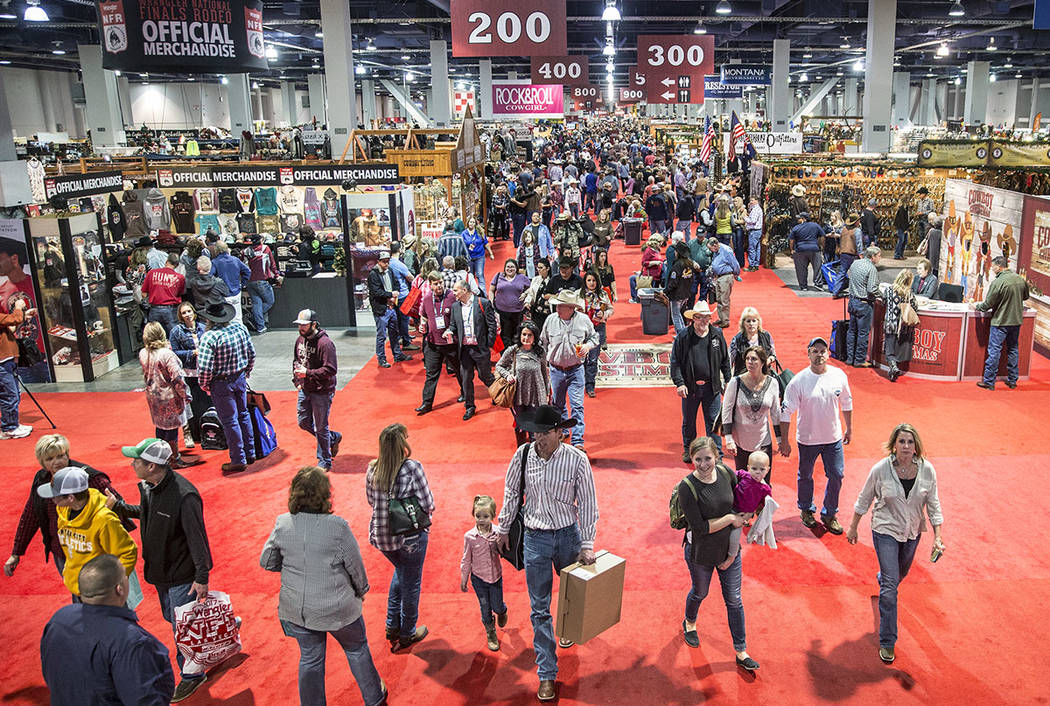 Construction crews can't get that $1.4 billion convention center expansion done soon enough.
It's clear that the meetings, trade show and convention business is essential to keeping Las Vegas tourism on track in the years ahead.
The visionaries are seeing it.
Steve Wynn is dedicating a good portion of his Paradise Park development to new convention space.
MGM Resorts International already expanded the Mandalay Bay Convention Center and is upgrading facilities at the MGM Grand Conference Center as well as converting a Cirque du Soleil theater at Aria to a meetings facility. MGM has always been bullish on the meetings industry.
Caesars Entertainment is eyeing a convention facility on an existing parking lot east of The Linq Hotel.
Even Golden Entertainment, the city's dominant tavern provider, which recently acquired the Stratosphere, is looking at adding convention and meeting space at the property.
New evidence showing the importance of meetings and conventions emerged last month when the Las Vegas Convention and Visitors Authority released its November visitation statistics.
The gray cloud of a sixth consecutive month of lower visitation numbers and the realization that Las Vegas isn't going to break 2016's record volume of 42.9 million people hid a big silver lining: In 11 months, Las Vegas already has surpassed 2016's record 6.3 million convention visitors. Whatever number of conventioneers that came in December — it's bound to be the smallest monthly total of the year because of the holiday season — is going to pad the city's convention record set in 2017.
Some of that record convention turnout is a result of the show rotation phenomenon, shows coming to Las Vegas this year when they were someplace else last year, and some of it was because of 2017 being a ConExpo-Con/Ag year. That once-every-three-years show brought an estimated 130,000 people to town in March.
But there could have been more if there had been more space at key times of the year. That's why Wynn, MGM, Caesars and Las Vegas Sands invest in convention facilities and why the LVCVA went through the painful process of lobbying lawmakers at a special legislative session to secure the means to expand the Las Vegas Convention Center.
The two major infrastructure projects that went through that process — the Convention Center expansion and renovation and the planned $1.9 billion, 65,000-seat domed football stadium — are both needed to expand Southern Nevada's tourism economy.
The stadium project is far sexier — and controversial because it involves the NFL and the Oakland Raiders.
But the Convention Center is every bit as important as the stadium, not only to boost meeting and conventioneer volume but to upgrade facilities to prevent the Chicagos, Orlandos and San Diegos of the world from stealing trade show business from Las Vegas.
The stadium groundbreaking event in November was a big day for Las Vegas. Most people don't even realize that the symbolic groundbreaking for the Convention Center expansion is Monday.
One of the reasons for the timing is that it's just ahead of Tuesday's opening of CES, Southern Nevada's biggest convention, and the show's owner, the Consumer Technology Association, has been instrumental in making the case for legislators to approve financing for the project.
As the estimated 180,000 conventioneers gather Tuesday for CES, the LVCVA board of directors will be dotting I's and crossing T's on a general obligation bond issue resolution to move ahead on that project.
In 2021, CES will be the first to use the new 600,000-square-foot hall.
Crews can't get it done soon enough.
The Review-Journal is owned by the family of Las Vegas Sands Corp. Chairman and CEO Sheldon Adelson.
Contact Richard N. Velotta at rvelotta@reviewjournal.com or 702-477-3893. Follow @RickVelotta on Twitter.