Building near Raiders stadium site has checkered, possibly haunted, history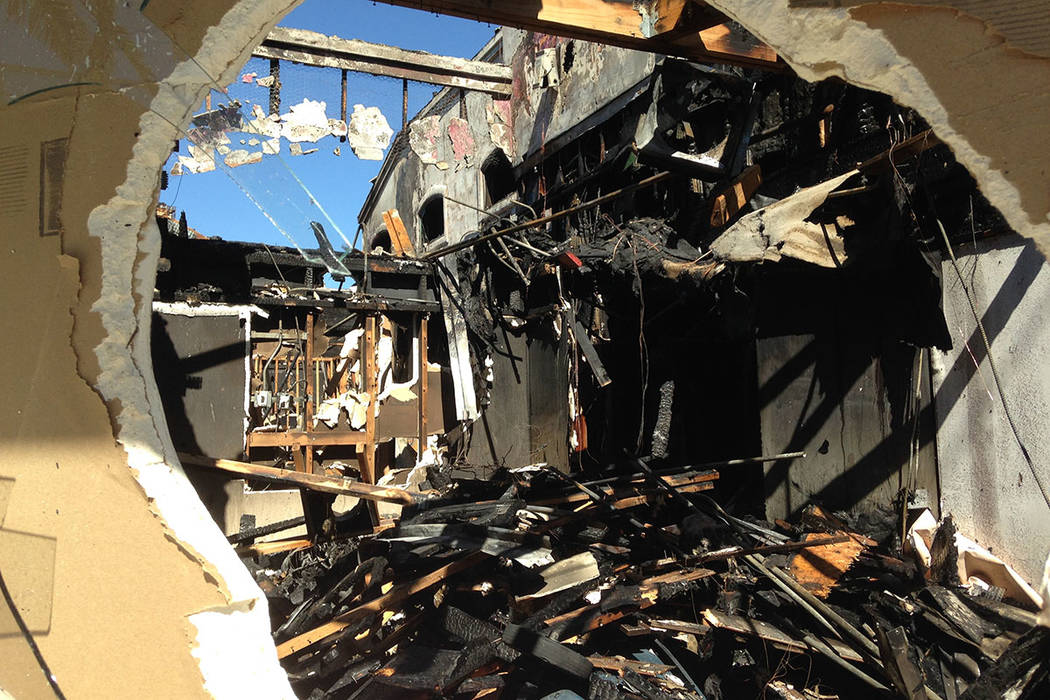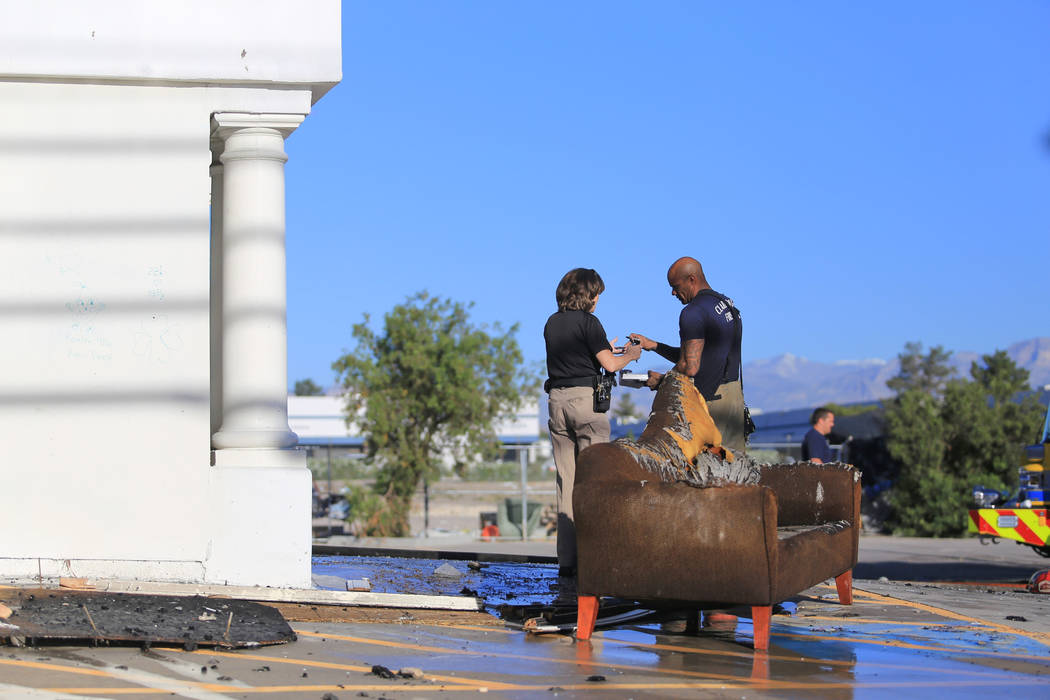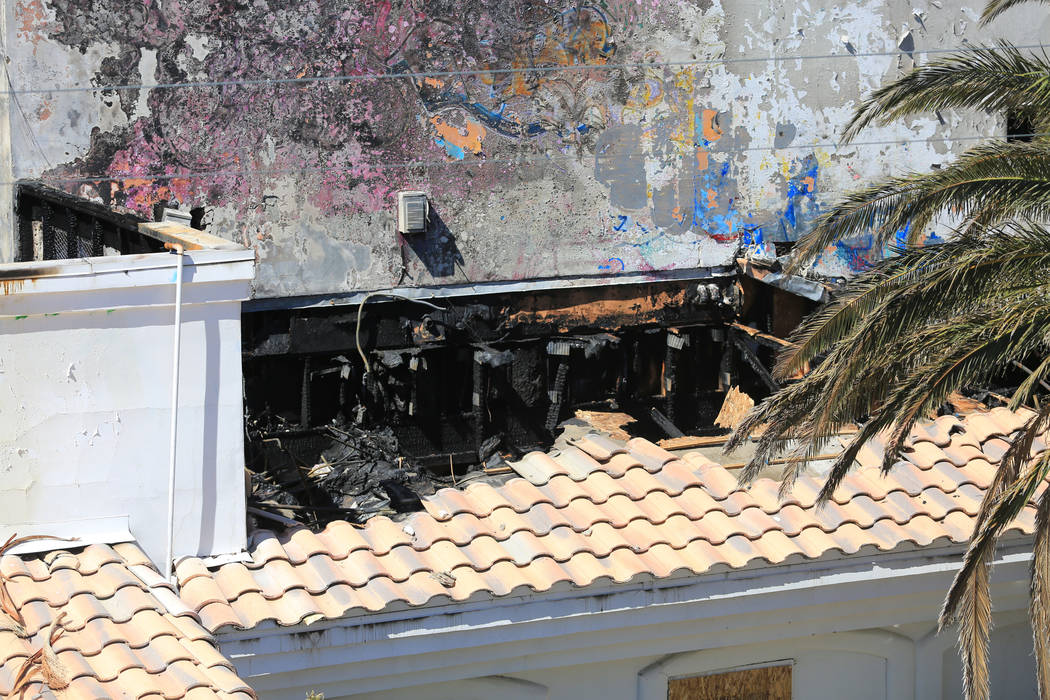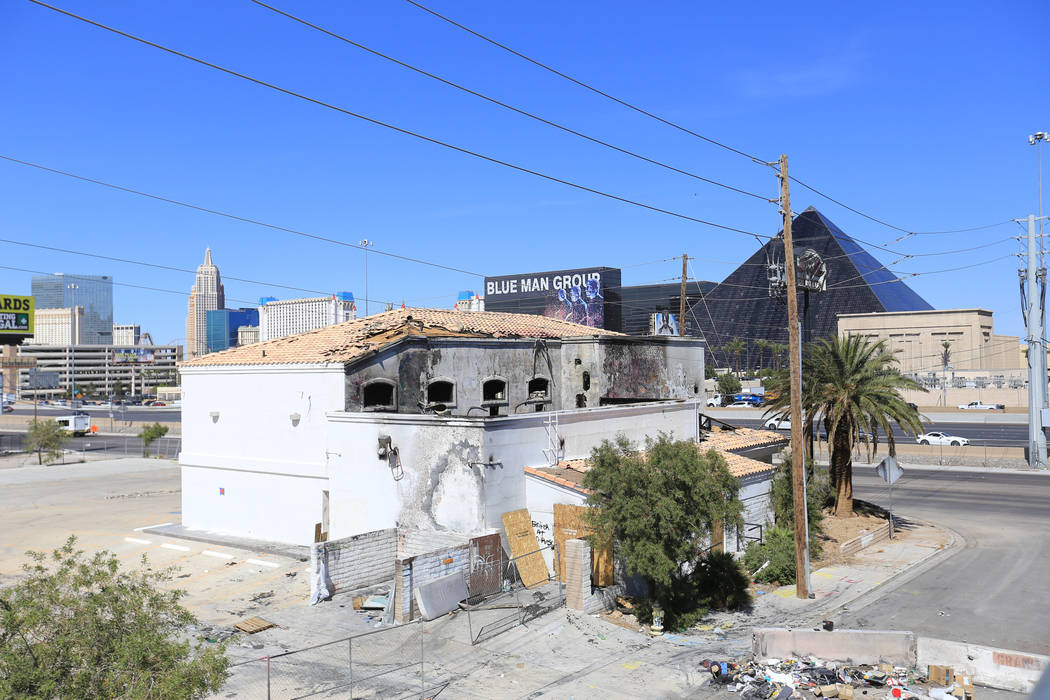 It's been set on fire and ripped apart by vandals. Its owners have been ordered to fix it or tear it down. It's even (reportedly) had paranormal activity.
And now, thanks to the Raiders, it's looking like prime real estate.
The vacant two-story building at 5285 Dean Martin Drive is just north of the NFL team's planned stadium site, separated by the Hacienda Avenue-Mandalay Bay Road overpass. It's been home to a Mexican restaurant, a strip club, a concert venue and a nightclub, according to reports, but there's no commerce in sight these days.
It's too early to say whether the Raiders' arrival in Las Vegas will spark a burst of construction right nearby; the team just bought its land on Monday, and the neighborhood is almost entirely built out, mostly with industrial properties. Also, the kinds of amenities investors might want to open near a stadium – bars, restaurants, retail – are found in abundance just a mile or so away on the Strip.
But there are some empty parcels and other possible development sites nearby that builders are bound to look at ­— including, hopefully, the boarded-up, barbecued eyesore.
It's unclear how long the building has been empty. But the current owners acquired the property through foreclosure in 2010, and conditions are only worsening.
A two-alarm fire torched the building early Thursday morning, causing an estimated $120,000 in damage. The Clark County Fire Department had responded to that address for fires four other times since August, deputy chief Jeff Buchanan said in a press release.
"That's kind of a lot of fires," said Jennifer Lewis, vice president of the Lewis Group of Cos., which owns a nearby industrial park. "Most people would probably not tolerate that."
Workers have taped red "Danger" signs to the property along with a "Declaration of Imminent Danger" that says the "abandoned and unsecured" building "has become a haven for vagrants as well as criminal activity."
A county notice stapled to the boarded-up front entrance says the building "has not been maintained" and that vagrants have moved in and caused "multiple fires." It also says vandalism "has accrued with the removal of all electrical, mechanical and plumbing," that drywall was taken from "multiple" locations and that "all fixtures have been removed."
The notice, dated March 21, ordered the landlord to clear the property of occupants, secure the building and repair or demolish it.
A group called Itai Investments owns the property. The people behind the company could not be reached for comment, but a woman who answered the phone at the Almera Group in Southern California, a mortgage firm linked to the ownership, said the landlords "were blindsided" by Thursday's blaze and were trying to "figure out what to do."
She also said it's "not true" that the property was hit with multiple fires in less than a year but did not elaborate.
The 1.8-acre property is up for sale with no apparent asking price. Listing broker Curt Allsop of Newmark Grubb Knight Frank could not be reached for comment.
Whether developers put up projects near the stadium, they're certainly looking in the area. Lewis said her company has been "hearing from people pretty consistently" since the Russell Road site was identified as a contender for the planned $1.9 billion, 65,000-seat domed venue. Sunbelt Development &Realty Partners founder Bill Lenhart, listing broker for a 2.5-acre parcel behind the Dean Martin building, also said he's been getting calls "consistently."
"I'm sure they're getting the same level of interest we're getting," he said of the cooked structure.
The land he's selling also has a homeless encampment along the fence it shares with Itai's property. Whenever vagrants are cleared out, Lenhart said, "it doesn't take long for them to return."
The Dean Martin property was built in 1991 and, according to a report by the Las Vegas Weekly, may have a ghostly past. It reported in 2009 that after "numerous unexplained experiences," the Paranormal Investigation Team of Nevada "was called in and collected evidence."
"It definitely has paranormal activity," an investigator told the paper.
Ghost stories aside, developers have looked at the site before. The Calida Group, a Las Vegas apartment developer, pursued plans last year to buy Itai's property and Lenhart's, tear down the empty building and construct a 285-unit rental complex.
Co-founder Eric Cohen said his group liked the site because it offers views of the Strip and is a close walk to the resort corridor. But, he said, the company scrapped its plans after learning a fault line ran through the middle of Itai's parcel. County building codes would have prevented him from developing on the fault line, he indicated.
Renovating the existing building would be difficult, he said. As Cohen sees it, the only new projects that could work on the parcel are surface parking, landscaping or maybe a bar and tailgate area.
Nothing too exciting. But look on the bright side: even if it's only a parking lot with tree planters, at least no one can kick through the walls and rip out the copper.
Contact Eli Segall at esegall@reviewjournal.com or 702-383-0342. Follow @eli_segall on Twitter.
5285 Dean Martin Drive
— Built in 1991
— Acquired through foreclosure in 2010
— Developers pursue plans in 2016 for a 285-unit apartment complex
— Clark County issues notice on March 21, 2017 that says building has been vandalized and that vagrants have caused multiple fires
— Two-alarm fire torches building on May 4, 2017