Station Casinos parcels sitting empty
August 25, 2017 - 5:00 pm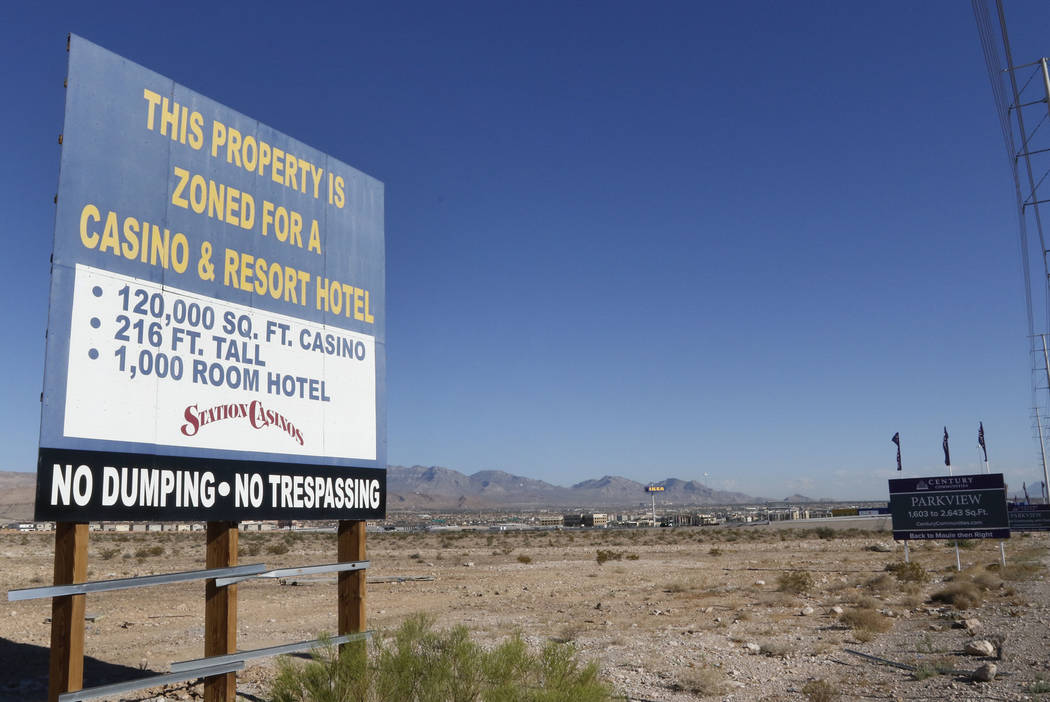 Before the economy crashed and the company went bankrupt, Station Casinos loaded up on land, buying big parcels around the valley for future hotels.
Today, construction is picking up in Southern Nevada and the economy is on stronger footing, but Station's land sits untouched.
The lack of construction isn't necessarily a bad thing — given how badly last decade's bubble ended, it's not unreasonable to be wary of a growth spurt in Las Vegas, a place prone to getting slap-happy for real estate. But it raises a few questions for me.
Station's holdings are in some of the fastest-growing areas of Southern Nevada, if not the country. Why are the tracts still empty? And if Station doesn't plan to build on them, why aren't other investors buying the land?
The locals-focused company, which operates the Palms, Red Rock Resort, Green Valley Ranch Resort and other casinos, owns 71 acres at Durango Drive and the 215 Beltway in the southwest valley, as well as 58 acres at Flamingo Road and Town Center Drive in Summerlin.
It also owns 57 acres at Las Vegas Boulevard and Cactus Avenue, several miles south of the Strip; 45 acres at Via Inspirada and Bicentennial Parkway in Henderson's Inspirada community; and about 30 acres on Fremont Street just south of Charleston Boulevard, former home of the Castaways.
They're hotel sites, in theory. A Station sign on Durango still advertises plans for a 1,000-room hotel and 120,000-square-foot casino, and at the Flamingo site, signage proclaims that it's zoned for a 1,000-room hotel and 90,000-square-foot casino.
The company issued a brief statement for this column that did not provide any details about its construction plans or sales efforts.
"At Station Casinos, we have a strong belief in the Las Vegas market, and that bullishness extends to our land held for development purposes as well," spokeswoman Lori Nelson said.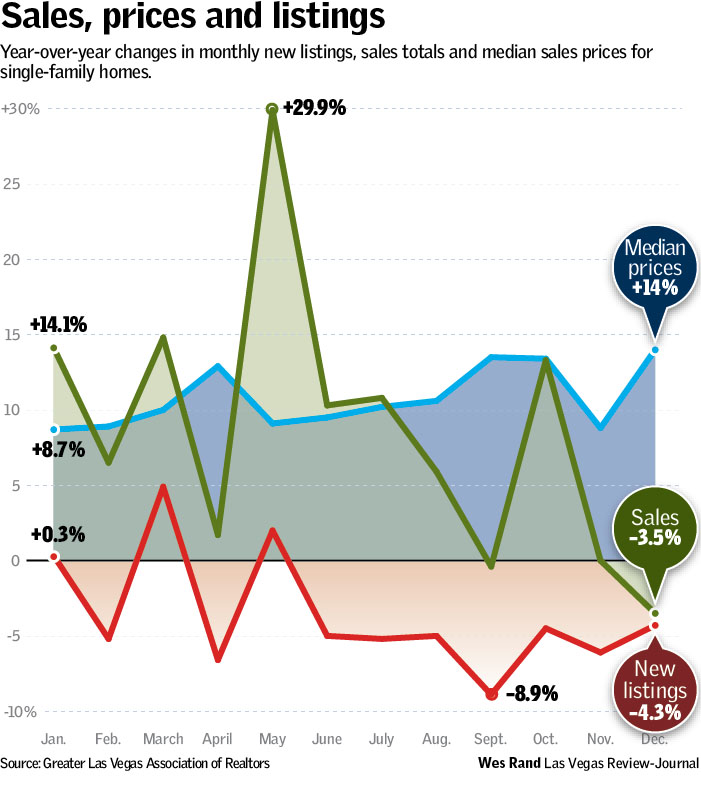 Build in the 'burbs
It seems unlikely that Station or anyone else would build another massive hotel-casino in the suburbs anytime soon. Underscoring those odds: The Strip, the epicenter of America's casino industry, has a mixed record lately on this.
Alon Las Vegas was supposed to be built next to the Fashion Show mall, but the 1,100-room project went nowhere and the site is for sale. Resorts World Las Vegas, a planned Chinese-themed megaresort, initially was slated to open in 2016 but has shown little progress and is scheduled to debut in 2020.
If a big casino can't get built on Las Vegas Boulevard today, "how do you build in these suburban markets?" Colliers International land broker Michael Stuart said.
As he sees it, there's no financing for such projects, and if investors can keep buying casinos for less than it costs to build them, "who's going to go ground-up?"
Boyd Gaming Corp., for instance, bought the Aliante Hotel in North Las Vegas last year for $380 million. The property cost more than $660 million to develop.
Land grab
Developers "can make anything work" if land is priced low enough, Stuart said, and some of Station's holdings seem to be in prime development spots.
Among master-planned communities, Summerlin and Inspirada were in the top 10 nationally for midyear new-home sales tallies. Also, the southwest valley is perhaps the fastest-growing area of Southern Nevada, with new housing tracts, apartments and other projects.
Station, majority owned by billionaire brothers Frank Fertitta III and Lorenzo Fertitta, has listed the Las Vegas Boulevard and Castaways sites. It's unclear if other parcels will go on the market, but given how much Station paid, don't expect a slew of fire sales.
It bought the Summerlin property in 2000 for $42 million, or more than $720,000 per acre, and the Inspirada site in 2007 for $71 million, or almost $1.6 million per acre, county records show. By comparison, investors paid an average of about $483,400 per acre for Southern Nevada land in the second quarter, according to Colliers.
If Station sold the Inspirada and Summerlin sites, it wouldn't fetch "anything near" what it spent, Land Advisors Organization broker Rick Hildreth said.
Station bought parcels years ago, snapping up the "best sites" before its competition could, RCG Economics founder John Restrepo said. In 2005, the Las Vegas Review-Journal reported that Station's collection of casino-zoned land was "staggering."
Eventually, the real estate bubble burst, the economy crashed, and Station, like countless others in town, went bankrupt, filing for Chapter 11 in 2009.
It emerged from bankruptcy in 2011, became a publicly traded company again last year and adopted a new corporate name, Red Rock Resorts, although it still uses the Station Casinos brand.
I can only guess what Station will do with its parcels. But for now, even if houses, retail centers and warehouses are popping up outside the Strip, don't hold your breath for new casinos.
Contact Eli Segall at esegall@reviewjournal.com or 702-383-0342. Follow @eli_segall on Twitter.