The Blackstone Group is on an apartment-buying spree in Las Vegas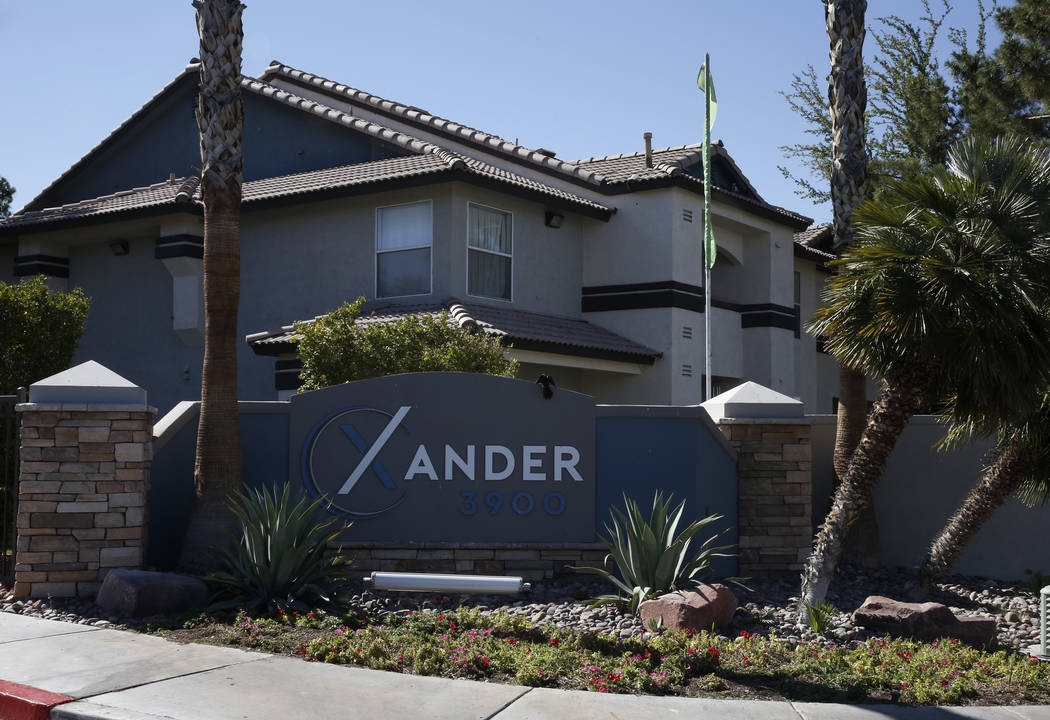 When you're as big as The Blackstone Group, shelling out hundreds of millions of dollars can be pretty normal stuff.
Just look at its apartment-buying spree in Las Vegas.
The New York investment giant has acquired at least nine local apartment complexes since spring 2017 for $616 million total, Clark County records show. The most recent deal came June 6, when, according to the seller, Blackstone and a San Diego firm bought Solis at Flamingo, a 1980s-era property across from a foreclosed strip mall in the eastern Las Vegas Valley.
They paid $72 million — more than $20 million above what the seller paid just three years ago.
Las Vegas' apartment market has heated up with more construction, higher rents, shrunken vacancies and a swelling tally of investor purchases. Blackstone is one of many landlords paying big bucks for rental properties, but it seems to be buying more than others.
Investors are drawn by Southern Nevada's relatively low sales prices, the potential to raise rents and the diversifying — though still tourism-dependent — economy, real estate pros say. As it stands, Las Vegas apartment rents are rising faster than the national average — good news for landlords but not for tenants — and the vacancy rate is among the lowest in the country.
Most of Blackstone's acquisitions were in the western Las Vegas Valley, and its most-expensive purchase, at $106.5 million, was the 466-unit Elysian West. Elysian's sale last summer, by developer The Calida Group, set a local record for a garden-style apartment complex, Calida co-founder Eric Cohen said at the time.
Solis at Flamingo, built in 1988, was acquired in 2015 by TruAmerica Multifamily and Investcorp. They bought it for $50.5 million, and its average rents were $735 per month at the time.
When they sold it a few weeks ago, tenants were paying an average of $1,022 per month, said Noah Hochman, TruAmerica's senior managing director of capital markets, who identified the buyers as Blackstone and The ConAm Group.
Hochman said his group updated Solis' units and amenities. They didn't gut the place but benefited from the market's rent growth, he said.
Blackstone and ConAm did not respond to requests for comment Friday.
Led by billionaire Stephen Schwarzman, Blackstone was no stranger to Las Vegas before its apartment binge. It bought hundreds of homes to turn into rentals after the market crashed. It also bought the 68-acre Hughes Center office park for $347 million in 2013, the 3,000-room Cosmopolitan of Las Vegas for $1.7 billion in 2014 and downtown's massive furniture-showroom hall, the 5.4 million-square-foot World Market Center, for an undisclosed sum last year.
Fow now, the apartment market is showing no signs of a slowdown, and when money pours in, someone always get the windfall.
As one industry executive pointed out, it's a good time to be a broker or a seller.
Contact Eli Segall at esegall@reviewjournal.com or 702-383-0342. Follow @eli_segall on Twitter.