Zillow flipping at least 6 Las Vegas area homes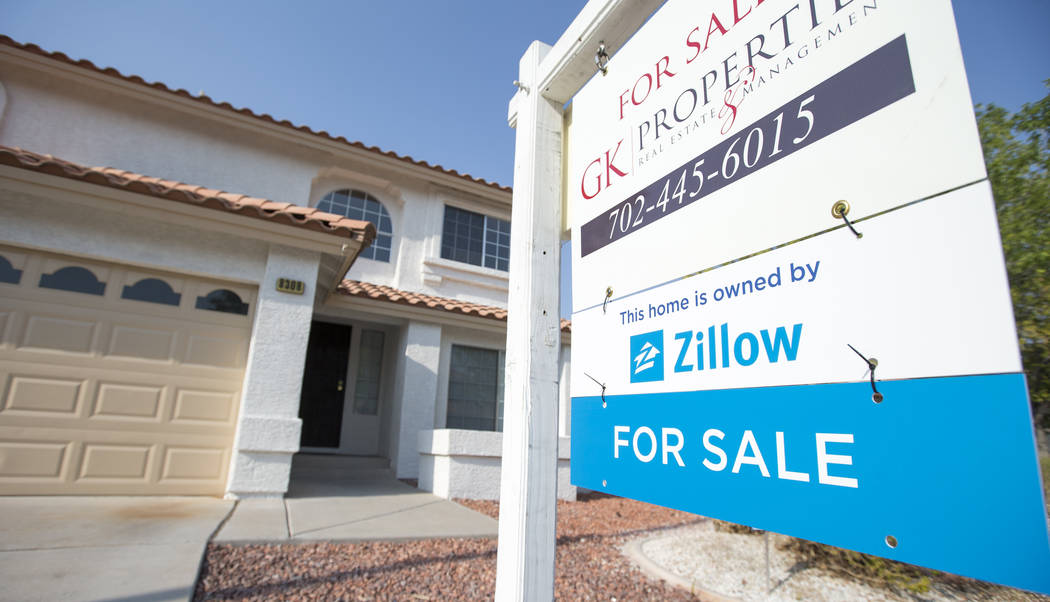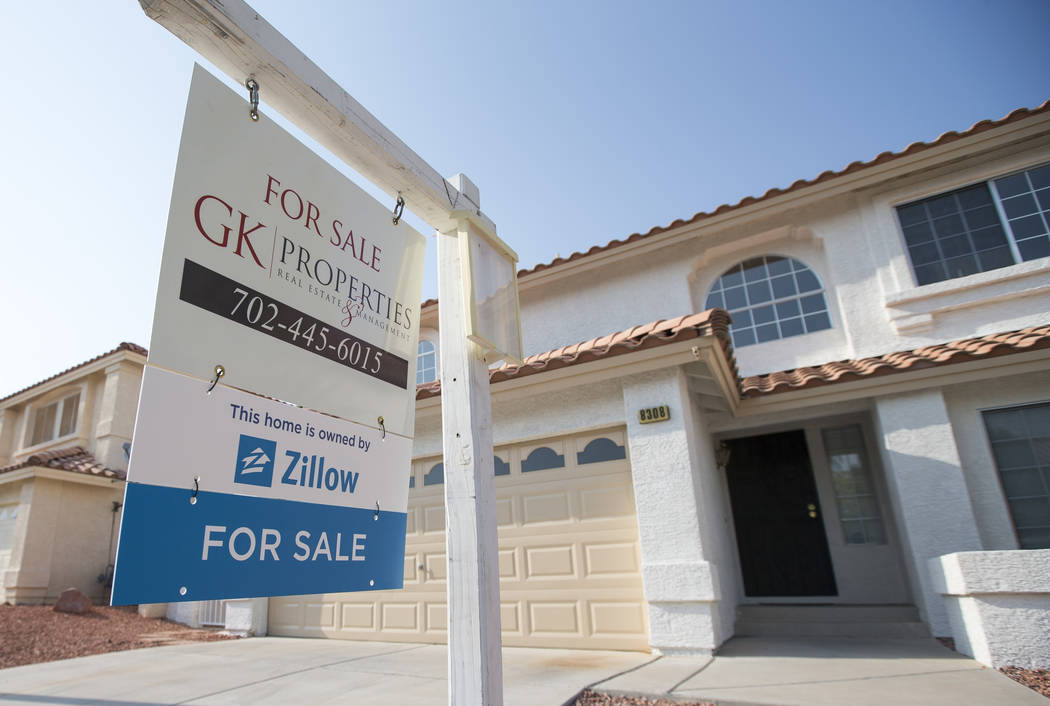 Zillow executives may say they're not in the house-flipping business, but based on its first batch of deals in Las Vegas, that's exactly what the company is doing: buying and then quickly selling homes.
The Seattle-based listing service — whose website lets people find a house to buy or see what homes are worth — has closed at least six purchases in the Las Vegas area since July 12, property records show.
As of Thursday, five homes had already been listed for sale on Zillow, and one was about to be. Among the group, one had a pending offer, the website showed.
More deals are expected, too.
"It's just kind of opening up now, but there's a lot of activity," said GK Properties owner George Kypreos, a Las Vegas Valley broker who handles Zillow's transactions.
Zillow announced in April that it would buy and sell homes in Phoenix and Las Vegas starting this spring, and that when it acquires a place, it will "make necessary repairs and updates and list the home as quickly as possible."
At the time, Zillow's now-president Jeremy Wacksman said the company planned to own houses for up to 90 days each, eventually even fewer days, before it sold them. But he added, "I wouldn't use the term flip," preferring instead to say that Zillow would prep a house for sale.
"We're not intending to make money on flipping homes," he said Thursday.
The listings show that. None of its Las Vegas homes are priced more than $10,000 above what Zillow paid, a razor-thin margin.
By comparison, Las Vegas flippers on average sold homes in the first quarter for more than $53,000 above what they paid, according to Attom Data Solutions, which defines a flip as selling a home within a year of buying it.
Zillow, however, aims to buy and sell in high volume and make money off sellers' fees.
Wacksman said the company might charge sellers a few percentage points more than a traditional real estate agency would, but in exchange, homeowners can sell quickly. v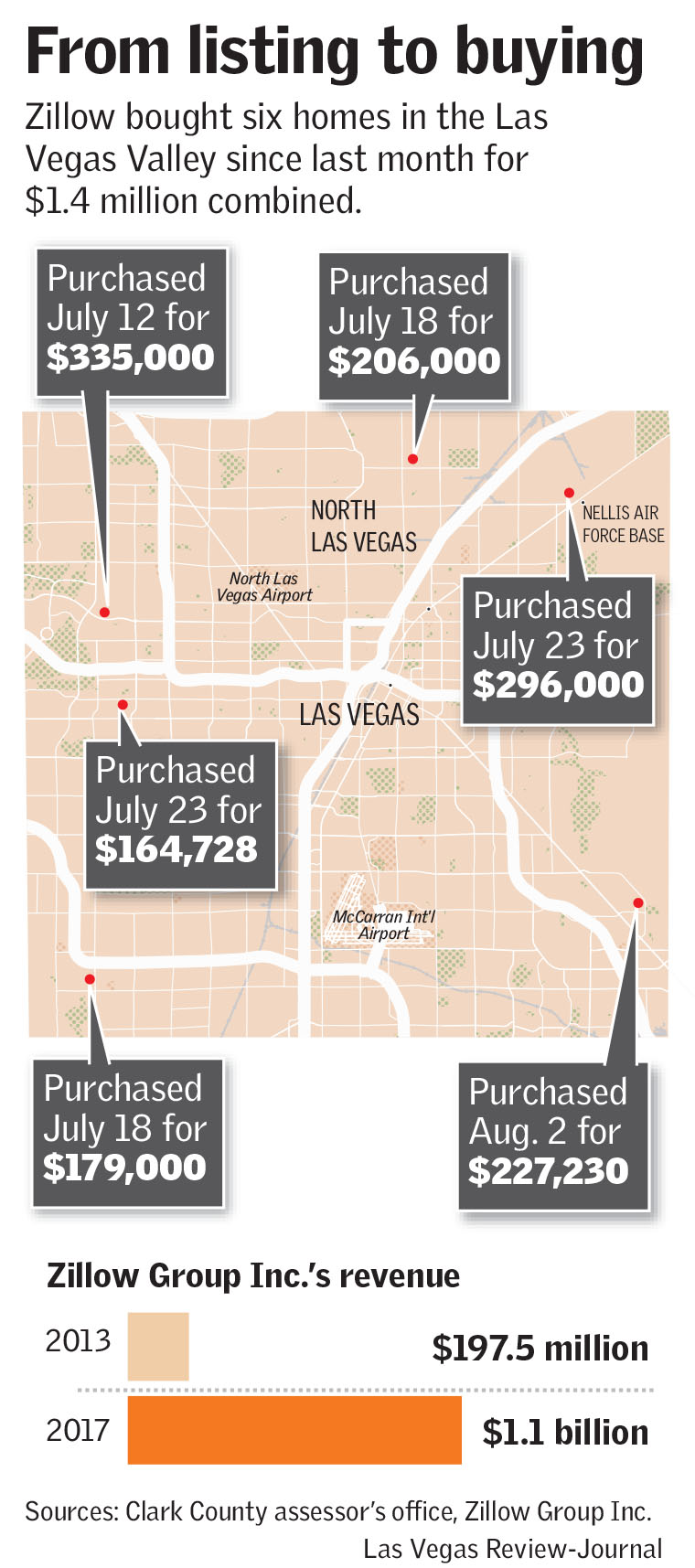 It's not a unique business model. San Francisco startup Opendoor typically makes a cash offer to sellers within 48 hours ("Get an offer on your home with the press of a button," its website declares) and doesn't wait long to sell its homes.
But Opendoor wants to come out even on the deals and instead make a profit by charging fees and slashing its transaction costs, CEO Eric Wu told the Review-Journal in June.
At the time, Opendoor was under contract to buy more than 100 homes in Las Vegas and had 60 on the market. Nationwide each month, Wu said, the company was buying around 1,300 to 1,400 homes and selling almost 1,000.
Gilbert, Arizona-based Offerpad ("Tell us about your home and receive an offer within 24 hours," its website says) also operates in Southern Nevada. Spokeswoman Cortney Read did not disclose exact deal volume but said the company, which launched in 2015, has helped "hundreds of people in Las Vegas" buy and sell homes.
Zillow is under contract to buy a couple dozen more homes in Las Vegas, Wacksman said, but it's unclear exactly how many properties it plans to acquire here.
Kypreos, the broker, said purchase volume will be based on "sellers' appetite" but added he didn't have a tally he was "comfortable sharing."
Still, the company can afford to buy more – and likely wouldn't mind bigger paydays for itself.
Parent company Zillow Group Inc. generated more than $625 million in revenue in the first half of the year, a securities filing shows. But amid even higher costs, it lost nearly $22 million for the period.
Contact Eli Segall at esegall@reviewjournal.com or 702-383-0342. Follow @eli_segall on Twitter.