Las Vegas among most popular places in US to flip houses
Updated June 9, 2018 - 8:25 pm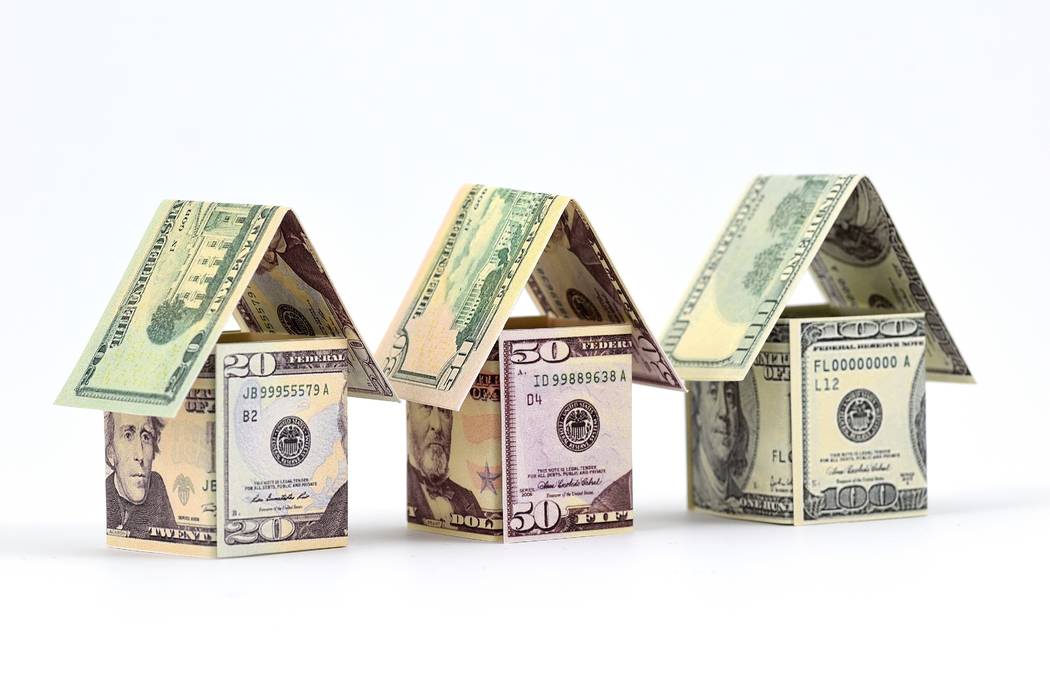 Las Vegas is one of the most popular places in America to flip houses, even though investors can earn a lot more money elsewhere.
And slowly, it seems, they're catching on to that.
Some 9.8 percent of local home sales in the first quarter were flips, the ninth-highest share in the country. But that's down slightly from 10 percent in the same period last year and well below the post-bubble peak of 14 percent in 2010, when the market was crashing and Las Vegas was flooded with cheap houses, according to figures from Attom Data Solutions.
Locally, flippers booked average gross profits of $53,375 last quarter, down about $700 year over year. But their margins tightened even more, with flippers landing an average return of about 28 percent last quarter, compared with 36 percent a year earlier, Attom reported.
By comparison, 6.9 percent of U.S. home sales in the first quarter were flips, the average gross profit was $69,500, and the average return was around 48 percent.
It's "a little bit perplexing" to see some metro areas get a high share of flips despite lacking roaring returns, and Las Vegas is "in that camp," said Daren Blomquist, Attom's senior vice president of communications.
Still, he thinks investors "are somewhat responding" to Las Vegas' lower-than-average earnings, noting that even though Southern Nevada's share of flips is among the top 10 nationally, the volume of deals has been ticking lower.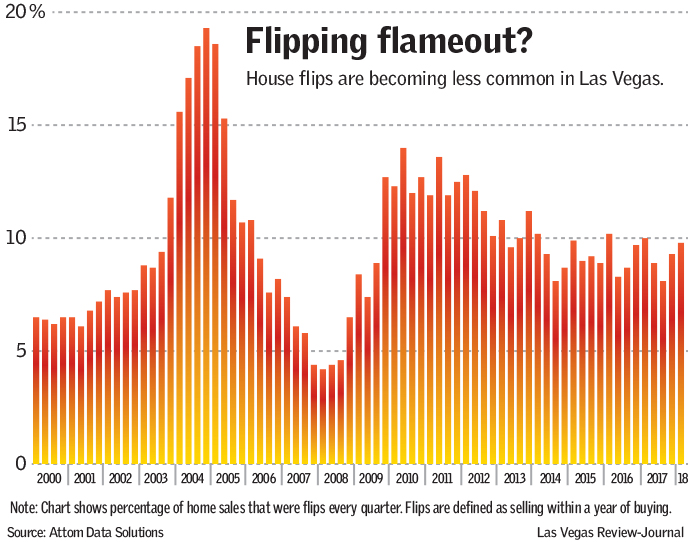 "Those margins are starting to squeeze people out of the market … slowly but surely," Blomquist said.
Irvine, California-based Attom defines a flip as a sale of a home within a year of purchase. Gross profits represent the sales price minus the purchase price and do not account for renovations or other costs the flippers may have incurred.
Las Vegas, as we know, was ground zero for America's housing boom and bust. And flippers went wild during both.
With easy money everywhere and home values rising fast during the mid-2000s craze, practically anyone could get a mortgage to buy a place, and it was easy to sell fast for profit. By late 2004, flips made up 19 percent of home sales in Las Vegas, according to Attom.
Flipping plunged as the market weakened but surged as the economy kept getting worse. Flips made up 4.4 percent of home sales in late 2007, but that share more than tripled by 2010.
Las Vegas was the foreclosure capital of America during the recession, and repo auctions were packed with buyers. They even urinated on the walls of the parking lot where the sales were held rather than leave to find a bathroom; bidders couldn't use the toilets in the office building there, but they didn't want to miss the great deals either.
Foreclosures have dropped sharply since then, and auctions today get thinner crowds, but Las Vegas has remained a popular spot for flippers amid its relatively lower home prices, transient population and fast-cash image.
Flipping-focused reality TV shows also help.
"They watch an episode of HGTV and think they know everything about it," said Chris Bishop, a branch manager at Coldwell Banker Premier Realty and president of the Greater Las Vegas Association of Realtors.
Would-be buyers see reports of Las Vegas' fast-rising home prices but, Bishop said, don't understand everything that comes with buying, holding and selling, including maintenance and insurance costs and the time it could take to find a buyer.
On TV, he noted, house hunters visit just three properties and then pick one.
"That's not really how our business works," he said.
Contact Eli Segall at esegall@reviewjournal.com or 702-383-0342. Follow @eli_segall on Twitter.
House flippers can make more money and get better returns outside Las Vegas.
Top 3 metro areas, average gross profits
San Jose, CA: $331,000
San Francisco: $149,000
Los Angeles: $140,000
Top 3 metro areas, average gross returns
East Stroudsburg, PA: 164.1%
Pittsburgh: 146.6%
Atlantic City, NJ: 133.3%
Note: Data for first quarter 2018. Profits here represent sales price minus purchase price.
Source: Attom Data Solutions