Foreclosure auction for Lucky Dragon postponed until Feb. 22
February 6, 2018 - 12:19 pm
Updated February 6, 2018 - 1:18 pm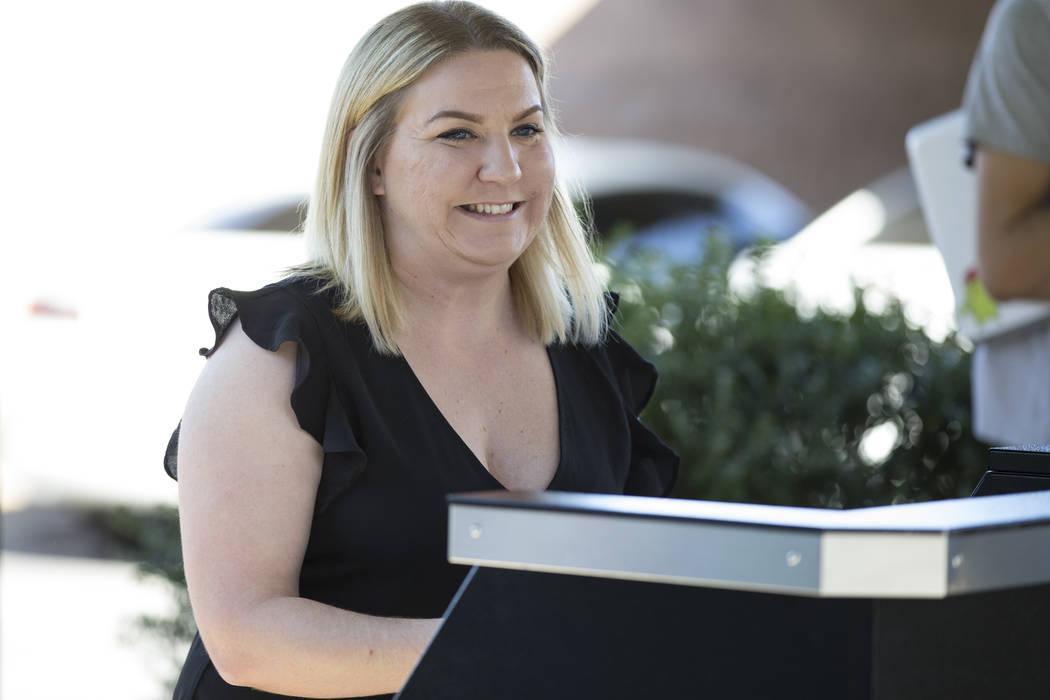 The Lucky Dragon's foreclosure auction was pushed back to later this month.
Standing in the parking lot of the Nevada Legal News building on Fourth Street near Charleston Boulevard, auctioneer Heather Ebneter on Tuesday told a crowd of about 30 people – including downtown casino owner Derek Stevens – that the foreclosure sale was postponed to Feb. 22.
The auction will be held at 10 a.m. at the same location.
The foreclosure proceedings are another blow to the off-Strip, Chinese-themed hotel, which is a little more than a year old but has had a brutal start.
Lucky Dragon — the first resort built from the ground up in Las Vegas since the recession — has shed staff and struggled to draw big crowds. Its lead building contractor claimed it was owed millions of dollars for unpaid work, and management temporarily closed its casino and eateries last month.
The foreclosure proceedings stem from a $90 million loan that Lucky Dragon developer Andrew Fonfa obtained in 2016. A default notice was filed in September 2017, less than a year after the resort opened.
Fonfa, founder of ASF Realty & Investments, could not immediately be reached for comment Tuesday.
The loan was issued by an obscure company called Snow Covered Capital, which records indicate is linked to San Francisco real estate investor Enrique Landa of Associate Capital.
Landa did not immediately return a call Tuesday seeking comment.
The 2.5-acre Lucky Dragon, at 300 W. Sahara Ave. just west of Las Vegas Boulevard, consists of a nine-story hotel and a 27,500-square-foot casino in separate buildings.
Before the auction's postponement was announced, Stevens, owner of the D Las Vegas and the Golden Gate, told the Las Vegas Review-Journal that he was there as "more of an observer today."
He did not, he acknowledged, come with cashier's checks, though he did not rule out trying to take ownership of the Lucky Dragon, saying, "Everything depends."
After the postponement was announced, Stevens told the RJ that everyone wants the Lucky Dragon to get "back in business." But he said the hotel is "in a pretty tough location" and that he's not sure a casino is the "best use of that property."
As he sees it, drivers have difficulty getting in and out of the main entrance, and there is little pedestrian traffic passing by.
"It's obviously a very nice hotel, and there's a lot of money that went into it, but I question whether or not it can be a viable casino location, that's for sure," Stevens said.
Overall, foreclosures have been sliding in Las Vegas for several years, crimping opportunities for house flippers and other investors to buy discounted properties. Auction bidder Jose Navarro attends the foreclosure sales every day and said Tuesday's crowd was larger than usual, and that it was because of the Lucky Dragon.
"I have no other reason to assume why," Navarro said.
Contact Eli Segall at esegall@reviewjournal.com or 702-383-0342. Follow @eli_segall on Twitter.