Home values growing in Las Vegas Valley
Updated March 26, 2018 - 8:07 pm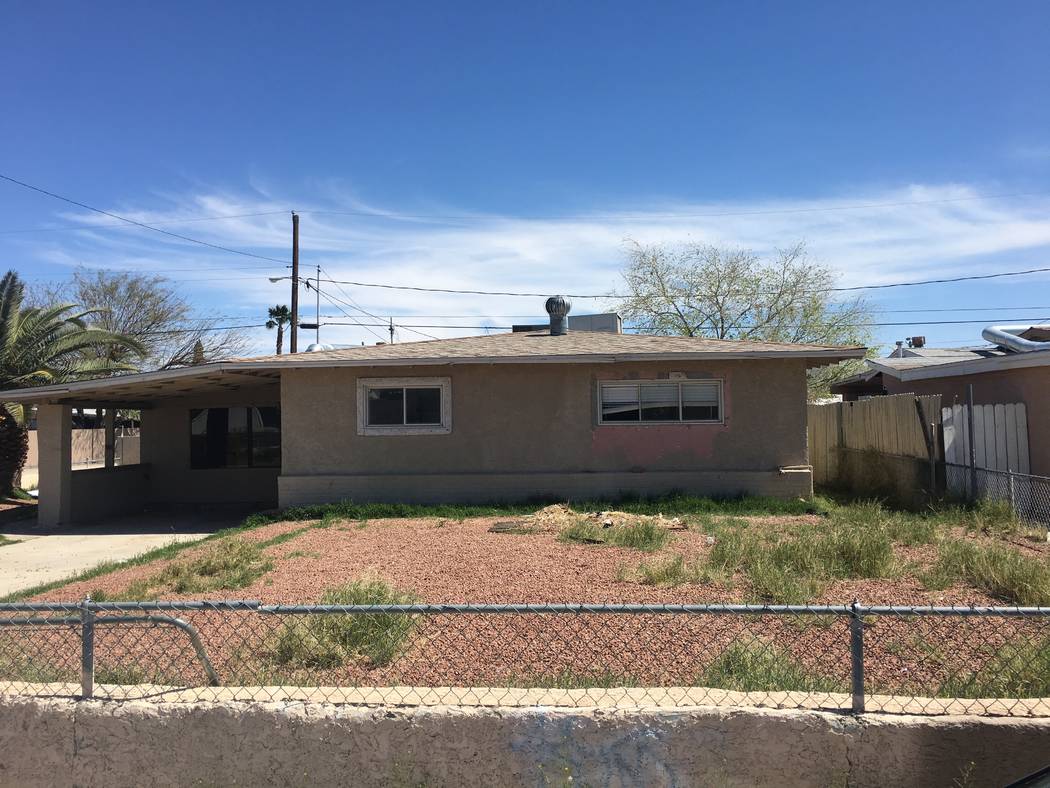 With its damaged mailbox, peeling stucco, overgrown yards and obscene graffiti on the front and side windows, this North Las Vegas house could easily scare would-be buyers.
But it sold twice last year, with the flipper booking a solid profit — and since the recession, the home's value has shot up more than fivefold.
Home prices climbed in every ZIP code in the Las Vegas Valley last year amid strong demand and plunging availability. The biggest price jumps were in older, more centrally located areas of the valley, while newer, more affluent suburbs posted the highest overall prices, according to a report released Monday by Applied Analysis' residential research arm, SalesTraq.
Bolstered by the improved job market and growing population, the valley's housing market notched one of the largest sales tallies on record last year, despite the sharp drop in inventory, and prices climbed at one of the fastest rates nationally.
Overall last year, the median sales price of a previously owned home was $226,000, up 13.1 percent from 2016, SalesTraq reported.
'Simply the math'
SalesTraq's numbers show the percentage jump in each ZIP code's median sales price from 2016 to 2017. Leading the pack at 31.2 percent is the 89030 ZIP code, around Carey Avenue and Las Vegas Boulevard North.
This ZIP code includes the flipped, run-down house at 2636 Magnet St., which has changed hands several times since the market crashed and whose current owner described it as "destroyed" when he bought it.
For the third consecutive year, the highest median sales price is in the 89138 ZIP code, around Alta and Desert Foothills drives in Summerlin, at $385,000.
The highest home prices have been concentrated in the suburbs for years. But ever since the market hit bottom after the bubble burst and started climbing again, the biggest price jumps — as measured by percentage growth — have been in centrally located areas, Applied Analysis co-owner Brian Gordon said.
He cited those neighborhoods' lower prices, saying it's "simply the math." If a $100,000 home jumps by $20,000 in value, the growth rate is a lot faster than if a $300,000 home rises by that same dollar amount.
He also said that as the market heats up, some buyers are getting priced out of certain areas and are "gravitating toward more affordable homes, to the extent they're available."
House hunters, including investors, are seeking less-expensive options, helping fuel "the significant jumps in pricing that we're seeing," Gordon said.
Roller coaster
A cheaper option that's drawn plenty of interest is the one-story, 1,447-square-foot house on Magnet Street, less than a mile from North Las Vegas City Hall.
Built in the 1950s, the house soared in value in the last decade, plunged when the economy tanked and then steadily climbed back as a parade of owners — including a co-founder of the PT's tavern chain — came and went.
It also had two code-enforcement incidents in the past few years and four police calls, mostly squatter-related, in the past five years, North Las Vegas spokeswoman Delen Goldberg said.
The home traded for $76,000 in summer 2003 and then for $116,900 just three months later. But in 2011, after the market crashed, the house was seized through foreclosure and sold later that year for just $22,275, property records show.
The price since has jumped every time it has sold, and it's been sold a lot — twice in 2012, once in 2013 and twice again last year.
PT's co-founder Phil Boeckle picked it up in August for $100,000 and sold it in late December for $117,000, records show. In an interview Monday, he said he flips 100 to 130 homes a year, and he could not recall any details about the Magnet property, indicating his son handled the deal.
After learning the purchase and sales price Monday, Boeckle said he wasn't happy with the profit margin. "Something must have been wrong on that," he said.
The buyer, Noberto Caceres, said the house "was destroyed" when he purchased it. The home had been empty and required a lot of work, he added.
He bought it as an investment but hasn't decided whether he'll rent it or sell it right away, he said.
Caceres also said the price was not expensive because of the home's "situation," and that real estate opportunities can be found all over town.
"Now the prices are going high everywhere," he said.
Contact Eli Segall at esegall@reviewjournal.com or 702-383-0342. Follow @eli_segall on Twitter.
Las Vegas Valley's top ZIP codes for price growth and median sales price
Growth from 2016
— 89030: 31.2 percent
— 89101: 30.4 percent
— 89104: 26.5 percent
Prices in 2017
— 89138: $385,000
— 89135: $378,999
— 89052: $352,000
Source: SalesTraq