Businesses on north Las Vegas Strip look forward to big developments
September 16, 2017 - 12:18 pm
Updated September 16, 2017 - 2:41 pm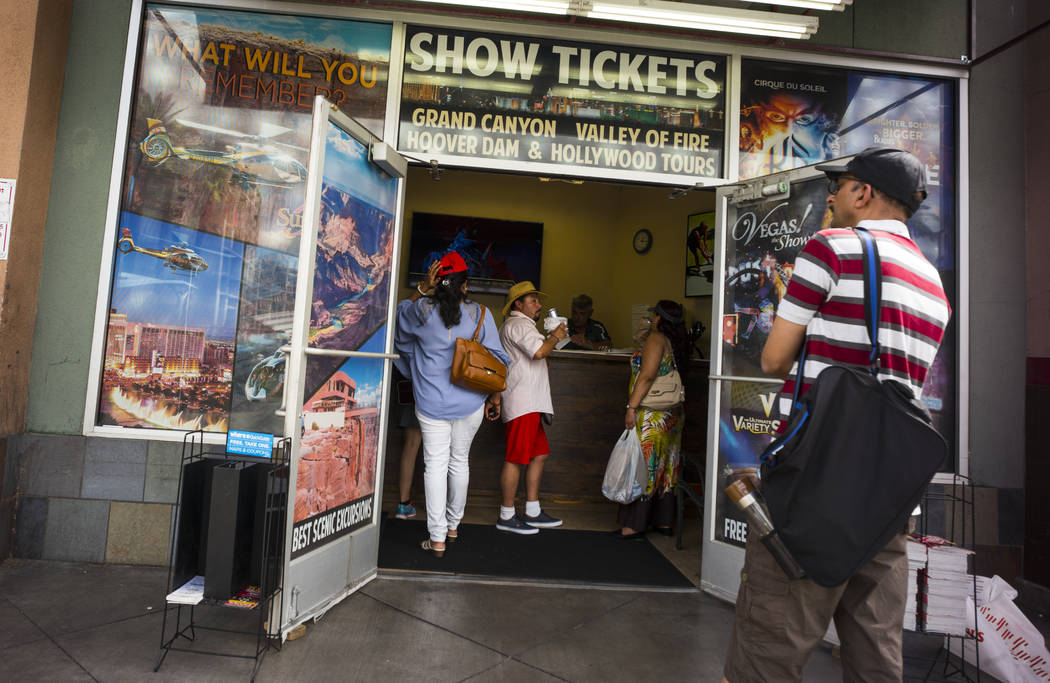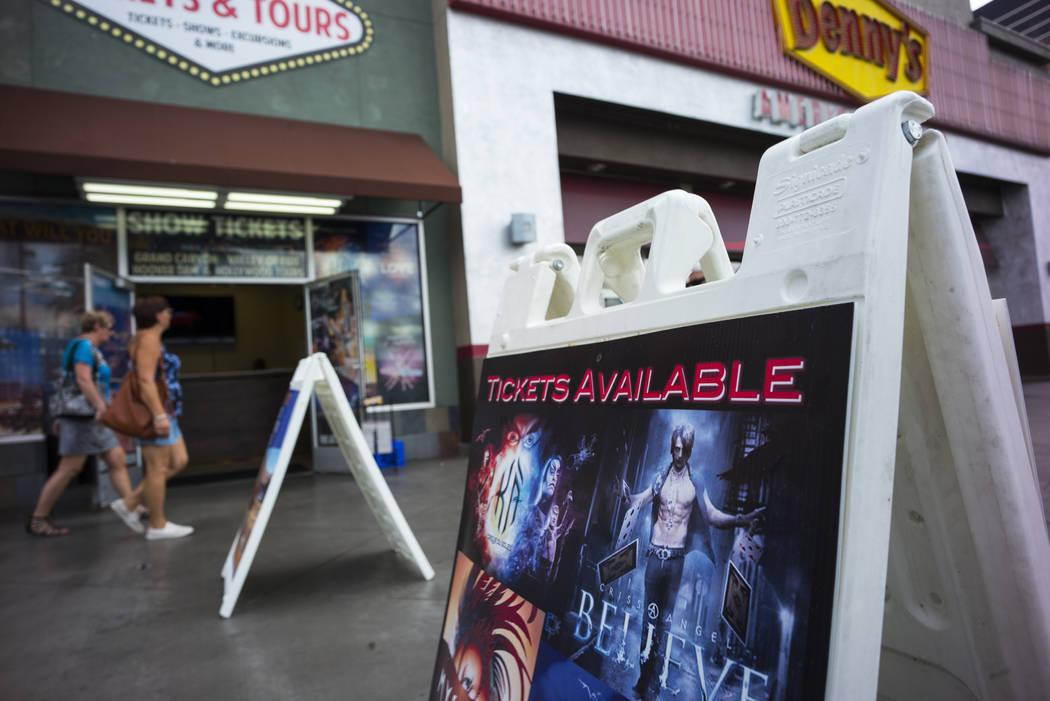 Someday, Sam Massaro will look out from his store counter and see the Strip's newest luxury casino reaching high into the sky.
If all goes as predicted, he won't have much time to gaze at Resorts World Las Vegas' China-inspired architecture and lights.
He will be too busy booking guests from the 3,000-room casino — or nearby bustling hotels — on trips to the Grand Canyon.
But until that magical day arrives in a few years, Massaro and colleagues at Las Vegas Tickets and Tours will continue to stare at a concrete carcass that symbolizes the economic stagnation of the Strip's north end and their frustration.
"We would make a killing if that was open,'' said Massaro, 61, about the slabs of gray concrete and rebar that rise from the lot directly opposite his store at 3001 Las Vegas Blvd. South.
Massaro and other store owners on the north end say they are upbeat that development seems to be on the horizon for this deserted neighborhood.
Resorts World restarted its project in July, and a New York developer bought the abandoned Fontainebleau project in August.
But shop owners' enthusiasm is tempered by the slow pace and knowledge that it will take years before doors open and crowds appear. Fontainebleau's new owner has yet to give a time frame for completion. Resorts World is targeting an opening in 2020.
"It is definitely not fast enough,'' said Massaro, with a thick New York accent, of the Resorts World project. His partner says he is willing to wager it will take longer, pointing out there is only one crane and a few dozen people at the 87-acre site.
For the time being, the Resorts World project and the stalled Fontainebleau act like powerful human repellent sprays, keeping the tourists away from Massaro's store and many other north end businesses at all times of day.
A short walk along Las Vegas Boulevard shows how profound the difference is.
Over a ten-minute span on an early Tuesday evening, just 49 people passed by Massaro's store, which is sandwiched between a Denny's and a 7-Eleven.
A half-mile south, several hundred people crossed the footbridge between Palazzo and Wynn Las Vegas over the same time.
Trickle-down effect
Sitting in their narrow, cramped store at 2303 Las Vegas Blvd. South filled with souvenirs such as T-shirts and bags, sisters Carol and Anna Rayos wait for customers to pop in on a late Tuesday afternoon.
The sisters, who work seven days a week, have seen the rise and fall of the north end of the Strip over the decades, putting their fortunes on a bit of a roller coaster ride.
They hope to see it rise once more so they can comfortably retire in five years time, Anna Rayos said.
International Boutique was founded by their parents in 1976 and drew a good crowd from the former Sahara across Sahara Avenue.
The past 10 years have been tough, especially when the Sahara closed for a makeover in 2011. The bus stop for the Sahara is located right outside their door.
"When the Sahara closed, people had no purpose to get off at the bus stop,'' Anna Rayos said.
The growth in tourism over the past few years is trickling down to this end, but it's feeble, the sisters said.
The Sahara reopened in 2014 as the SLS Las Vegas, but it never attracted the crowds. The Riviera, which also fed some clients to Boutique International, closed in 2015.
"Business is starting to pick up a little bit, but not as much as we would like,'' Anna Rayos said.
Rent spike
When the doors of the Fontainebleau and Resorts World eventually open, it won't just be sales at International Boutique and Tickets and Tours that go up.
Property values and rents will certainly rise, and that creates some uncertainty for owners.
"I am excited for our business but nervous that our owners might want to sell the property,'' Anna Rayos said.
Sam Singh and son Manpreet will soon open a 45-seat Indian restaurant, Masala, on the north end, their sixth location in Las Vegas.
Their decision to choose the location was not driven by hopes for redevelopment. That, rather, is a bonus. Their aim is to capture the Indian crowd that stays at Circus Circus.
But they are aware that the opening of the Fontainebleau and Resorts World might drive the property owner to redevelop the site at a later date and incorporated that issue into their 10-year lease agreement, the elder Singh said.
Joni Mitchell lyrics
Massaro isn't worried about rents going up. He said the increased revenue from tourists will more than compensate for that.
His optimism about the north end isn't unfounded. Massaro previously owned two trailers outside the Riviera that housed his two businesses as well as four other stores.
Businesses, he said, thrived until the Riviera was knocked down and turned into a parking lot. The customers disappeared and his renters closed up, costing him $150,000 in lost business.
The lyrics of songwriter Joni Mitchell had become his reality, he said.
"They paved paradise and put up a parking lot."
Now, he is hoping the Fontainebleau or Resorts World will become his new paradise.
Contact Todd Prince at tprince@reviewjournal.com or 702-383-0386. Follow @toddprincetv on Twitter.
Related
Industry watchers see big potential for Las Vegas Strip's Fontainebleau