Marijuana conference MJBizCon opens to big crowds in Las Vegas
November 14, 2018 - 6:36 pm
Updated November 14, 2018 - 9:53 pm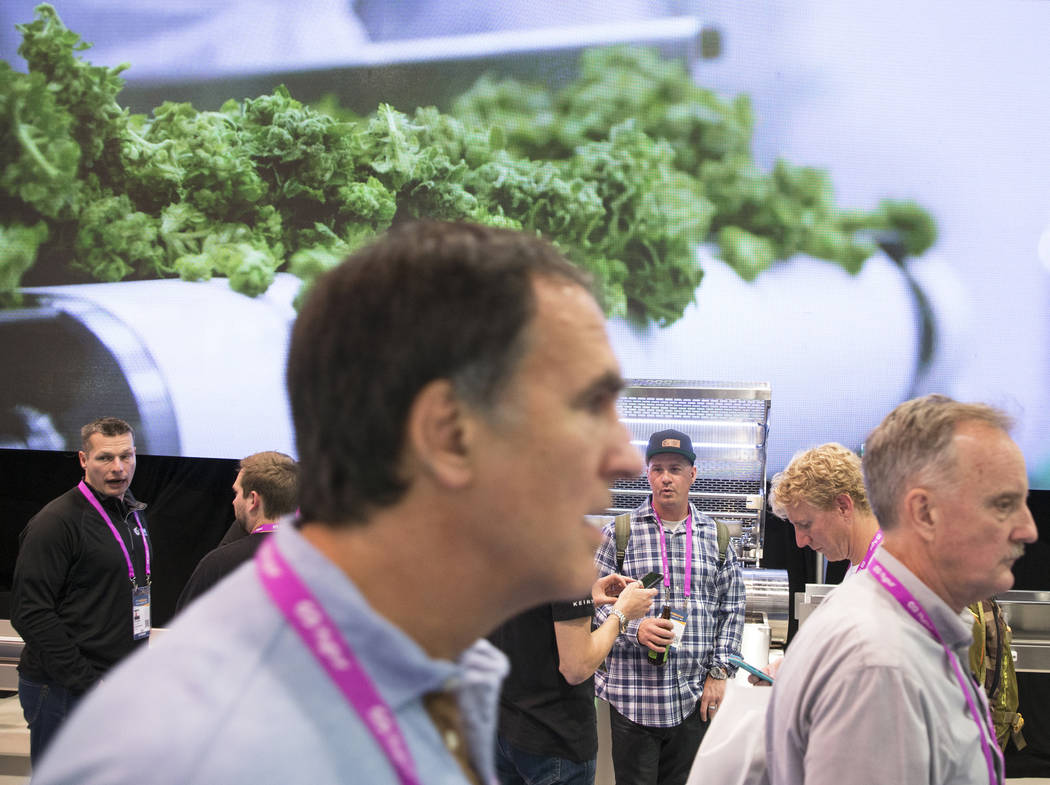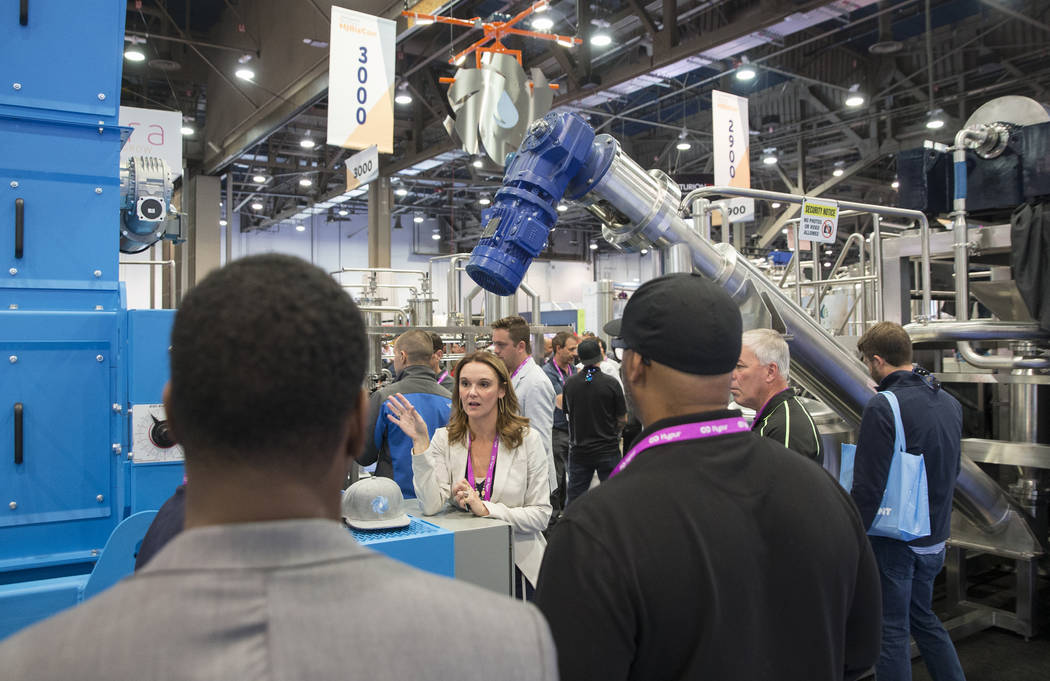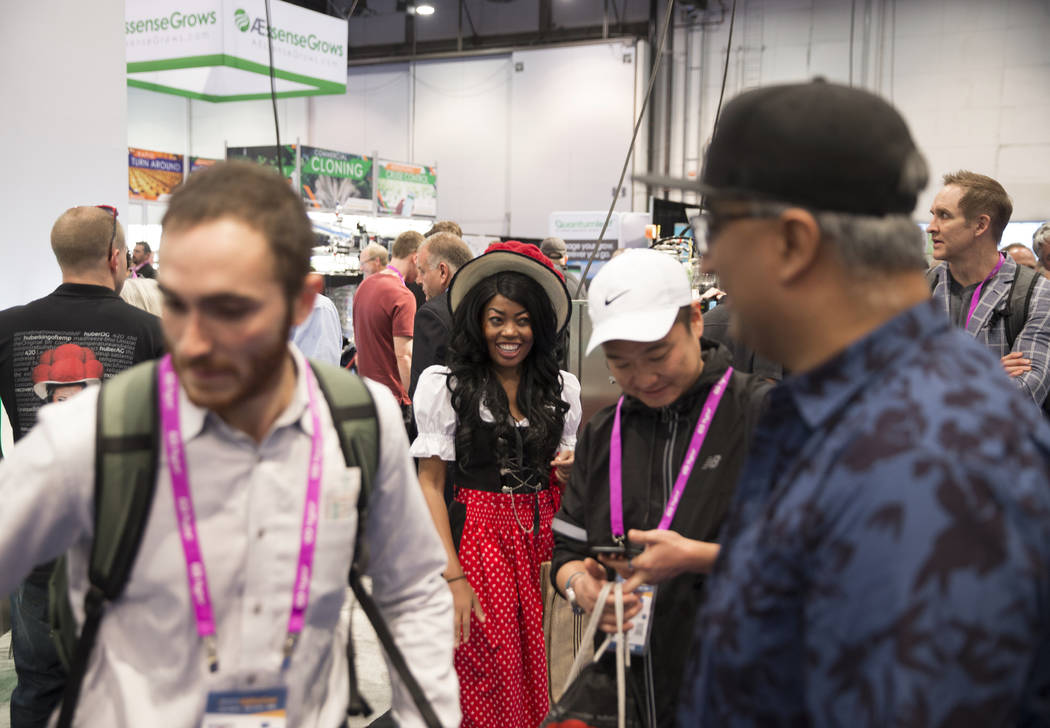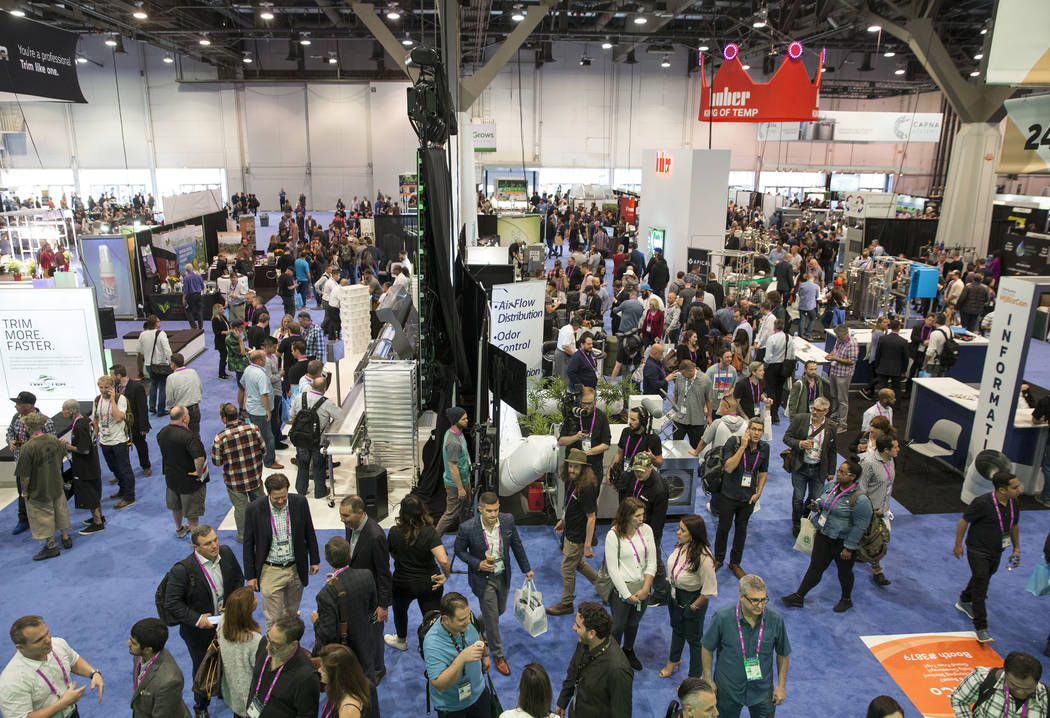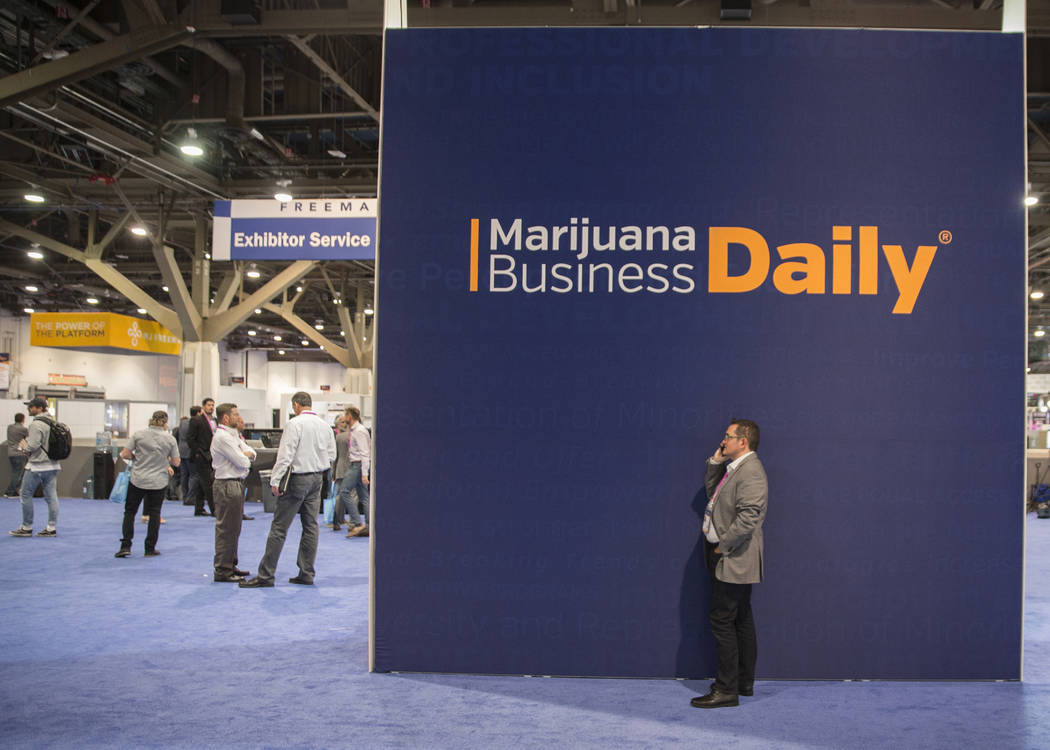 Speakers at a marijuana conference in Las Vegas were optimistic Wednesday that a breakthrough on federal policy is just around the corner. But they disagreed on the outlook for stock prices, medical marijuana growth and pot pricing.
The three-day MJBizCon conference kicked off Wednesday morning at the Las Vegas Convention Center with speeches by executives from leading North American cannabis companies. The show, which runs through Friday, features more than 1,000 marijuana-related exhibitors and is expected to draw more than 25,000 visitors.
MJBizCon, the industry's largest global show, is taking place just a week after U.S. elections brought more pro-marijuana officials to power, potentially opening the door to industry-friendly legislation.
Kevin Murphy, CEO of New York-based Acerage Holdings, told the audience he expects Congress to pass the States Act in 2019. It would enable cannabis companies to access the financial system in states where marijuana is legal and potentially list their shares on U.S. exchanges. The act had been stymied by House Rules Committee Chairman Peter Sessions, R-Texas, who lost his re-election bid Nov. 6.
Murphy called Sessions' departure a blessing. "When the state's rights passes and we have banking and tax clarity, that is when we will see a lot of these U.S. banks getting involved and see the exchanges opening," he said. "I believe it is just a matter of time, and I think that time takes place sometime mid- to late 2019. So we are on the cusp of breaking this out in a big, big way."
Bubble to burst
Chris Walsh, founding editor and vice president of Marijuana Business Daily, which organizes the conference, told the audience he also expects a federal change on policy next year.
Walsh, who kicked off the show with a presentation on the state of the industry, said marijuana stock prices have become inflated. He expects the bubble to pop next year.
Shares of some marijuana companies have skyrocketed this year amid general growth optimism for the industry. Shares of Las Vegas-based Planet 13 have tripled since July.
Walsh said he also expects a household name to buy a U.S. marijuana company next year.
The beverage giant Constellation Brands announced in August that it would purchase a $4 billion stake in Canadian cannabis company Canopy Growth Corp. That investment "really is a sign of where things are going to go," he said. "You are going to see this type of thing happen a lot in the coming years."
Torsten Kuenzlen, CEO of Canadian company Sundial Growers, argued that marijuana industry growth is so enormous that stock prices may not be overvalued, as some claim. Kuenzlen said the global industry could be worth $2 trillion by 2050 as more states and countries legalize the drug.
Kuenzlen, who previously worked for Coca-Cola and Molson Coors, turned Walsh's acquisition forecast upside down by arguing cannabis companies could be acquirers rather than targets. He pointed out that Canopy Growth now has roughly the same market valuation as Molson Coors, one of the world's largest beer producers.
Walsh and Kuenzlen also disagreed on the outlook for medical marijuana. Walsh expects sales to stagnate and potentially decline, even as it becomes legal in more states, because patients will switch to recreational products.
Kuenzlen said federal cannabis legislation would open the doors to greater investments in research, which could lead to the creation of hundreds of medical marijuana products in a decade. The industry really only understands two of the 113 cannabinoids in cannabis plants, he said
"We have no idea what they do. We have no idea what they do in combination with each other. There are decades, if not hundreds of years, of research to be done,'' Kuenzlen said.
$100 a gram
He also said he expects the cannabis industry to develop along the lines of the wine industry, with a wide array of price segments from mass to premium. He forecast marijuana companies will be able to sell their top lines for as much as $100 a gram.
While Kuenzlen mainly highlighted the industry's bright spots, he said there are several roadblocks to faster growth, including terminology.
Dispensary workers too often use many uncommon terms, such as Indica and Sativa — two cannabis strains — when speaking with customers. The industry needs to stop using "scary" words that can turn customers off, he said.
"The consumer doesn't give a s—- about any of that. They use cannabis to heal, to help with their general well-being or to play," he said.
Contact Todd Prince at 702-383-0386 or tprince@reviewjournal.com. Follow @toddprincetv on Twitter.
POT NEWS
Click here for complete coverage of marijuana issues in the Las Vegas Review-Journal