Nevada slot revenues rise but concerns linger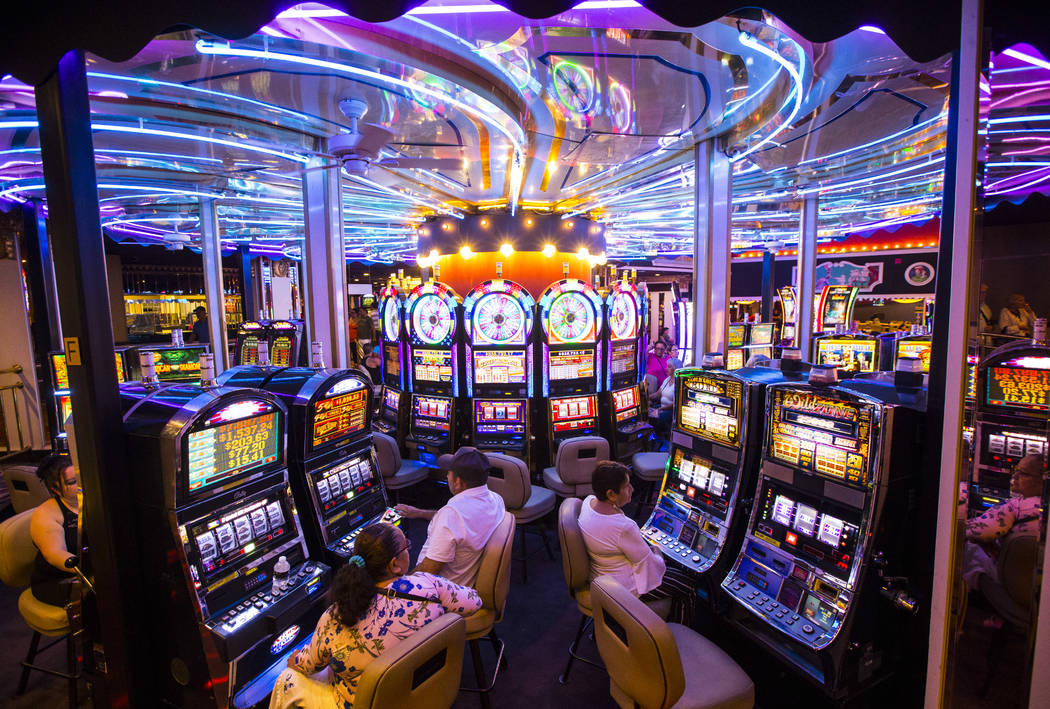 Walking through a local casino in recent weeks, Marcus Prater couldn't keep his eyes off the slot machines.
"There was clearly a variety of new games and new machines visually hitting me as I walked in," he recalled. "The products and the games (that manufacturers) are releasing have never been more diverse."
Prater, executive director of the Association of Gaming Equipment Manufacturers, and other industry experts say a growing economy and increased competition among slot manufacturers have helped Nevada slot revenue rise over the past few months. But with a recession looming in the distance, some aren't sure how long these gains will last.
In the Nevada Gaming Control Board's latest report, statewide slot revenue in August was up 3.5 percent compared with the same month last year. Slot win increased month-to-month in six of the first eight months of 2019. Slot win declined 0.02 from March to April and 0.5 percent from July to August.
The main driver behind that growth, according to experts, is increased competition among manufacturers. The industry has heavily consolidated in recent years, allowing more players to enter the space.
This has allowed for more slot options for operators and players alike.
"Slot floors are increasingly improving with more content," said SunTrust Robinson Humphrey analyst Barry Jonas. "Today, there's a wide berth of strong content and good-looking content."
Prater said the dominant players among local slot machine manufacturers in the early 2000s were International Game Technology, Bally Technologies, Aristocrat and WMS Industries.
Scientific Games acquired WMS and Bally Technologies in 2013 and 2014, respectively, and players including Everi Holdings, PlayAGS, Ainsworth, Konami Gaming, and Aruze Gaming have since entered or expanded in the space.
For historically prominent players such as Scientific Games and IGT, Prater said the new competition is "a kick in the pants."
"It's a wake-up call," he said. "If they don't stay on top of their game, these other companies will take away market share."
Cathryn Lai, vice president of product management for Scientific Games, said the growing competition could be good for business.
"It gives us the opportunity to look at trends in technology and see where we can embed them into our product lines," she said.
Those changes are noticeable on the casino floor. Greg Colella, vice president of product management for Konami, said manufacturers are doing everything they can to attract more players and keep them engaged: integrating new technology, installing bigger screens, upping the quality to 4K resolution.
"I think we're making a better product, and entertainment value is more and more engaging so that a player wants to sit down and play those games longer," he said.
But others say slot manufacturers still have a ways to go. John Acres, founder of Las Vegas-based gaming technology company Acres 4.0, said while he has seen slot displays improve, the games are another story.
"It's still the same old game," he said. "There's no opportunity to communicate with others while you're playing, to make side bets, to have a social interaction whatsoever."
'Healthy growth' with risks
Analyst Todd Eilers of Eilers & Krejcik Gaming said slot win growth in Nevada is following a broader trend seen across the U.S. He pointed to the country's economic growth as the main driver behind the numbers.
"You're seeing a pretty healthy growth in slot machine revenue," he said. "You've got key indicators on the economic side like low unemployment, relatively low gas prices, fairly positive consumer sentiment and job growth."
According to the Nevada Department of Employment, Training and Rehabilitation, employment in Nevada in August was up 42,100 over the year, with the unemployment rate at 4.1 percent. Eilers said he expects the slot win growth pattern to remain relatively healthy in the short term, but he said there are some concerns amid talk of an impending recession.
"Certainly there are worries about the economy and consumers," he said. "There's a higher risk of slowdown based on that data. … But for the remainder of the year, things continue to look fine."
During the previous economic downturn, Jonas said, operators slowed investments in their slot machines. While business has picked up since then, it's unclear how the next recession will affect casino operators.
Even so, Prater said he's optimistic this growth will continue, at least in the short term.
"The competition and the product and the games are what's driving revenue," he said. "As long as these slot companies continue to fight it out among themselves for the best games, then the operators who want to buy those will continue to see the benefits."
Contact Bailey Schulz at bschulz@reviewjournal.com or 702-383-0233. Follow @bailey_schulz on Twitter.