Resorts World Las Vegas announces construction manager
October 16, 2017 - 11:17 am
Updated October 16, 2017 - 5:02 pm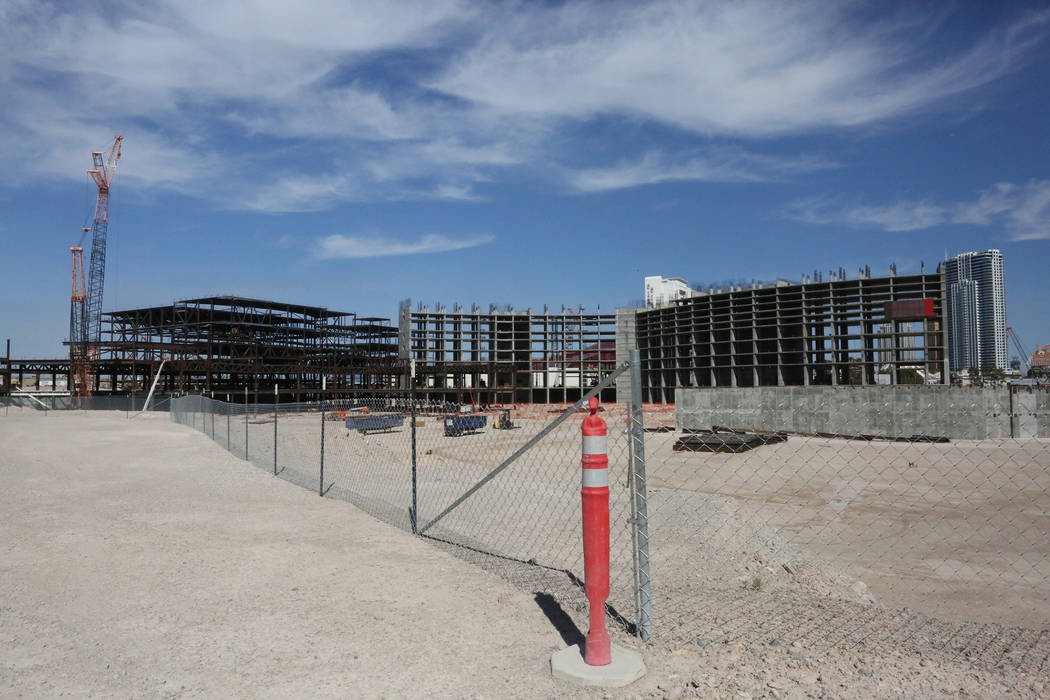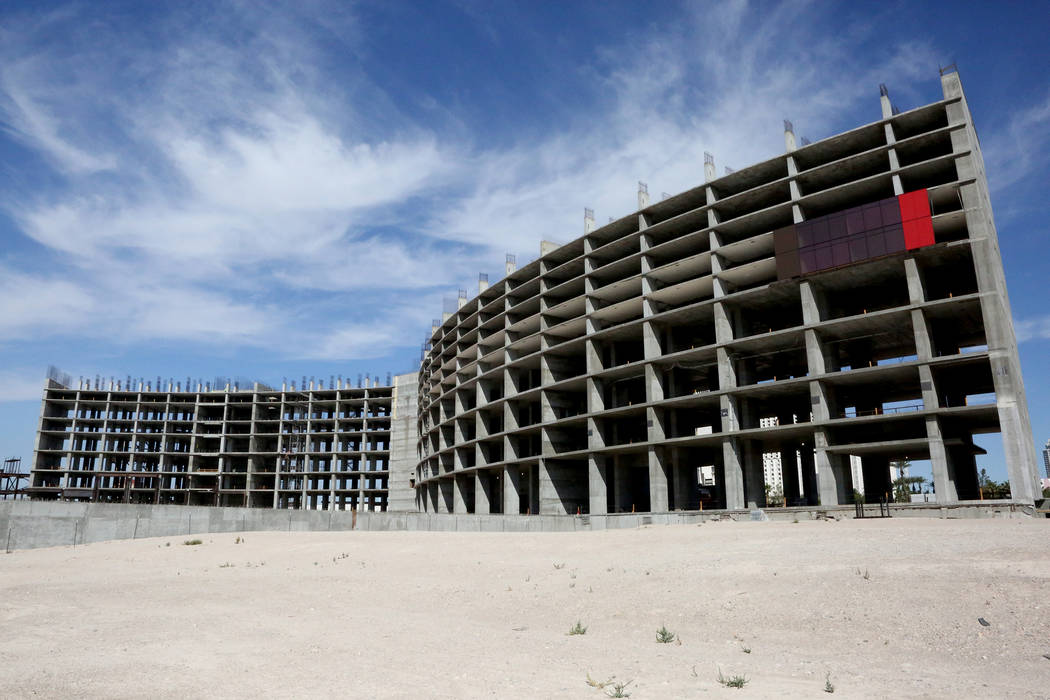 On a warm fall morning, Edward Farrell gazed out from an elevated area on the Resorts World Las Vegas construction site as a small group of workers maneuvered a crane while crews worked to dismantle some of the steel beams that have been in place for years.
"This is where we'll have a lot of the casino amenities," he said, pointing to an area that by 2020 will be transformed into a casino platform.
But before structures can go up, some of Boyd Gaming Corp.'s old Echelon construction must come down.
That began Monday following Resorts World's announcement that it had signed a construction management deal with Las Vegas-based W.A. Richardson Builders. Terms were not announced.
Echelon was the name of the $4 billion project Boyd considered on the 87-acre North Strip site in 2007 before discontinuing work a year later. In March 2013, Boyd sold the site and the unfinished steel skeleton on the property to Genting for $350 million.
Old Stardust site
Representatives of Genting, the Malaysian company that is building the $4 billion, 3,000-room Asian-themed Resorts World Las Vegas resort where the Stardust and Westward Ho once stood, said the site officially is in transition.
What that means is that Farrell, Resorts World Las Vegas' president, is guiding pre-construction work to the construction phase with Richardson. It has taken awhile to get where it is. Resorts World conducted an official groundbreaking in May 2015. When Farrell was named president in May this year, he said construction would take off by fall.
"Once we mobilize, start to finish, it'll be a three-year timeline, so we hope that by late 2020 we'll be opening the property," Farrell said.
The company also announced that it has finalized $400 million in contracts with vendors that will lead the way to bringing an estimated 1,000 workers to the site by early next year.
"Between now and the end of the year and early next year, you'll have that many on site as we execute some of the major contracts for steel and concrete work that will begin here very shortly," he said.
Farrell noted that a parking garage on the west end of the property is complete — that's where construction workers will park — and added that there are offices beneath the structure and a tunnel under the casino floor that will help connect workers to their job stations.
Adjacent to where the casino will stand are the beginnings of two room towers, currently 10 stories tall, that will rise to 56 stories at a rate of one floor every eight days once construction begins in earnest.
Taller than Wynn
At 679 feet, the towers would be slightly higher than the 514-foot, 49-story Wynn Las Vegas, just southeast of Resorts World, across Las Vegas Boulevard.
Farrell is confident Richardson will be able to deliver the project on time and on budget.
"Looking up and down the Strip in Las Vegas, there are lot of qualified contractors that we had the option of selecting," he said. "(Richardson) has the experience and has the know-how and has had success within the Las Vegas market, and that is why we came to the final conclusion on them."
Richardson's resume includes building Mandalay Bay, Monte Carlo, The Linq Hotel and The Cromwell and major renovations and expansions to Luxor, Circus Circus and numerous Caesars Entertainment properties.
Bill Richardson and partner Yvette Landau have more than 30 years of experience in constructing large-scale projects in Las Vegas.
Richardson is a certified women's business enterprise, with Landau leading efforts to ensure Resorts World maximizes its use of local, diverse labor. Resorts World has committed to using union labor throughout construction.
Contact Richard N. Velotta at rvelotta@reviewjournal.com or 702-477-3893. Follow @RickVelotta on Twitter.
$400 million in contracts
Here's a list of the contracts already awarded in the construction process:
Professional services
Third-party special inspections and quality control: 3M Inspection & Consulting, Las Vegas
Geotechnical inspections: Terracon Consultants, Las Vegas
Survey services: JS&S Inc., Las Vegas
Fire system design: Safe Electronics Inc., Las Vegas
Specialty engineering: ENGworks, Costa Mesa, California
Tower crane equipment: Morrow Equipment, Salem, Oregon
Tower crane operators: Dielco Crane Services, Las Vegas
Man-lifts and operators: Compass Equipment, Henderson
Construction materials
Structural steel and metal decking: SME Industries, Houston; Schuff Steel Southwest, Las Vegas
Micropiles: Nicholson Construction, Canonsburg, Pennsylvania
Drilled shafts: Hayward Baker, Las Vegas
This list has been updated to correct the name of the third-party special inspections and quality control company.
Looking for a job?
Resorts World Las Vegas has a development website: http://www.rwlasvegas.com that lists contact information for employment. Prospective workers can email HR@rwlasvegas.com for more information.