State gaming win hits 8th straight month of $1B+ in October
Updated December 1, 2021 - 6:57 am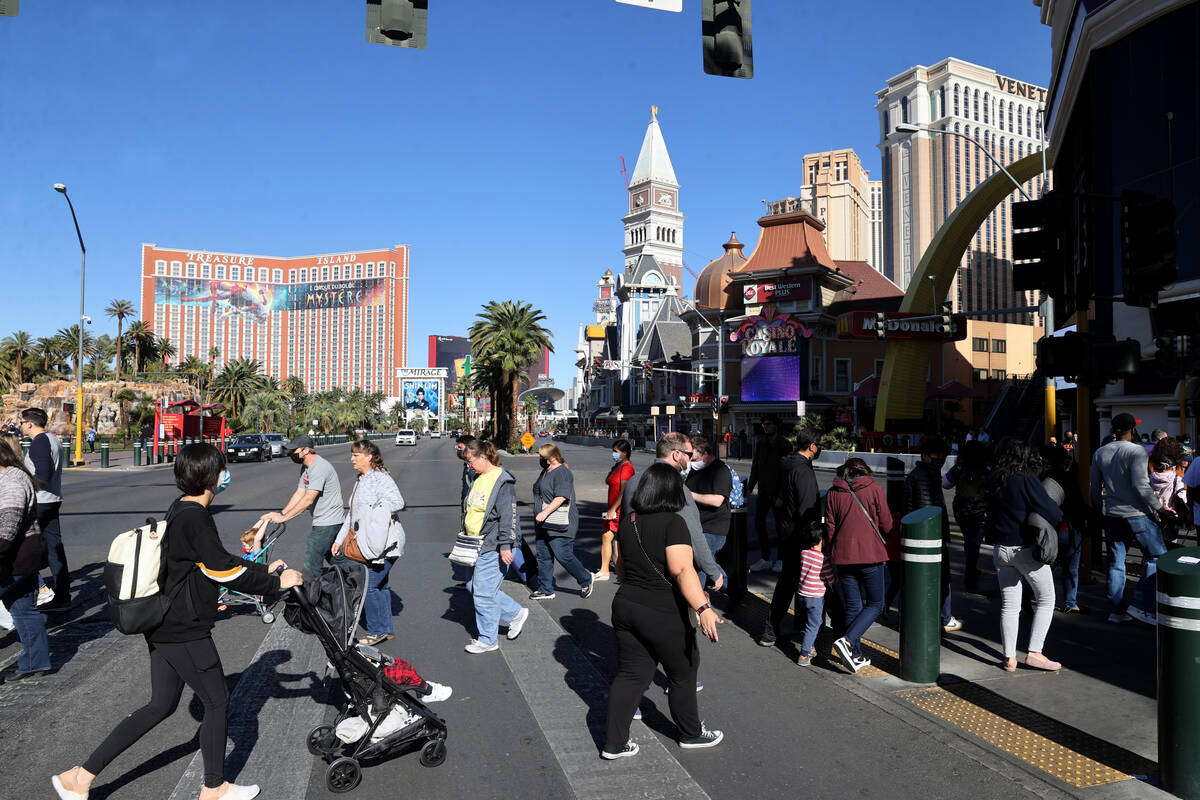 Nevada casinos in October tied the record for most consecutive months winning more than $1 billion from players, the Nevada Gaming Control Board reported Tuesday.
The state win was a 48.5 percent improvement over the previous year.
Clark County was a big contributor to the effort, collecting 86.5 percent — $1.057 billion — of the state total.
The last time the state won more than $1 billion eight months in a row was from October 2006 to May 2007.
"Strong demand across markets, the continued rebound of leisure travel and the return of special events and entertainment continued to propel gaming win past 2019 levels, which are now 9.2 percent above calendar year to date 2019," said Michael Lawton, senior research analyst for the administration division of the Control Board. "This month specifically had a very full calendar of events. Additionally, the month of October benefited from having five weekends compared to four in 2019."
The Strip was a big part of the county total with $702.2 million won, an 86.9 percent improvement over October 2020 and the second-highest monthly total ever. For the first four months of the 2022 fiscal year, Strip win has more than doubled from the same period last year to $2.761 billion.
On a roll
Clark County and Strip gaming win have been on a roll lately.
Clark County alone has recorded $1 billion in gaming win five of the past six months, Lawton said. Prior to that, October 2007 was the only time Clark County recorded $1 billion in win.
On the Strip, table games and slot play showed substantial increases.
The board reported game and table win of $333.9 million, a 99.2 percent increase over October 2020 and a 43 percent increase over October 2019.
Slot win of $368.2 million was up 76.9 percent from a year ago and 20.7 percent from two years ago.
Calendar twist
New York-based J.P. Morgan gaming analyst Joe Greff indicated October win could have been even greater, but the calendar wasn't working in the industry's favor.
"We note an unfavorable calendar shift — October 2021 ended on a Sunday so Las Vegas locals slot gross gaming revenue for both Saturday and Sunday will be counted in November; 2021 had two fewer days than 2019 and one fewer than 2020," Greff said in a Tuesday report to investors.
Carlo Santarelli, a gaming analyst in the New York office of Deutsche Bank, quantified what the calendar shift means.
"Given the month ended on a Sunday, the final weekend slot revenue will be recorded in November," Santarelli said in a note to investors. "If we were to keep locals slot holds constant, and essentially solve for the calendar accounting, relative to 2019, we estimate Las Vegas locals gross gaming revenue would have been up about 11 percent versus October of 2019."
Nevada sports wagering — a small piece of total gaming win — fared well in October.
Lawton said football bets totaled $728.6 million, an all-time record, beating the previous record of $502 million set in November 2020. Football win was just $29.8 million due to poor hold of 4.1 percent. Nevada sportsbooks had reported disappointing results in football for three consecutive weeks in October.
"Nevada has experienced strong acceptance of mobile wagering by visitors who sign up for access while in town," Lawton said. "Additionally, October is also the month where all four major league sports are in play in addition to NCAA football.
"This month also had five weekends of NFL games which obviously contributed to the football totals," he said. "The final point we are hearing, which is more difficult to quantify, is the impact of the Raiders' games at Allegiant Stadium. Raiders home games have been generating higher wagering totals for some operators compared to when they are playing on the road thus far."
Only two of the 20 markets monitored by the Control Board had months that were worse than the previous year. One of those was South Lake Tahoe, down 25.8 percent from the previous year to $16 million. That region in October was still recovering from the devastating effects of the Caldor Fire that raged along the California-Nevada border since mid-August. The fire was officially considered contained Oct. 21. The other market that stumbled: North Lake Tahoe, down 2.9 percent to $2.2 million.
This story has been updated to correctly reflect when the last eight-month streak began.
Contact Richard N. Velotta at rvelotta@reviewjournal.com or 702-477-3893. Follow @RickVelotta on Twitter.