Strip hotels accused of fixing room rates want lawsuit dismissed
Updated April 4, 2023 - 9:51 am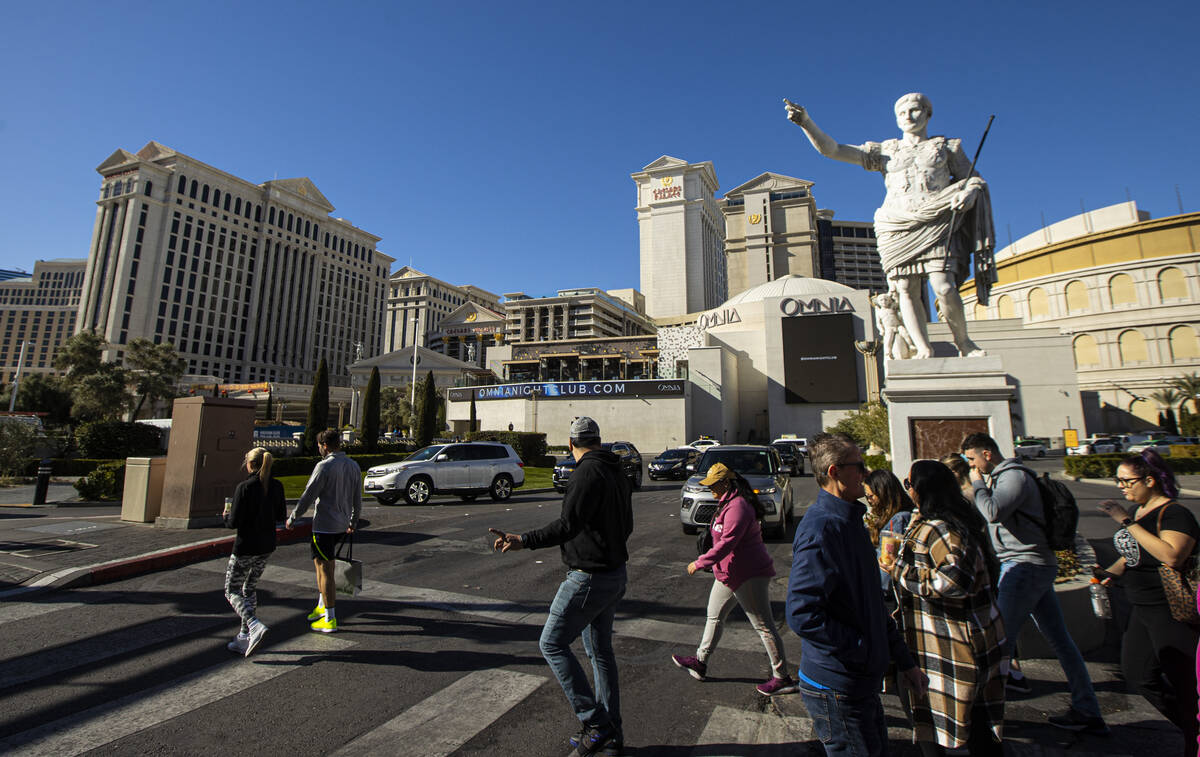 Several hotel-casino operators on the Strip asked a U.S. court last week to dismiss a lawsuit accusing the companies of price fixing hotel rooms through a revenue management platform.
Lawyers representing MGM Resorts International, Caesars Entertainment Inc., Wynn Resorts Holdings, Treasure Island and Cendyn Group, the company behind the revenue management platform Rainmaker, said in a court filing on March 27 that the plaintiffs, two tourists, did not show any direct evidence that using the platform led to price collusion.
The attorneys did not immediately respond to a request for comment.
"The complaint fails at the outset because it is missing every essential ingredient necessary to plead an antitrust conspiracy," under precedent, defendants said in a joint motion to dismiss the U.S. District Court of Nevada case.
The plaintiffs' attorneys with Seattle-based law firm Hagens Berman argued in its January complaint that Rainmaker uses real-time pricing and supply information from competitors on the platform to design rate recommendations that "unlawfully maximize profits for its hotel operator users." The lawsuit claims hotel operators violated the Sherman Antitrust Act and wants to hold defendants liable for repayment for guests who overpaid.
But the hotels say there was no direct or circumstantial evidence that backs their allegations of conspiracy, according to the motion. The initial complaint did not identify who entered the conspiracy — instead relying on a confidential witness that said the products are used by 90 percent of hotels on the Strip — nor when it began. The motion also states the complaint fails to articulate what the defendants agreed to and how the alleged conspiracy operates and instead speaks generally to algorithmic pricing.
"The complaint fails to identify a single communication between Hotel Defendants, much less one that suggests a conspiracy was afoot," according to the motion.
Steve Berman, managing partner of Hagens Berman, said in a statement that the motion to dismiss was expected.
"The defendants in this case will attempt every trick in the book to hedge their bets, but we believe the cards are stacked against them," Berman said. "We look forward to the court's response and to continuing this case on behalf of the sizable class of those harmed by their illegal pricing measures."
Several hospitality experts previously told the Review-Journal that software with algorithms that recommend daily hotel room prices, forecast group demand and rate-shop against competitors are commonly used.
McKenna Ross is a corps member with Report for America, a national service program that places journalists into local newsrooms. Contact her at mross@reviewjournal.com. Follow @mckenna_ross_ on Twitter.