WSOP signs new 4-year deal, scraps November Nine format
Updated May 15, 2017 - 5:13 pm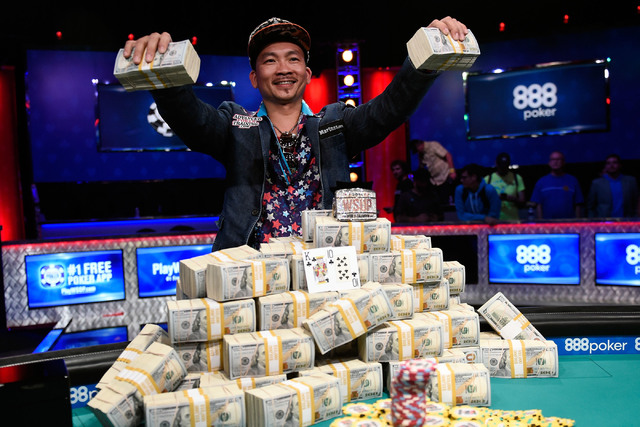 The World Series of Poker has signed a new four-year broadcast and digital agreement that will provide start-to-finish coverage of the July event and ditch the November Nine format that had final table players competing months after the main tournament.
Poker Central on Monday said it has acquired the global television and digital media rights to the annual poker event staged at the Rio. Poker Central also announced that it has reached an agreement with ESPN to broadcast the event from the first day of the tournament July 8 to the conclusion of the final table July 22. Due to regulatory restrictions, the tournament can't technically be broadcast live, but it's tape-delayed by 30 minutes.
Financial terms of the deal were not disclosed.
Under the agreement, ESPN and ESPN2 will broadcast about 40 hours of play July 8-17. Final-table competitors will get July 18-19 off before resuming July 20 with a winner to be determined July 22.
Las Vegas resident Qui Nguyen, an immigrant from Vietnam, won the $8 million 2016 event prize in November, outlasting 6,736 other competitors.
Under Poker Central's new deal, ESPN has committed to 130 hours of main-event coverage a year and any coverage not aired by ESPN would be streamed through Poker Central's digital distribution channels.
"ESPN has been our home since 2002 and we're delighted to extend the relationship into the next decade," Ty Stewart, executive director of the World Series of Poker, said in a statement announcing the deal. "Having every day live coverage of the WSOP Main Event is truly a huge commitment on behalf of ESPN and Poker Central and we look forward to delivering to our faithful audience wall-to-wall action from the outset for the very first time."
"We are thrilled to add the pre-eminent poker brand, the World Series of Poker, to our growing portfolio of poker-related content," added J.R. McCabe, chief digital officer for Poker Central in the release. "We have major plans to reinvent the WSOP offering to greatly expand how, when and where fans of the game of poker can watch and engage with the game."
Seth Palansky, vice president of corporate communications for Caesars Interactive Entertainment and the World Series of Poker, said the decision to end the November Nine format was based on ESPN's commitment to provide additional live coverage.
"We found that live poker worked so it makes all the sense in the world to have a two-day delay from a 100-day delay to the final table," he said.
He added that the November dates created conflicts with ESPN's Sunday-night football coverage and rescheduling it to July giving the poker tournament a better coverage window with less competition.
Contact Richard N. Velotta at rvelotta@reviewjournal.com or 702-477-3893. Follow @RickVelotta on Twitter.
TV coverage
Here's the planned broadcast schedule for this year's World Series of Poker on ESPN (all times Pacific Daylight Time):
-July 8, ESPN2, 1-5 p.m.
-July 9, ESPN2, 11 a.m.-3 p.m.
-July 11, ESPN, 5-8 p.m.
-July 12, ESPN, 5-7 p.m.
-July 14, ESPN2, 5-8 p.m.
-July 15, ESPN2, 11 a.m.-1 p.m.
-July 16, ESPN2, 11 a.m.-3 p.m.
-July 17, ESPN2, 4-6 p.m.
-July 19, ESPN2, 7-8 p.m. (Final Table preview show)
-July 20, ESPN2, 6 p.m. – TBD (Final Table, nine to six players)
-July 21, ESPN, 6 p.m. – TBD (Final Table, six to three players)
-July 22, ESPN, 6 p.m. – TBD (Final Table, three players to winner)