Raiders' Las Vegas stadium approved to leave NV Energy
Updated January 30, 2019 - 7:35 pm
The Raiders' Las Vegas stadium has the green light to get its power from a provider other than NV Energy — and it won't have to pay an impact fee to do business with an electricity competitor.
The Public Utilities Commission on Wednesday unanimously approved the LV Stadium Events Co. request to pre-emptively leave NV Energy without an impact fee. The company argued that because the stadium was still under construction and had never established permanent electric service with the utility, it shouldn't be charged millions of dollars to pursue cheaper power costs.
The stadium company said in its filing that leaving NV Energy "will allow it to purchase lower and more flexibly-priced electricity on the open market, thus advancing its ability to grow its business and generate jobs." The stadium identified Texas-based power marketer Tenaska Power Services Co. as its alternative provider.
The Las Vegas stadium joins a growing list of companies that are moving closer to leaving the state's utility. The commission's approval could benefit other large companies and projects that want the ability to exit NV Energy's monopoly and reduce their electricity costs.
Leaving NV Energy for another power provider usually comes with a huge price tag. In 2016, MGM Resorts International paid $86.9 million in impact fees, and Caesars Entertainment Corp. was assigned $47.5 million in impact fees in 2018.
NV Energy asserts that the PUC must impose impact fees because the exit of large companies from its service creates upward pressure on rates for remaining customers. NV Energy made the same argument for the assessment of an impact fee against the stadium company despite receiving a letter from the company in March saying that it had plans to use alternative providers and that the utility should not plan for the stadium's load.
"Planning for 2019 thus occurred well before the Stadium notified (NV Energy) of its intent (to) file its application," the utility said in filings with the PUC.
But the stadium's exit shouldn't lead to "any issues for the rest of customers" if NV Energy hasn't provided any capital improvements to the stadium, said Guy Snow, president of Solar NV, a local chapter of the American Solar Energy society solar advocacy group.
MSG Sphere
The PUC's decision bodes well for MSG Sphere, which made an argument similar to the stadium company's pitch to seek electricity from another company.
"As LV Sphere's load does not currently exist, its departure will not reduce the total load across which (NV Energy) spreads its fixed costs," the company said in its October PUC application.
The 400,000-square-foot, 18,000-seat entertainment venue is scheduled to be completed in 2021 and is a collaboration between Madison Square Garden and Las Vegas Sands Corp.
The PUC will discuss MSG Sphere's request to pre-emptively leave NV Energy without an impact fee on March 14.
"My assumption would be that they (the stadium and MSG Sphere) would all be treated equally," said Andy Abboud, senior vice president of government relations for Las Vegas Sands Corp. "I think the stadium sets a good precedent."
In 2015, Las Vegas Sands received permission from the PUC to leave NV Energy but declined to follow through with the departure and pay a $23.9 million exit fee.
Abboud declined to comment on whether Las Vegas Sands would follow through on leaving NV Energy, but he said the company would continue to work and communicate with the utility to find alternative solutions.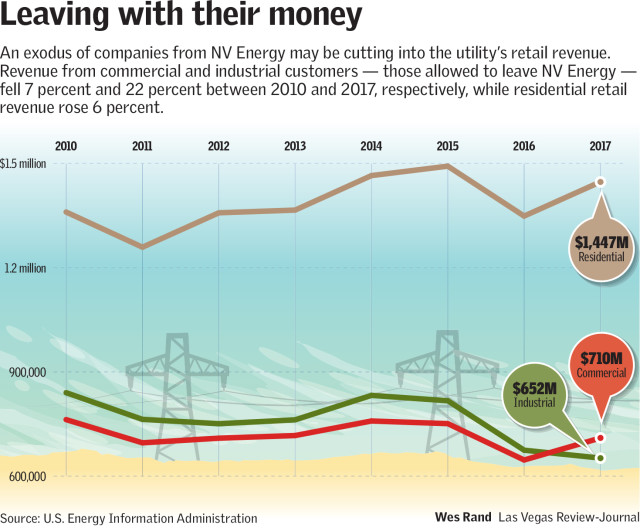 The stadium is one of 10 companies that kick-started efforts to use other power providers in 2018. John Restrepo, principal of Las Vegas-based RCG Economics, said many of the companies are leaving to save money or use more renewable resources.

"Users still want to leave the market," Abboud said. "Clearly this is an indication that people need cheaper alternative power."
Profitability
According to data from the Energy Information Administration, NV Energy's total retail revenue in 2017 was more than $2.8 billion. Reports from Berkshire Hathaway — which acquired NV Energy in December 2013 — show the utility has earned more than $2.6 billion since 2014.
The company spent $63.1 million last year opposing ballot Question 3, a constitutional amendment on November's ballot that would have shifted the state away from a monopoly-based utility structure toward a competitive, open electricity market for all customers. Voters rejected the question.
Between 2016 and 2018, Las Vegas Sands contributed $23.8 million to the political action committee that supported Question 3.
Currently, state law allows only certain nongovernmental industrial and commercial customers to leave NV Energy.
If the stadium follows through with its departure, NV Energy still will transmit energy to the facility. And the stadium still will have to pay certain taxes and fees and distribution costs.
"We believe we are the best energy partner for our customers and will continue to work hard to earn the Raiders' Las Vegas Stadium business," NV Energy spokeswoman Jennifer Schuricht said via email.
The Review-Journal is owned by the family of Las Vegas Sands Corp. Chairman and CEO Sheldon Adelson.
Contact Bailey Schulz at bschulz@reviewjournal.com or 702-383-0233. Follow @bailey_schulz on Twitter.