Faraday's timeline hiccups are justified, North Las Vegas officials say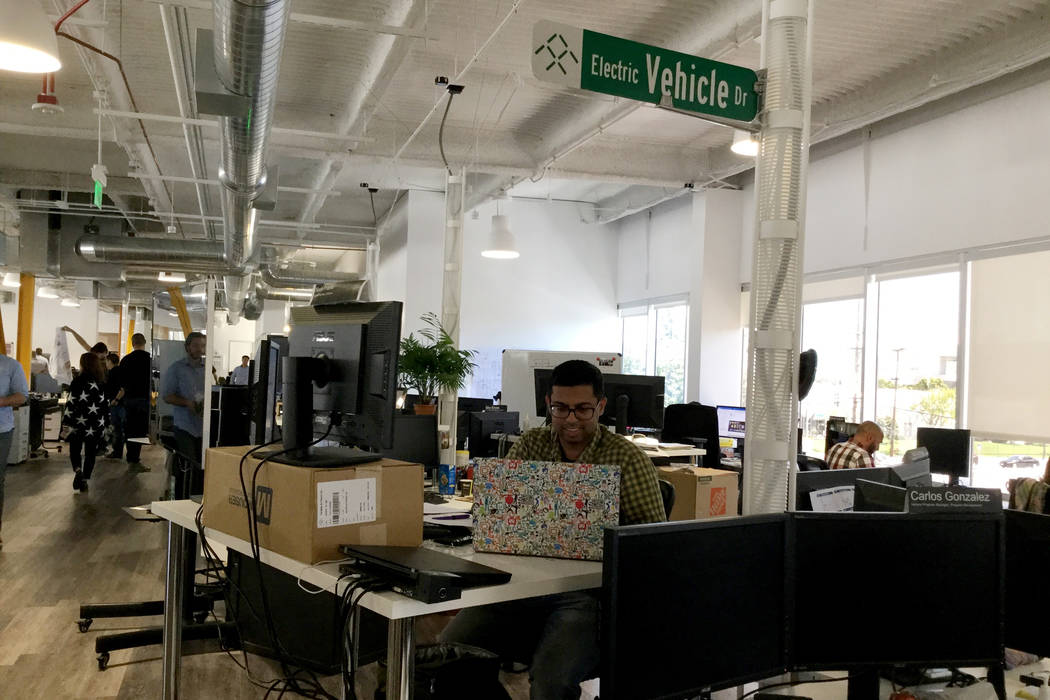 North Las Vegas Mayor John Lee said he's excited about Faraday Future.
You should be too, he said.
"Give me, as mayor, a little bit more time," Lee said. "I'm committed only because I see progress."
Lee, along with North Las Vegas City Manager Qiong Liu, spoke to a crowd of about 20 business professionals Wednesday at a Nevada Center On Foreign Relations event.
They say Faraday's delayed timeline is justified.
"The anticipation, the excitement, the thrill of having Faraday, especially in Southern Nevada is big. But a building is built three times before you ever enter the building," Lee told the crowd at Main Street Station, adding that first a building is constructed as an idea, then as a design and then as a structure.
Faraday Future is working to bring its first autonomous electric vehicle to production at Apex, but there is not much to see at the site.
A changing timeline
When Faraday broke ground on its 3 million-square-foot manufacturing facility in April 2016, company executives at the time said the goal was to start building cars as early as 2017.
By December of that year, the goal was moved to 2018.
A contractor completed grading work at the site last year, but buildings have yet to surface.
Activity in North Las Vegas is "a lot further along" than meets the eye, Lee said.
"Just because they're not building a car (currently at Apex), doesn't mean they're not building a company," he said, referencing the installation of the underground sewer and other foundation site work.
Lee said he and his team are meeting with Faraday officials to discuss the timeline next week.
'A learning curve'
Liu said hiccups in the timeline are common for startups, and especially startups that are foreigner-backed and owned.
"We have dealt with multiple projects that are funded by foreign investors," Liu said. "It seems to be very common for them to have a very conceptual plan to begin with, and later on find out there are a lot of other steps they have to follow, because they didn't really have the experience of working in this environment and aren't familiar with our process."
In Faraday's case, Liu said she saw examples of that "all along the way."
"Faraday's behavior is not unique, for any company that has not really had this kind of experience working in U.S. soil before," she said.
A Faraday spokesman declined to comment.
Contact Nicole Raz at nraz@reviewjournal.com or 702-380-4512. Follow @JournalistNikki on Twitter.
What has Faraday Future been up to?
The company reports its activities to the Governor's Office of Economic Development on a quarterly basis.
During the second quarter of 2016, Faraday reported it:
— Invested more than $6 million for infrastructure design work for the project area
— Set up an interim office site in North Las Vegas
— Set early third quarter as a timetable for the start of demolition and grading work
During the third quarter of 2016, Faraday reported it:
— Began demolition and grading
During the fourth quarter of 2016, Faraday reported it:
— Made a capital investment of more than $160 million
— Completed all site demolition work
— Graded and moved more than 2.5 million cubic yards of earth on-site
— Completed installation of the underground sewer
— Completed grading, with the exception of the north and south channels
— Certified that the pad for the factory building is at grade and ready for the start of foundations
— Established on-site offices for both Faraday Future employees and the general contractor
— Leased additional interim office and meeting space in the city of North Las Vegas