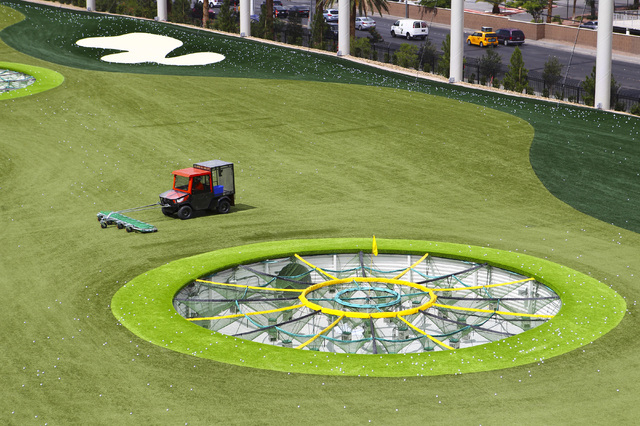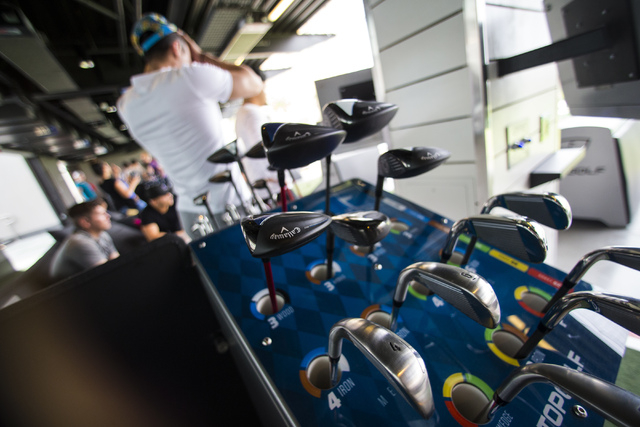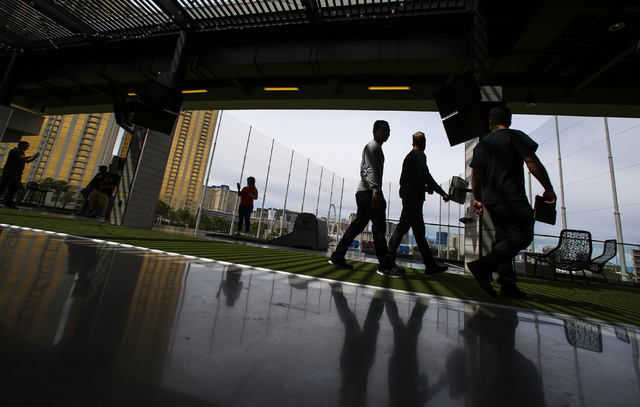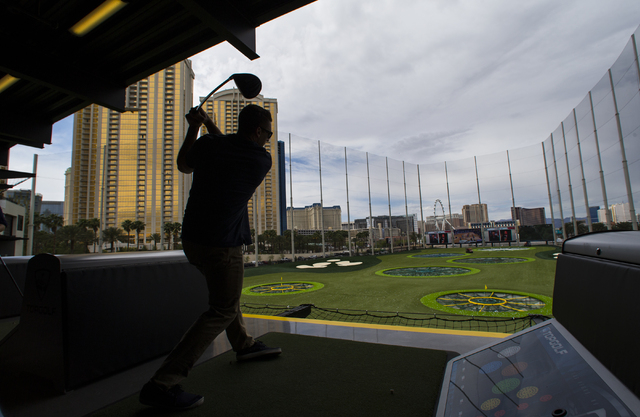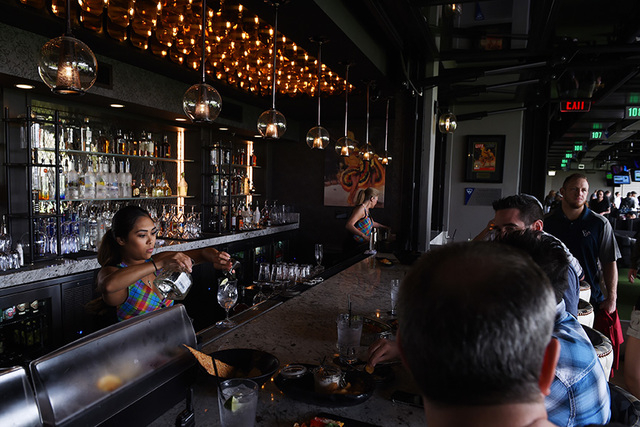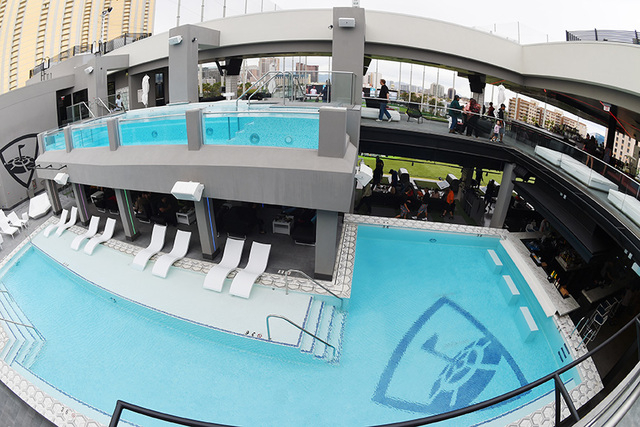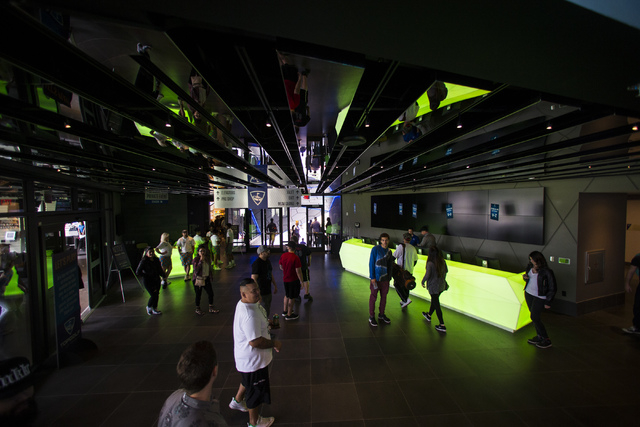 In the entertainment capital of the world, locals and visitors alike may be hard-pressed to find new experiences.
But what about a golf driving range on the Strip? One that's open until 4 a.m. on weekends?
"Everybody in the industry has been talking about what a great place this is going to be," said Melissa Brueggemeyer, 37, of Las Vegas. "It's a new concept that Vegas hasn't seen yet. I've lived here for 15 years. … This is something that's never been done by Vegas."
Topgolf Las Vegas, located at 4627 Koval Lane behind the MGM Grand, boasts 108 climate-controlled hitting bays, two pools, cabanas, a concert venue, VIP suites, five bars, special-event spaces, a comfort food-inspired menu with creative beverage offerings, a Callaway Fitting Studio and a Topgolf retail shop. It spans four levels and 105,000 square feet.
It debuted this week with a family-and-friends event on Tuesday and opens to the public at 8 a.m. Thursday.
Rod Coppola, 45, of Las Vegas, was at the family-and-friends event, breaking in a new set of golf clubs.
"I've played at the one in Arizona before, but living in Vegas, I'll be here all the time," he said.
Topgolf Las Vegas is the company's 26th location.
It's also the largest.
Johnny McMahon, director of operations, said the company has steadily evolved over time, with several of their other properties spanning only 65,000 square feet and three levels. In addition, some are only one- or two-levels, he said.
He said he's confident the Las Vegas location will become the company's flagship and most successful property.
"We knew we had an amazing product and we wanted to come to the entertainment capital of the world and see what we could do," McMahon said.
At the heart of Topgolf, guests will find interactive golf games in the hitting bays that can host up to six players at one time, featuring lounge-style seating and HDTVs. Golf games can be enjoyed by all ages and skill levels, tracking the accuracy and distance of players' shots through Topgolf's microchipped balls.
"It's very technical," Coppola said. "You can work on your distances, you can work on your chipping. The distances are right on, and it's a great place to work on your approach shots and your short game."
While Topgolf attracts seasoned golfers such as Coppola, it's also a venue nongolfers can enjoy with their friends, McMahon said.
"When the whole building is full, three-quarters of our guests aren't playing golf — that's why it's such a different entertainment experience," he said. "In surveys we've done, we've found that 70 percent of our guests don't play golf. We try to make golf very approachable and non-intimidating."
The venue is expected to serve upward of 1 million guests in its first year of operation. More than 850 full- and part-time employees have already been hired. It operates Sunday to Thursday from 8 a.m. to 2 a.m. and Friday and Saturday from 8 a.m. to 4 a.m. Bay pricing starts at $30 per hour for up to six players and varies depending on bay location and time of day.
General admission is free.
Contact Natalie Bruzda at nbruzda@reviewjournal.com or 702-477-3897. Find @NatalieBruzda on Twitter.
RELATED
Construction continues on Topgolf near the Strip