Grocery delivery service Instacart to debut in Las Vegas
Updated April 26, 2017 - 8:55 pm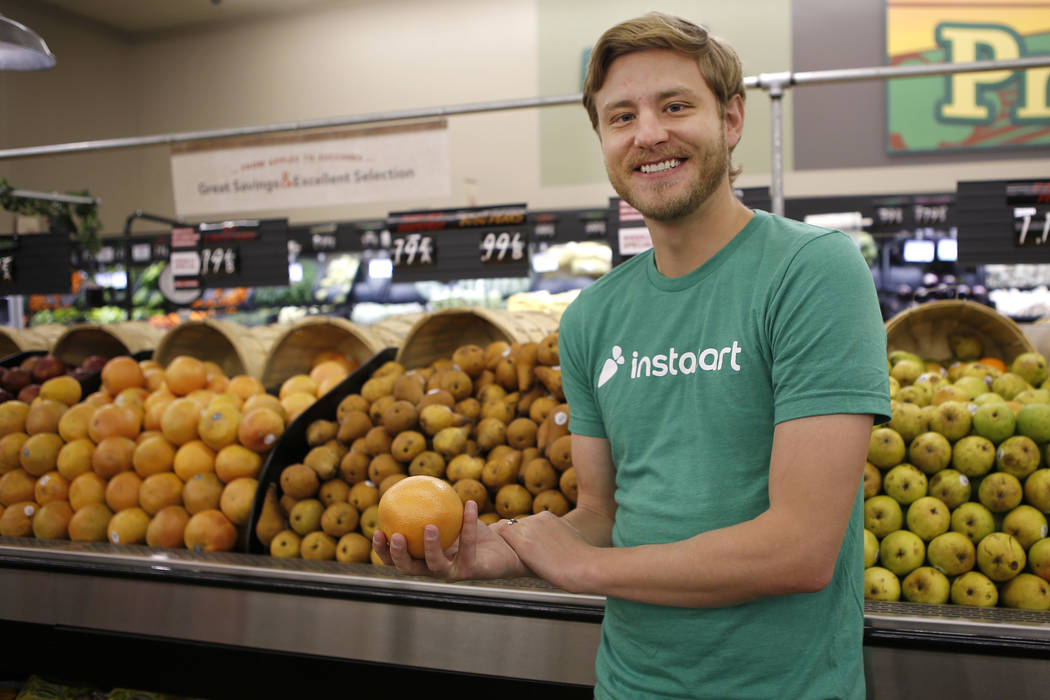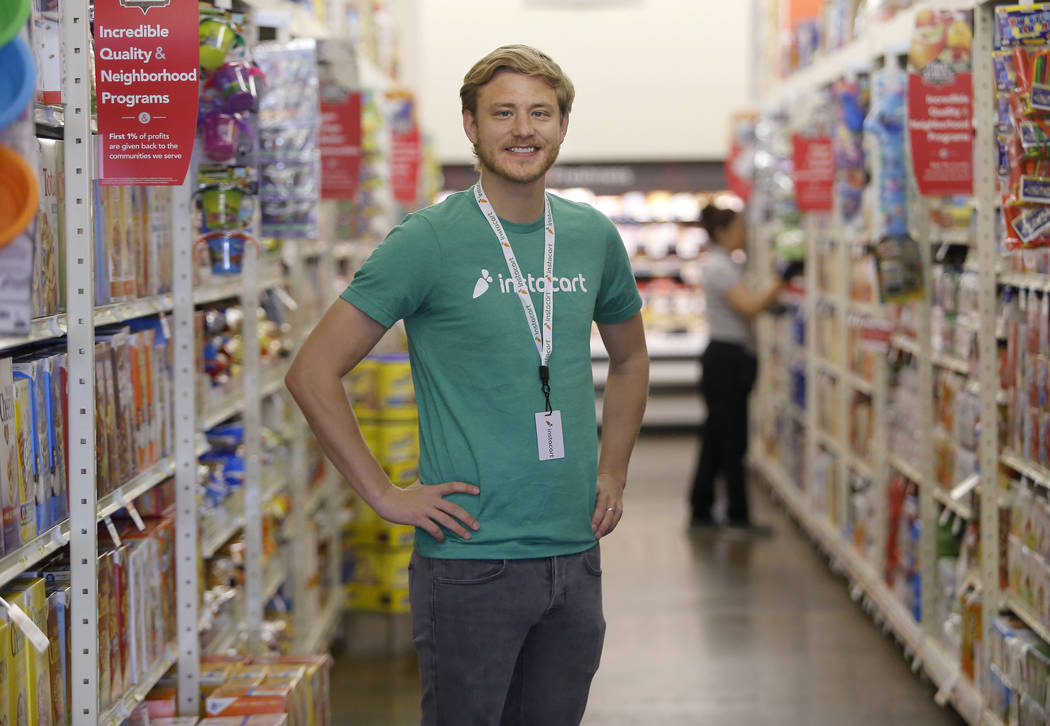 A grocery delivery service rolls its carts into Las Vegas on Thursday.
Instacart lets shoppers use their website or app to order what they want, and then have those items delivered right to their doorstep — in as little as one hour for $5.99. Las Vegas will be part of the company's entree into their 50th market, as they are launching not only in Las Vegas on Thursday but also in Detroit; Columbus, Ohio, and three cities in the Rio Grande Valley in Texas.
"To take two hours a week to go grocery shopping — on average people shop about 54 hours a year —we can give that back to them," said David Holyoak, Instacart operations manager.
Instacart just hired more than 100 contractors in Las Vegas to complete customer orders from Albertsons, Costco, Whole Foods Market, Smart and Final and Petco. Natural Grocers is also available in some ZIP codes.
"We have the advantage of being one of the first movers here, which is great," Holyoak said. "Here in Las Vegas you have everybody just in the Valley. So the geographic area isn't that big, and there's a lot of people here."
Instacart is slated to cover about 600,000 households at launch, he said.
Brian Gordon, a principal at Las Vegas-based research and consulting firm Applied Analysis, said a service like Instacart will be a first for Southern Nevada.
"A number of grocers have tested the waters in terms of delivery services themselves, but we haven't seen a massive rollout by an independent third-party delivery service here in the Las Vegas market."
Gordon said the city likely has the demographics to support the service's customer base.
"Certainly Southern Nevada has an expanding base of younger consumers, at the same time the senior demographic continues to expand. Both demographics are well-suited to services of this nature," Gordon said.
A startup story
Instacart was founded in San Francisco in 2012, and plans to be in 80 U.S. cities by the end of the year. A recently closed funding round gave the company a $400 million boost.
"The goal is to cover the vast majority of the United States," Holyoak said, adding that he is confident that the business model for the service is sustainable.
Instacart has three main streams of revenue: A delivery or membership fee, revenue from marketing and revenue from grocery sales.
"The retailers pay us a percentage of each basket because we aren't cannibalizing their sales, we're bringing them incremental sales," he said, which are sales from customers who wouldn't have shopped at a certain store if it wasn't for the app.
"For example, location. There are some stores that people say, 'Oh, I love that store, but it's too far for me to go.' Well, now Instacart can deliver it to their home," he said.
Instacart also offers a "robust coupon section," which Holyoak said a "savvy shopper" can use to recoup the delivery fee.
A meaty market
Data suggests Instacart is positioned to be a very profitable market disruptor. The U.S. grocery market totaled about $670 billion last year, according to the Food Marketing Institute.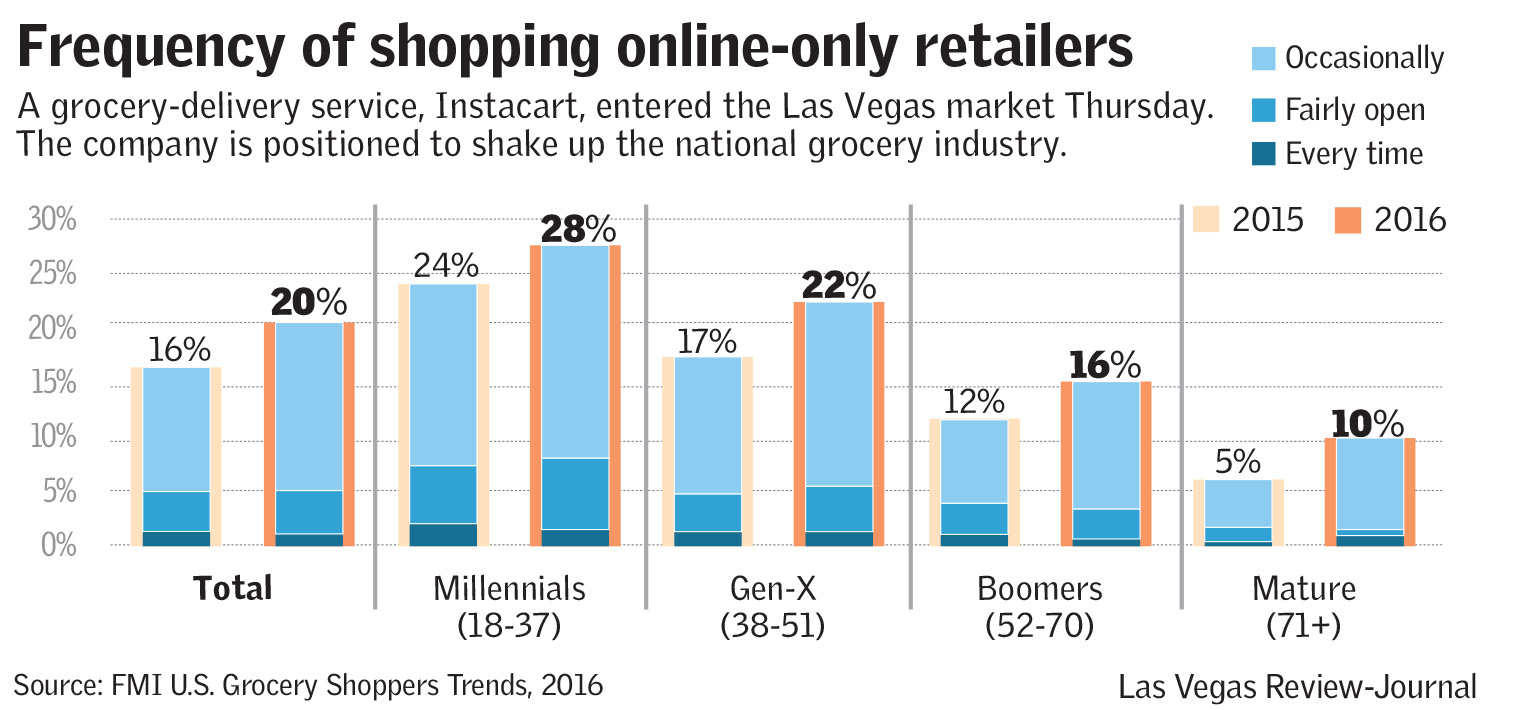 The share of online grocery spending could reach 20 percent by 2025, representing $100 billion in annual consumer sales, according to the institute.
Currently, around 5 percent of U.S. shoppers use online-only retailers to shop for groceries fairly regularly, while an additional 15 percent of shoppers occasionally use online-only retailers for groceries, according to a 2016 institute study.
Albertsons and Whole Foods did not return a request for comment.
Contact Nicole Raz at nraz@reviewjournal.com or 702-380-4512. Follow @JournalistNikki on Twitter.
Grocery delivery services already in Las Vegas include:
— Anything U Want Errand & Delivery Service
Alice Goldstein, company owner, said, "We deliver all kinds of things, like any restaurant of your choice, any fast food spot, courier services of all kinds, cosmetics, pet food, even adult store items. But I'd say groceries probably account for about 20 percent of the calls, which off the top of my head is probably around 1,500 or so customer's in a year"
— Envoy
An Envoy spokesman declined to disclose how many households the company serves in Las Vegas but did say, "We now serve thousands of families across 22 cities in eight states, helping them balance career, kids, and caring for elder loved ones with family concierge services like grocery and meals, rides to the doctor, in-home help, and more."