Foreclosure ban extension likely to help struggling Las Vegans
Updated February 17, 2021 - 7:11 am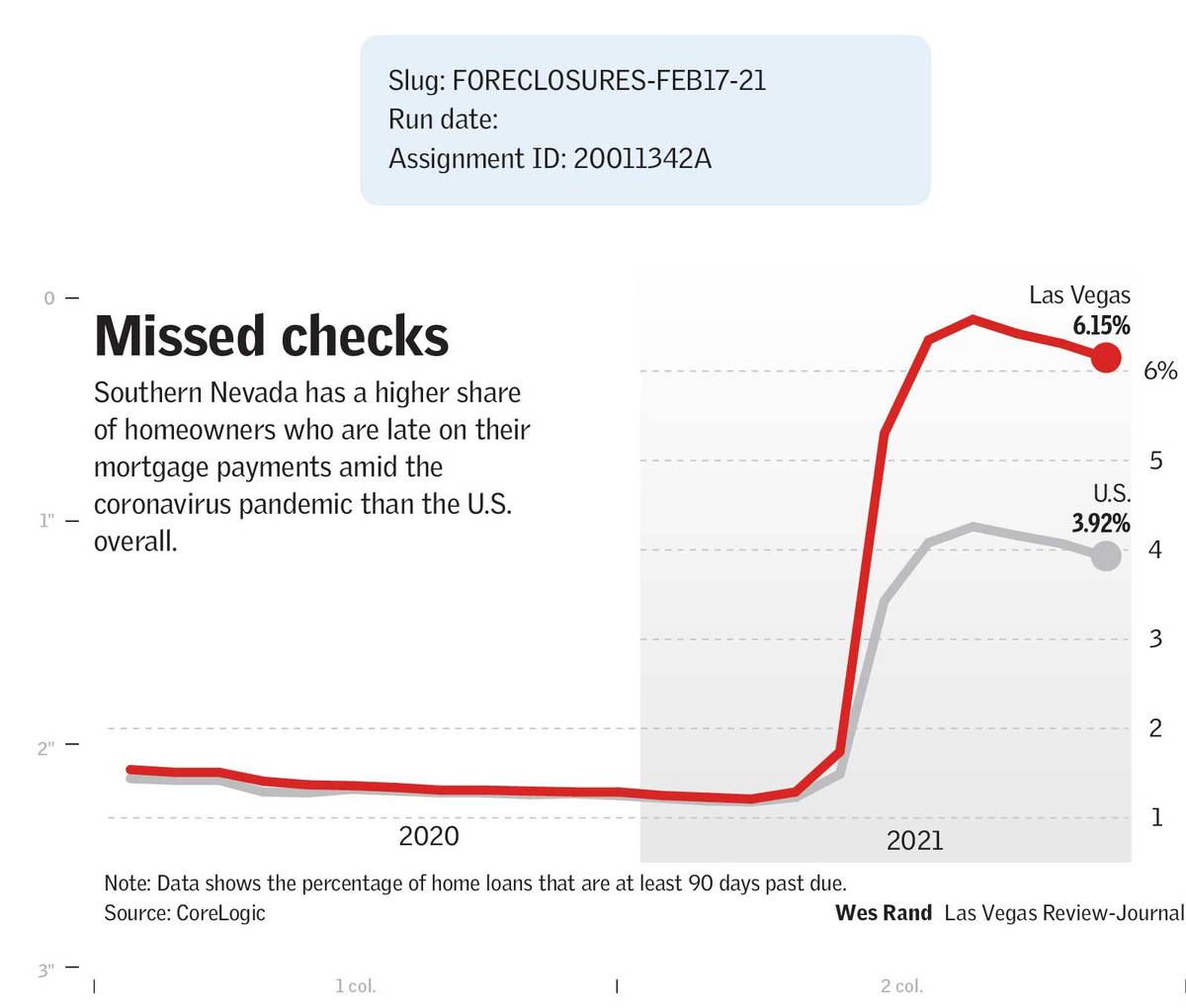 The Biden administration is extending foreclosure protections for U.S. homeowners, a move that could prove especially helpful in Las Vegas as it grapples with a battered economy and a higher-than-average share of late mortgage payments.
The White House on Tuesday announced that residential foreclosures will remain blocked through June and that homeowners now have until the end of June to enroll in so-called forbearance programs to temporarily pause or lower their payments.
Such protections, aimed at keeping people in their homes amid huge job losses sparked by the coronavirus pandemic, had been slated to expire in March, "leaving many at risk of falling further into debt and losing their homes," the White House said.
Just over 10 million homeowners are behind on their mortgage payments, according to the White House.
"This is very positive for a place like Las Vegas," said Selma Hepp, deputy chief economist at housing tracker CoreLogic.
Economic woes
Southern Nevada's housing market has heated up with record prices and rising sales during the pandemic, thanks in large part to cheap borrowing costs, but the market is by no means problem-free amid all the turmoil around it.
Las Vegas' tourism industry, the bedrock of the region's casino-heavy economy, has been dealt a crushing blow by the virus outbreak, saddling the valley with a 10.4 percent jobless rate as of December, highest in the nation among large metro areas, federal officials reported.
Mortgage payments were at least 90 days late on 6.15 percent of Las Vegas-area home loans in November, compared to 3.9 percent nationally, according to CoreLogic.
Last March, in the early days of the pandemic-induced chaos in Nevada, Gov. Steve Sisolak temporarily halted evictions and foreclosures. He later ordered a gradual lifting of the moratorium, clearing the way for residential foreclosures and evictions to resume in full Sept. 1.
The governor then extended Nevada's eviction freeze through mid-October and later implemented another residential eviction moratorium to last through March.
Jon Gedde, chairman of the Nevada Mortgage Lenders Association, said Tuesday that he believes the state-ordered foreclosure freeze has expired.
Sisolak's press office did not respond to a request for comment on the status of Nevada's foreclosure moratorium.
Great Recession vs. today
The protections announced by the Biden administration apply to federally guaranteed mortgages. Combined with a recent forbearance extension by the Federal Housing Finance Agency, these actions cover 70 percent of existing single-family home mortgages, the White House indicated.
According to Gedde, more than 90 percent of home loans in Nevada are federally backed.
He said that without any mortgage forbearance programs or foreclosure moratoriums, Las Vegas could have experienced a big run-up in lenders launching the repossession process.
"Obviously we would have been harder hit than some areas," Gedde said, citing the valley's tourism-dependent economy.
Despite Las Vegas' elevated delinquency rate, a far greater share of homeowners fell behind on their mortgage payments during the Great Recession of a decade or so ago after the mid-2000s real estate bubble burst and the broader economy tanked.
As CoreLogic has previously reported, 19.4 percent of Las Vegas-area mortgages were at least 90 days delinquent as of 2010, up from just 0.6 percent in 2006.
Contact Eli Segall at esegall@reviewjournal.com or 702-383-0342. Follow @eli_segall on Twitter.