NY firm buys 3 Las Vegas Valley apartment complexes for $170M
Updated May 31, 2017 - 6:15 pm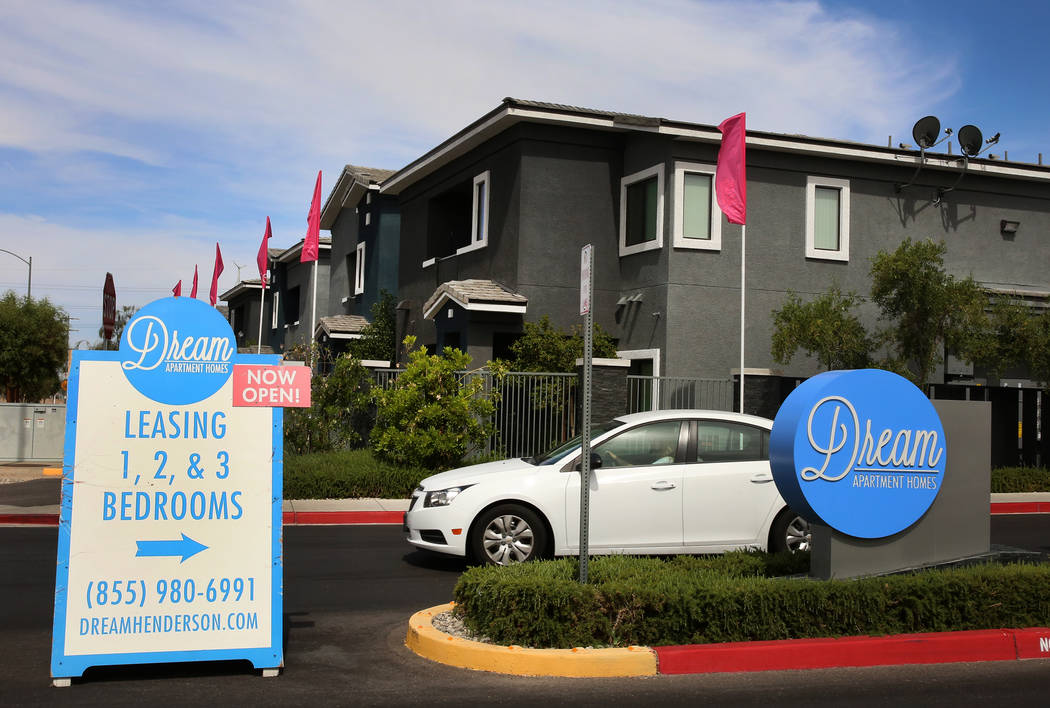 A New York investment giant with extensive real estate holdings in Las Vegas has scooped up more properties here.
The Blackstone Group acquired three Las Vegas Valley apartment complexes for $170 million, property records show. The bulk sale, by developer Martin Egbert of Nevada West Partners, closed May 19.
The deal is another lucrative bet on Las Vegas' apartment market, which has heated up in recent years with higher investment prices, packed buildings, rising rents and lots of construction.
Blackstone acquired Union Apartments and SW, both in the southwest valley, as well as Dream, in Henderson. Overall, it bought 972 units for an average of $174,900 each.
By comparison, investors last year paid an average of about $96,700 per unit in Southern Nevada, according to brokerage Colliers International.
Listing broker Doug Schuster, of ARA Newmark, confirmed the sale to Blackstone. He said it was the first bulk purchase of Class A, or higher-quality, apartment buildings that he knows of during his 16 years in Las Vegas, as opposed to the typical transaction of one complex selling at a time.
Blackstone has loaded up on Las Vegas real estate since the market crashed, buying hundreds of homes to turn into rentals, the 68-acre Hughes Center office park and the 3,000-room Cosmopolitan hotel-casino.
Still, as far as Schuster knew, the recently acquired properties are the only apartment complexes that the company owns in the valley. Around the time of the sale, the properties collectively were about 93 to 94 percent occupied, he added.
Blackstone spokeswoman Paula Chirhart declined comment, and Egbert could not be reached for comment.
Las Vegas' rental market has gained speed amid low homeownership rates coming out of the housing crash. Southern Nevada apartment landlords sought an average of $966 per month in rent in the first quarter, up 19 percent from the same period in 2011, and the area's vacancy rate was just 3.3 percent, down from 8.9 percent in the first quarter of 2011, according to New York research firm Reis Inc.
Construction also keeps ramping up, and investors are writing bigger checks for properties.
Nevada West, one of the biggest apartment developers in the valley, last year sold Domain, in Henderson, for $58.2 million, or almost $189,000 per unit. It also sold The Wyatt, in southwest Las Vegas, last year for about $57.3 million, or roughly $185,900 per unit.
Contact Eli Segall at esegall@reviewjournal.com or 702-383-0342. Follow @eli_segall on Twitter.
The Blackstone Group bought three apartment complexes for $170 million combined.
— Union Apartments: 4450 S. Hualapai Way, Las Vegas
— SW: 6355 S. Durango Drive, Las Vegas
— Dream: 1005 Wigwam Parkway, Henderson