Las Vegas company opens first manufacturing plant for spirit-infused ice creams
April 27, 2016 - 10:51 am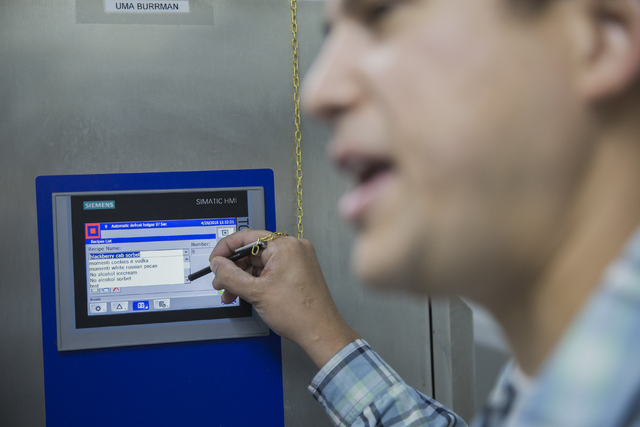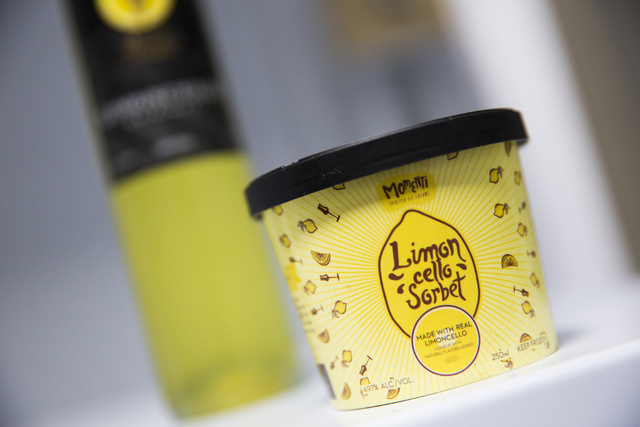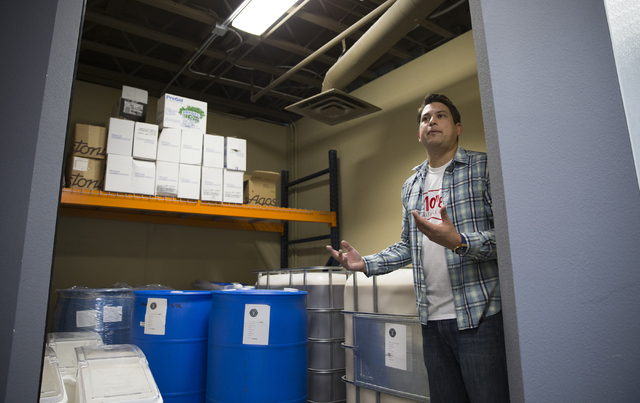 After finding himself aboard a bus adventure with limited alcohol, Leif Pearson turned what could have been a sour situation into a sweet and profitable endeavor — Momenti Spirited Ice Creams.
Pearson, a former IT professional and Las Vegas native who graduated from the Meadows School in Summerlin, founded Momenti in 2013 as a creative, spur-of-the-moment response after being told he and his friends could not bring additional alcohol aboard a bus excursion.
Since then, Pearson's quirky concept of alcohol-infused ice cream has quickly churned into a full-fledged operation complete with a newly opened 2,000-square-foot manufacturing plant in the south end of the Las Vegas Valley. Momenti says it's the first specialty manufacturing plant in the country that creates and develops spirit-infused, super-premium ice creams and sorbets.
Momenti's main ingredient: Family
Momenti, which is Italian for moments, has rapidly expanded from its initial White Russian Pecan flavor to a line-up that includes three alcohol-infused ice creams and two sorbets — and it's still growing.
Much of Momentis' recipe for success thus far can be attributed to its devotion to family.
Leif may be the COO of Momenti, but he's not the only Pearson involved in the mix. His mother, Gloria, handles finances and business development, while Niels, his father, is responsible for sales and compliance. His sister, Nikki, also a school teacher, handles social media and events.
The company currently has one additional full-time staff member. However, as the company continues to expand, they will be welcoming more employees into the Momenti family.
"We anticipate rapid growth withinthe company and at full production will be adding qualified staff as needed," Pearson said.
The science behind Momenti
Pearson has developed a patent-pending process for creating Moment's delicious ice creams and sorbets.
The process requires several automatic manufacturing machines, which Pearson has assigned nicknames based on rappers — for example, "Sir Mix-A-Lot" or "Twista" — and how fast they can rap, or in this case, how fast the machines can operate.
To brew its flavors, Momenti relies on alcohol — and plenty of it.
In fact, the company's new plant has a room devoted solely to its alcohol supply. The room is packed wall-to-wall with barrels of at least 250 gallons of alcohol each. Ironically, the Michigan-based distillery that Momenti has partnered with for its alcohol supply is not only named Temperance — meaning abstinence from alcoholic drinks — but the company is located in a dry county.
Momenti has local partnerships as well.
Anderson Dairy, a Las Vegas staple since 1907, supplies Momenti with an ice cream mix that is capable of holding 3 percent to 13 percent alcohol.
Likewise, Momenti is joining forces with Henderson's Crafthaus Brewery to create a specialty Evocation Saison beer sorbet.
Momenti is currently available at the pool at Palms Place, the Palms' Cafe 6, Vintner Grill in Summerlin, Sonrisa Grill and Essence & Herbs.
Contact Caitlin Lilly at clilly@reviewjournal.com. Find her on Twitter: @caitielilly_