Medical office building opens near Summerlin Hospital
Updated June 9, 2023 - 8:51 pm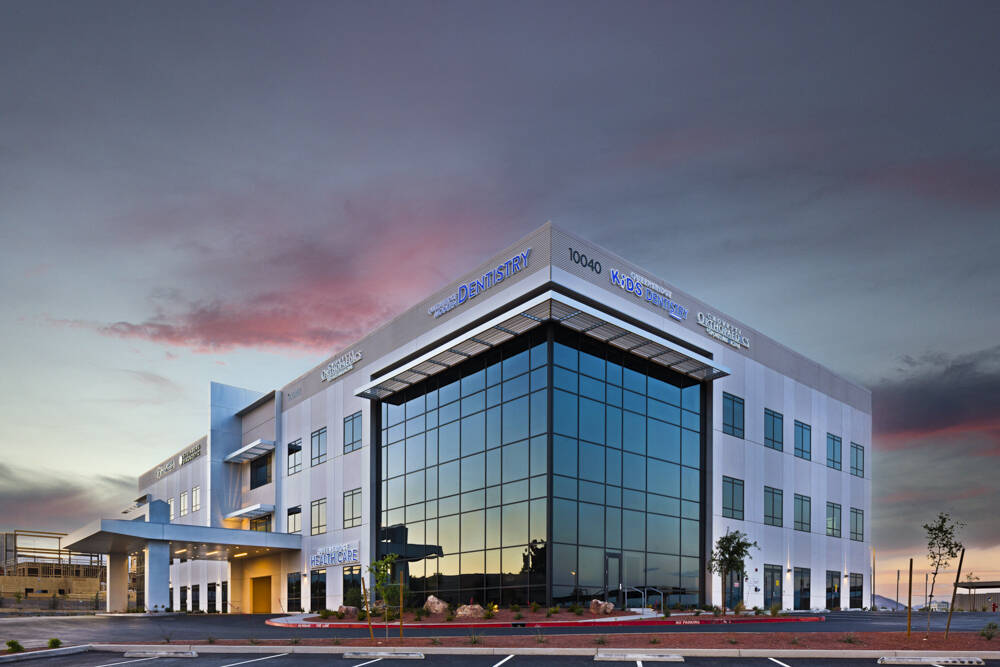 Prospect Street founder Scott Goldstein's three-story, 70,000-square-foot Queensridge Medical Office Building along Alta Drive just east of Hualapai Way is now open.
Goldstein and Dr. Michael Crovetti Jr. held a ribbon cutting Thursday for the building, which is less than a mile from the Summerlin Hospital Medical Center. According to a press release for the event, the building has created 200 "high-paying" medical jobs for the area. The space is already 100 percent leased.
"Queensridge Medical Office Building offers Las Vegas a modern approach to high-quality medical care," Goldstein said in a statement to the Review-Journal. "In one building Queensridge has the ability to accommodate a patient requiring orthopedic, cardiology or dentistry clinical care as well as comprehensive care for a surgery with a state-of-the-art surgery center, overnight recovery suites, physical therapy and imaging."
Anchored by Crovetti Orthopaedics, the Summerlin-adjacent building features an operating room surgery center, a cardiac catheterization lab and 10 post-surgery recovery suites. The building is the first outpatient facility on the west side of the Las Vegas Valley to offer a cardiac catheterization lab and post-surgery recovery suites.
The medical services available at the building include orthopedics, cardiology, radiology, dentistry, orthodontics, primary care and physical therapy. In addition to Crovetti Orthopaedics, the other medical practices at the building are Intermountain Healthcare, Smith Therapy Partners, Queensridge Modern Dentistry, NoBe Wellness Med Spa and Steinberg Diagnostic Medical Imaging.
Goldstein is the 37-year-old son of Las Vegas Sands Corp. Chairman and CEO Rob Goldstein. He launched Prospect Street, a real estate investment firm that owns the Queensridge property, in 2017.
The Review-Journal is owned by the Adelson family, including Dr. Miriam Adelson, majority shareholder of Las Vegas Sands Corp., and Las Vegas Sands President and COO Patrick Dumont.
Contact Patrick Blennerhassett at pblennerhassett@reviewjournal.com or 702-348-3967.