'Allegiant Stadium' official name for Raiders' Las Vegas stadium
Updated August 5, 2019 - 5:27 pm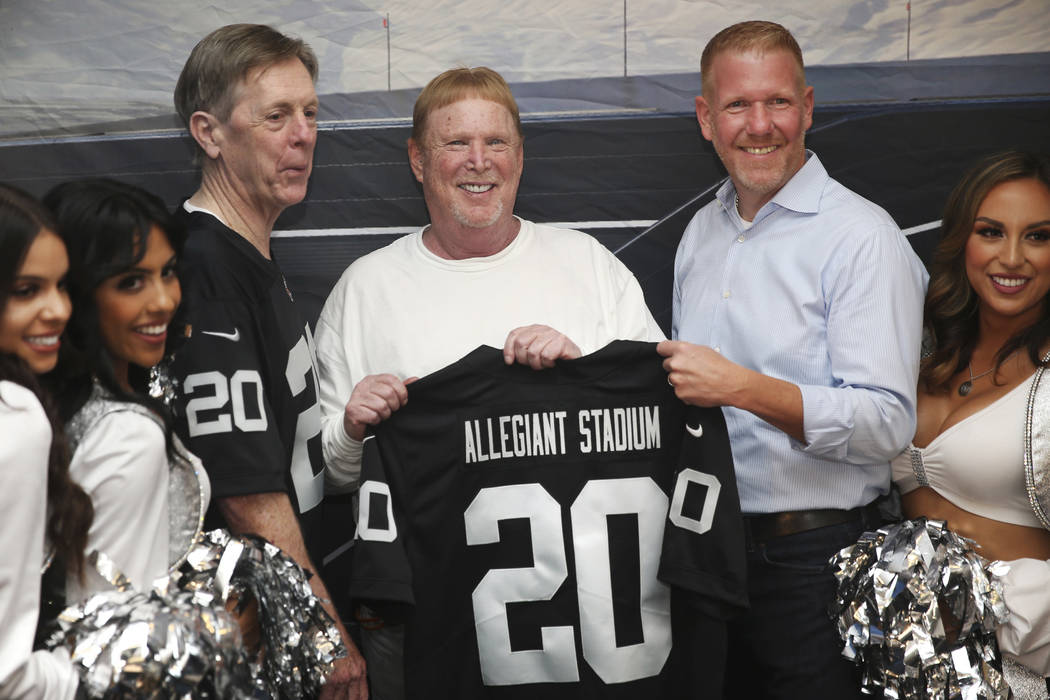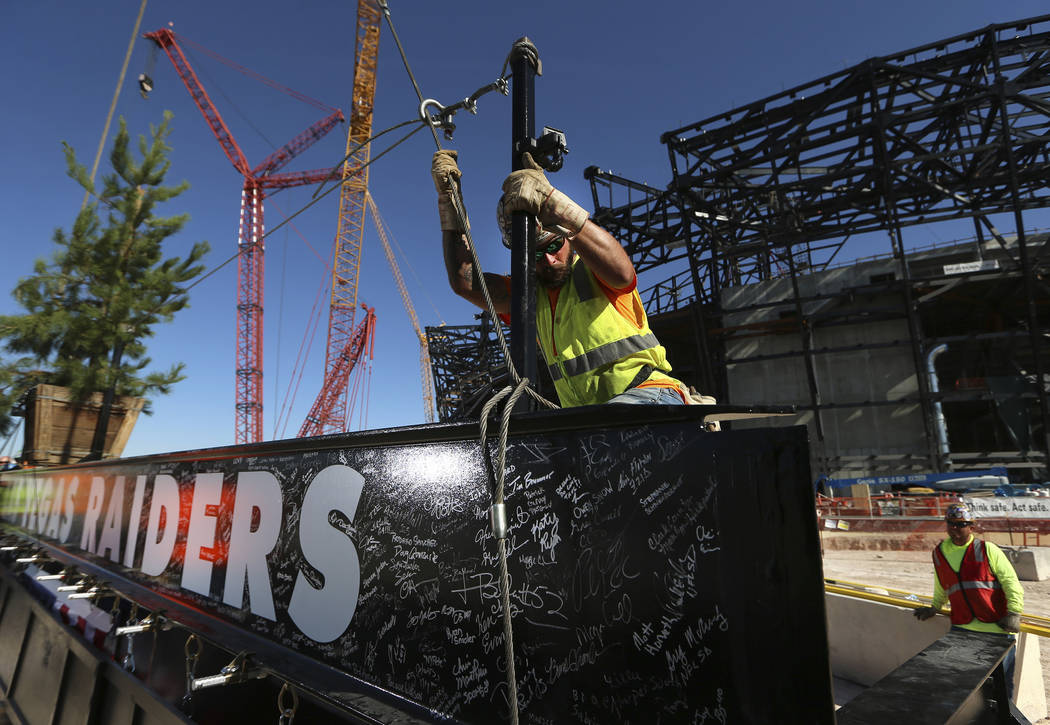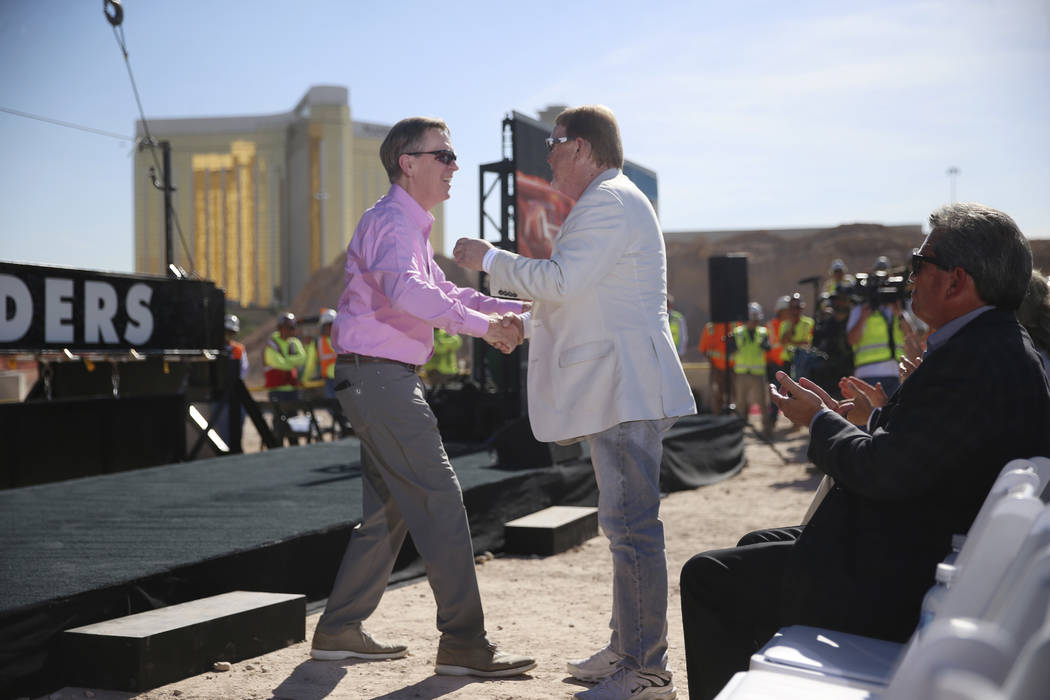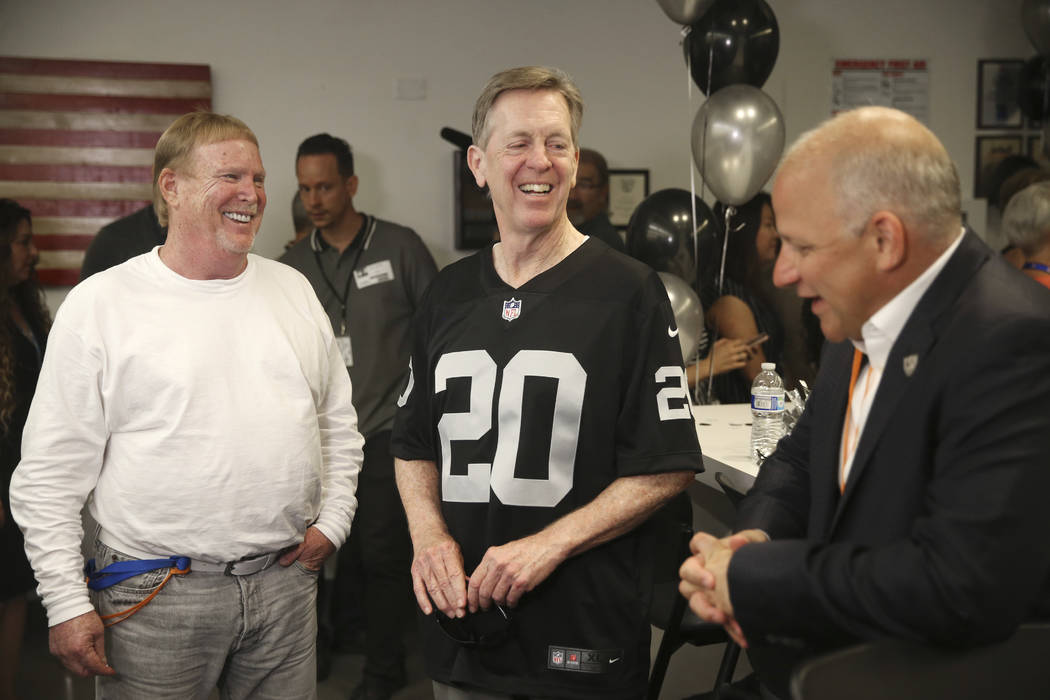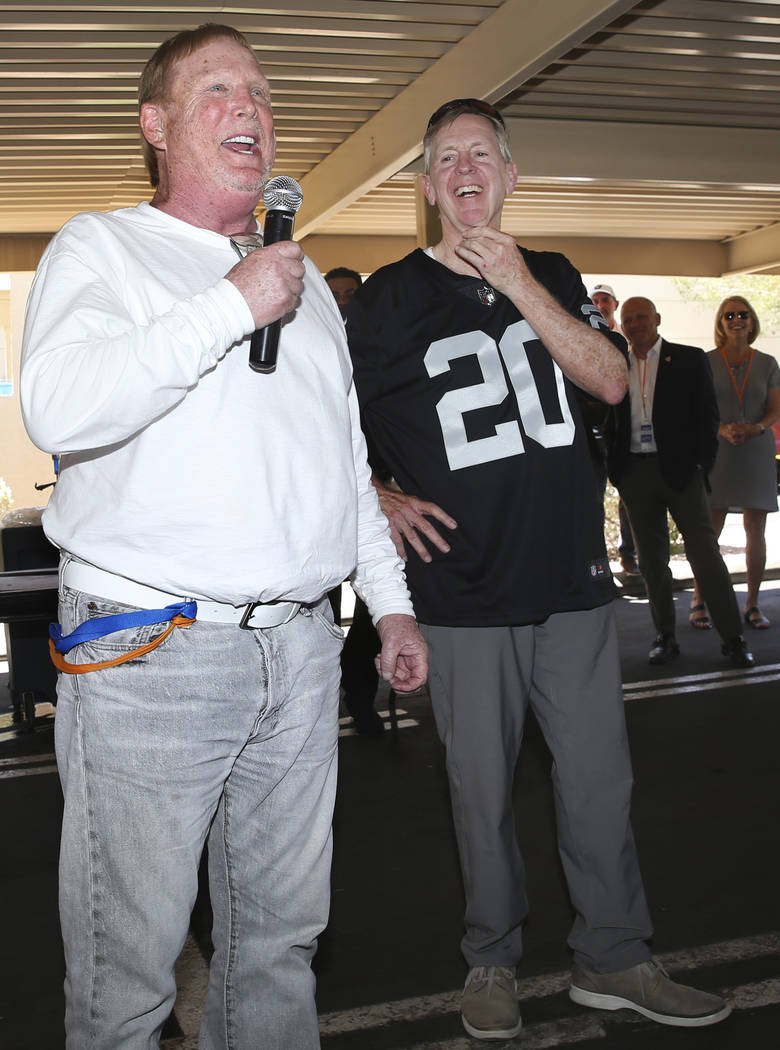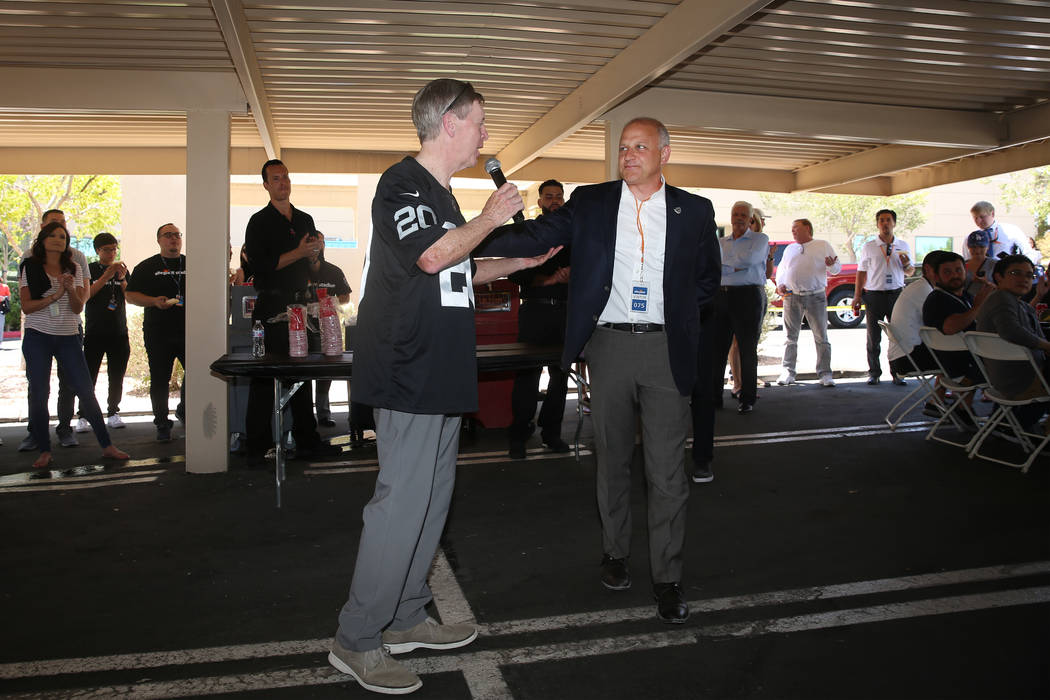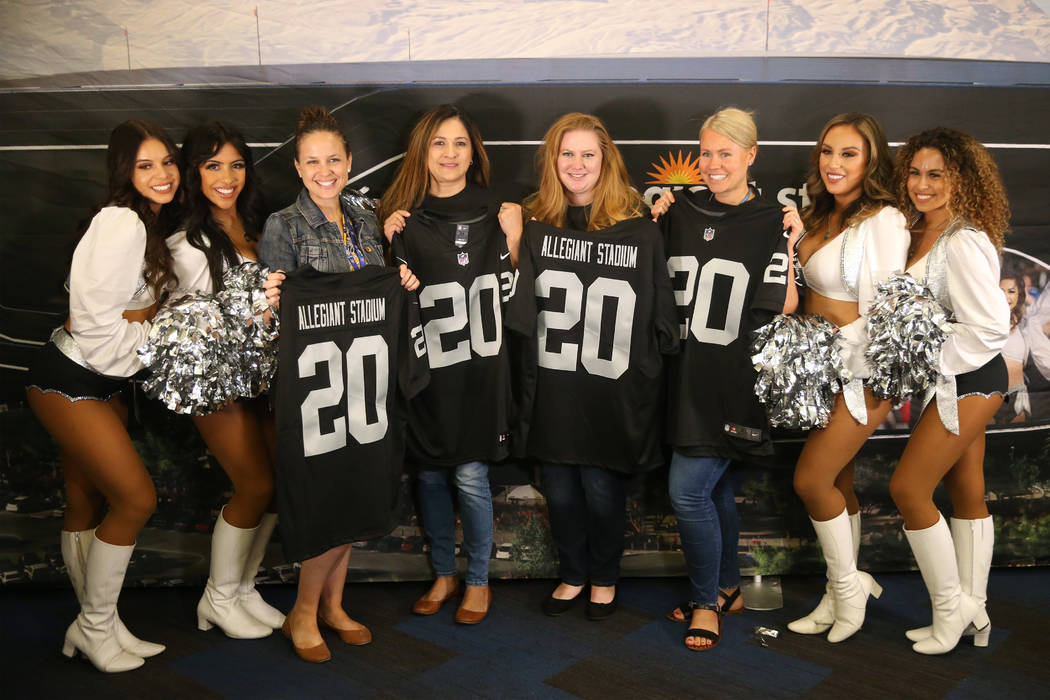 "When does a topping-off ceremony turn into a naming-rights celebration? Only in Las Vegas," Raiders owner Mark Davis said Monday at the Allegiant Stadium topping-out ceremony. "Here we are. Allegiant Stadium."
Las Vegas-based Allegiant Travel Co., parent company to Allegiant Air, had been speculated to be the name sponsor for the stadium since May, when the company sought a trademark on "Allegiant Stadium" with the U.S. Patent and Trademark Office.
Terms of the naming-rights deal were not disclosed, but experts with experience on similar deals say Allegiant is likely paying between $20 million and $25 million in cash and in-kind services a year to put its name on the building. Representatives of Allegiant and the Raiders declined to say the duration of the naming rights deal, but speaking at an event at Allegiant headquarters in Summerlin on Monday, Davis said, "I look forward to learning a lot more about the Allegiant brand. We've got 30 years ahead of us, so let's make the best of it."
Naming deals usually give the sponsor exclusive access to customers of the venue at various events.
"This is the world's leisure destination," Allegiant Chairman and CEO Maury Gallagher said at the ceremony. "This is where people come to have fun. This stadium you are building is going to be one of the premier facilities in the world. We couldn't be more proud and honored to be a part of that whole picture and to be a part of Las Vegas. What Mr. Davis (former owner Al Davis) said all the time, 'Just win, baby': That's what we're all about."
When the naming-rights process began, the Raiders hoped to net a company with Las Vegas ties, according to Raiders President Marc Badain. After months of talks with various companies, including resort companies that Badain would not name, Allegiant landed the coveted deal.
"Allegiant stepped up a while ago and expressed interest," Badain said. "We were really excited about them being a partner. We've been at it for eight or nine months trying to put a deal together, and like any negotiation, it goes up and down."
Construction crews placed one of the last steel beams connecting a ring of 26 roof trusses Monday on the newly named project, marking completion of the highest point of the $1.9 billion, 65,000-seat indoor stadium that will be the home of the Raiders in less than a year.
Gallagher and Davis were among the dignitaries and construction workers who signed the ceremonial last steel beam in a brief topping-out ceremony.
As the signed beam was lifted before a crowd of well-wishers and construction workers, flags representing the United States, Nevada and the Raiders unfurled beneath the beam labeled "Las Vegas Raiders" as it was raised about 150 feet to its final location. A pine tree — a topping-off ceremony tradition, representing that a building has reached its final top height — was mounted atop the beam.
Davis likened Monday's Allegiant Stadium topping-out ceremony to a football halftime score.
"My philosophy is that the least important thing in life is the score at halftime," he told several hundred people attending the sweltering event at the stadium site at Interstate 15 and Russell Road. "Today is a magnificent milestone, putting up the last piece of steel, but we've got one year to finish it."
Gallagher, Davis, Badain and Rep. Dina Titus, D-Nev., whose congressional district includes the stadium site, spoke briefly before the beam was lifted into place.
Titus noted that many of the more than 450 flight routes served by Allegiant involve NFL cities.
"They will be bringing folks here, whether they love the Raiders or whether they love to hate the Raiders; we don't care as long as they come," Titus said.
"I've been a Raiders fan for a long time, going back to the days of (defensive lineman) Otis Sistrunk and (wide receiver) 'Boom Boom Freddie' Biletnikoff, so that ages me, but you can tell that I'm a fan," she said. "This is just so exciting, it's going to change the face of Las Vegas. We're known for entertainment, known for good food, known for gaming and now we're going to be known for sports."
Contact Richard N. Velotta at rvelotta@reviewjournal.com or 702-477-3893. Follow@RickVelotta on Twitter. Review-Journal staff writer Mick Akers contributed to this report.
Allegiant Stadium numbers
-2.75 million. Number of work hours put in by construction workers to date.
-60. Percentage of female and minority craftspeople on the job.
-70. Percentage of contractors on that are Nevada-based.
-28,000. Tons of steel used on stadium construction.
-200,000. Number of individual steel beams in place on the stadium.