Pitch for stadium puts emphasis on attracting NFL team — VIDEO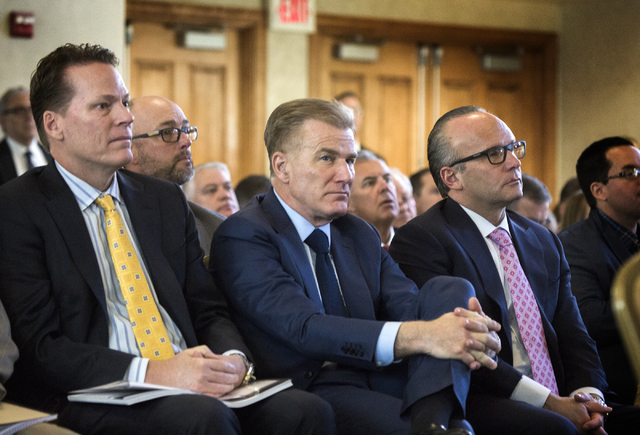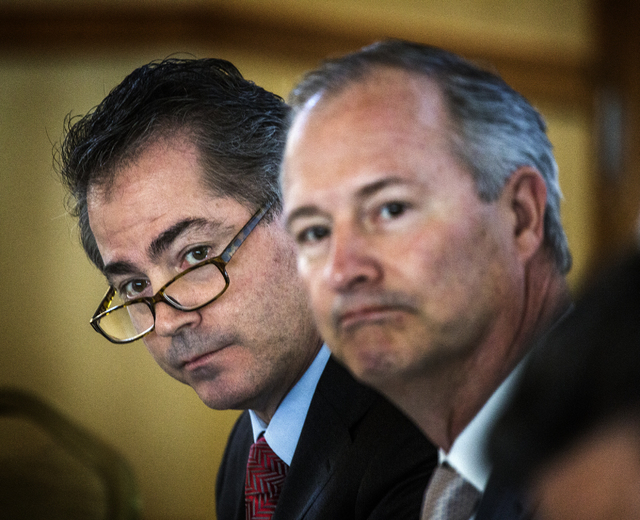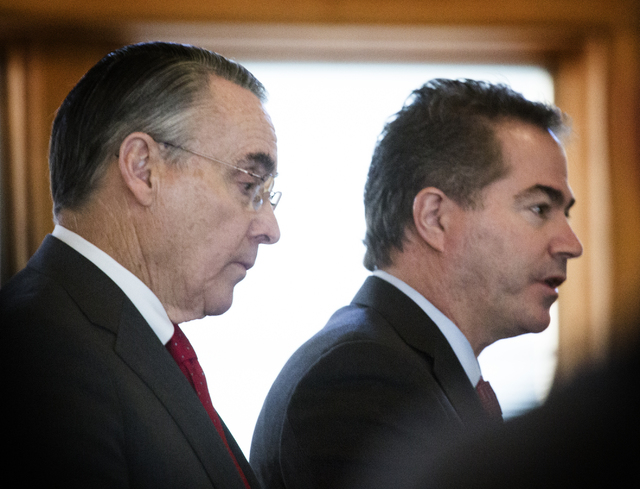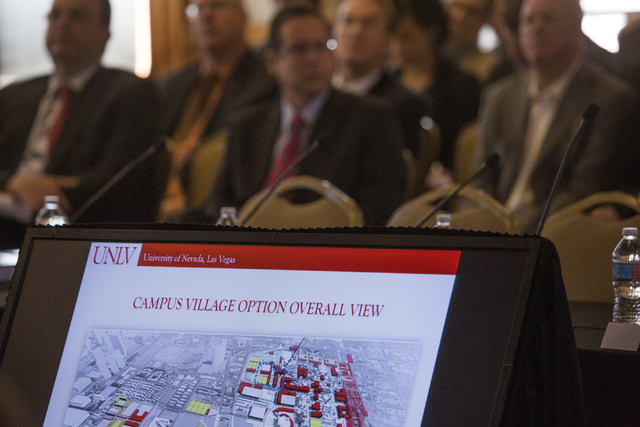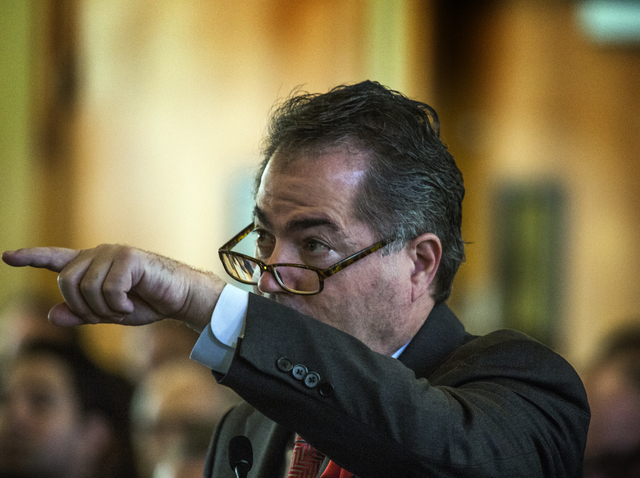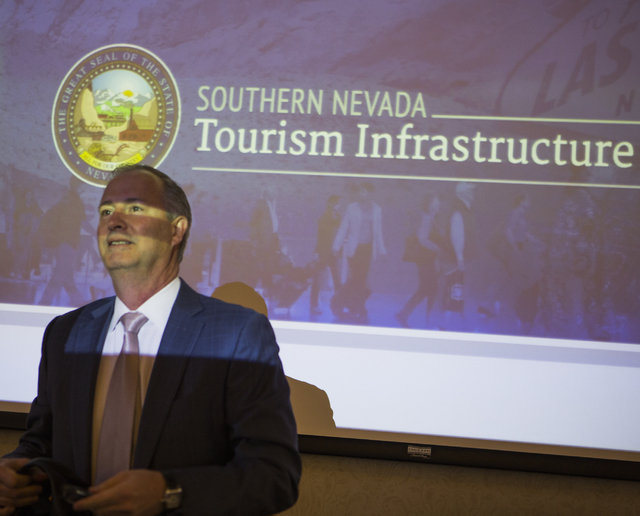 Partners in a planned 65,000-seat, $1.3 billion domed stadium in Las Vegas let their consultants do the talking in a presentation that had the potential of being contentious, but wasn't.
Consultants working with Las Vegas Sands Corp. and Majestic Realty told the 11-member Southern Nevada Tourism Infrastructure Committee on Thursday about the benefits a domed stadium could bring to Southern Nevada. The presentation had a heavy emphasis on the potential of attracting a National Football League team.
Craig Cavileer, executive vice president of Majestic Realty, and other speakers spent more than three hours discussing and taking questions on the details of the plan and the economic impact of stadium projects in other cities.
Cavileer's team estimates the venue would attract 26 new special events — football games, concerts or shows — resulting in $785.6 million in direct and indirect spending and an estimated $49.4 million in new tax revenue. The current stadium proposal seeks $780 million in public financing while private investors would put up $420 million, though Las Vegas Sands has said those numbers are not final and are likely to change.
Committee members invited stadium proponents as well as backers of a Las Vegas Convention Center expansion and renovation plan to return for more talks on April 28.
NO DEBATE
The meeting had all the makings of a heated debate. Sands and MGM Resorts International on Wednesday had released results of opinion polls aimed at measuring public support for the competing projects, both of which would involve a healthy amount of public dollars. The Sands poll maintained that most potential voters in the November election favor a stadium that could attract an NFL team while MGM, which declined to share its survey questions Wednesday, said its poll indicated that respondents would rather use room tax revenue to upgrade the Las Vegas Convention Center.
The key takeaways from Thursday's presentation:
■ A Las Vegas Sands-owned stadium close to the UNLV campus would give the university a long-sought campus venue for Rebel football and become a key asset of the school's athletic program.
■ The venue could house a number of sports and entertainment events that require a facility larger than Las Vegas now offers.
■ An "NFL ready" stadium could become a home for a team if the league accepts Las Vegas and its gaming industry. Sands officials already have met with Oakland Raiders owner Mark Davis, who has expressed interest in moving his team to Las Vegas if the NFL allows it.
■ Tourist traffic would increase because of special events and NFL games at the venue.
Bill Rhoda, president of Texas-based Conventions, Sports &Leisure International, gave a presentation comparing Las Vegas with NFL cities by population, median age, median household income and corporate base. Las Vegas fell mid-range on most of those lists.
Mark Rosentraub, a professor of sports management at the University of Michigan, said the unique nature of Las Vegas as an entertainment hub would make a stadium even more likely to succeed.
And Greg Carey of Goldman Sachs outlined how other stadiums are being financed and managed as examples Las Vegas might follow.
NFL 'A POSSIBILITY'
Sands President and Chief Operating Officer Rob Goldstein summed up, saying his company believes Las Vegas is ready for a new paradigm that could involve one of the nation's most popular spectator sports.
"I think it's short-sighted not to think that the NFL is a possibility," Goldstein told the committee "It's not a done deal, but it's at least possible."
Goldstein had kind words for the Las Vegas Convention and Visitors Authority, which is urging the committee to instead devote room tax revenue to a major convention center expansion and renovation.
"We should do two things at once," Goldstein said. "First of all, we should continue to strive to make sure that the LVCVA (keeps Las Vegas) as the No. 1 (convention) market in the U.S."
Goldstein earlier noted that Las Vegas Sands and its chairman, Sheldon Adelson, were responsible for the massive growth of the convention and meetings industry in the region.
"I came here 20 years ago and this market was very dubious to our business plan," Goldstein said. "If you remember back to 1994, we proposed a non-gaming-centric model for meeting space and everybody kind of chuckled and thought that it would never work. But somehow it did work. Today, that's probably the reason why this city has grown so much in the last two decades …
"If we can get an NFL team here, it's an important step forward for tourism and for Las Vegas," he said. "We're no longer persona non grata with the NFL. It may fail. But it's damn worth the effort."
The only potential negative heard: the eastern end of UNLV's 42-acre stadium site fronting Tropicana Avenue falls within McCarran International Airport's "runway protection zone."
Rosemary Vassiliadis, director of the Clark County Department of Aviation, cautioned that the site would likely face close scrutiny by the Federal Aviation Administration. She said the FAA isn't likely to forbid use of the site, but it could modify the airport's operating procedures. That means McCarran's north-south runways could be restricted or that there could be more spacing between takeoffs, which would increase safety but reduce the airport's capacity.
Vassiliadis also said she is concerned about an impact on traffic near the airport. That issue is expected to be aired in more detail next month.
The Review-Journal is owned by a limited liability corporation owned by the family of Sands chairman and CEO Sheldon Adelson.
Contact Richard N. Velotta at rvelotta@reviewjournal.com or 702-477-3893. Find him on Twitter: @RickVelotta
RELATED
Roger Goodell not ruling out Las Vegas as potential home for NFL team
UNLV Campus Improvement Authority revived
Public funding would cover two-thirds of UNLV stadium costs