Raiders management wants family-friendly Las Vegas stadium
September 21, 2017 - 3:22 pm
Updated September 21, 2017 - 6:18 pm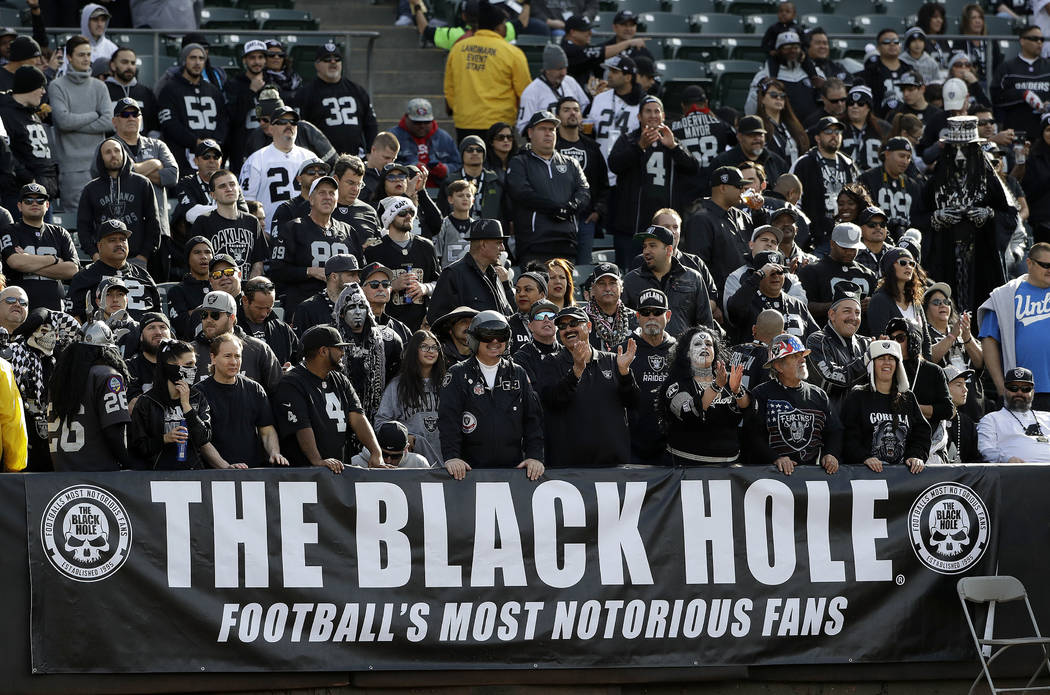 A kinder and gentler Black Hole? Say it ain't so!
When the Raiders relocate to the new Las Vegas stadium in 2020, the team's management hopes to foster a family-friendly atmosphere at games.
That could come as a shock to fans from The Black Hole, a section in Oakland-Alameda County Coliseum populated by fans dressed in scary costumes.
"We like the deeply passionate fans," LV Stadium Company chief operating officer Don Webb said in a Thursday breakfast meeting panel on the planned 65,000-seat stadium.
"But we want the stadium to be not only a safe environment, but we want it to be perceived as a family-friendly environment," Webb said. "So I think there will be some changes, frankly, to the fan base when the team moves to Las Vegas and the method of operating the stadium. I think I'll leave it there, but the team ownership and team management is very keen on projecting the right image when this team comes to Las Vegas."
Skulls, spikes and armor
Denizens of The Black Hole dress in intimidating silver and black costumes adorned with skulls, spikes and armor to accentuate their outlaw image.
Webb and three other panelists associated with the stadium project addressed around 200 people attending the Southern Nevada chapter of the National Association of Industrial and Office Properties meeting at The Orleans.
Raiders fans in Oakland had mixed reactions to the family-friendly strategy.
"Instead of trying to push some Raiders fans away, maybe the focus should be on uniting Raider Nation, which is completely fractured from this move to Vegas," Raiders fan Omar Frias said in an email to the Review-Journal.
"And to insinuate that the Raiders fans right now or in Oakland are not family friendly is inaccurate and disrespectful."
But another fan who has attended games in Oakland doesn't like The Black Hole atmosphere.
"I've been a season ticket holder for years and I have to tell you I am not fond of the experience that Oakland brings for family," Raiders fan Ed Marshall tweeted to a Review-Journal reporter.
"And now that my 4-year-old son has to frequent the restrooms, there is simply no way I will take him to a game in Oakland. What I have seen in those bathrooms is beyond disturbing and disgusting. The NFL would be ashamed if video evidence of such things ever got out."
Stadium details
Panelists gave breakfast attendees details of what team officials have shared at recent Las Vegas Stadium Authority meetings.
Panelist Paul Dudzinski, project director for McCarthy Building Co., Henderson, part of the stadium construction team with Minneapolis-based Mortenson Construction, said the 31-month project timetable would be challenging, but workable. He said Mortenson's last NFL stadium project, U.S. Bank Stadium, the new home of the Minnesota Vikings, had a 31-month timeline that they made — and workers had to first demolish the Hubert H. Humphrey Metrodome before building could begin.
Panelist Ken Ackeret, a principal with Kimley-Horn & Associates, said while parking issues remain a concern for games, stakeholders also are aware that this is the first stadium to be built in the era of ride-hailing companies Uber and Lyft and that they should reduce the number of cars to park.
Panelist Steve Hill, chairman of the Las Vegas Stadium Authority, said while it seems plans are proceeding at breakneck speed, the reality is that planning first began nearly two years ago and there's still three years to go before the doors open.
Hill also explained that the Stadium Authority won't share revenue generated by the Raiders under the existing financing structure and that Las Vegas' benefit is to generate more visitors, which will generate more tax revenue and provide more jobs as well as a new place for the UNLV football team to play.
Webb quickly added that in addition to the Raiders getting the revenue, they're also responsible for the expenses and are on the hook for $1.2 billion of the total $1.9 billion stadium cost.
Contact Richard N. Velotta at rvelotta@ reviewjournal.com or 702-477-3893. Follow @RickVelotta on Twitter.