Raiders unveil parking and transportation plan for Allegiant Stadium
Updated June 3, 2021 - 3:03 pm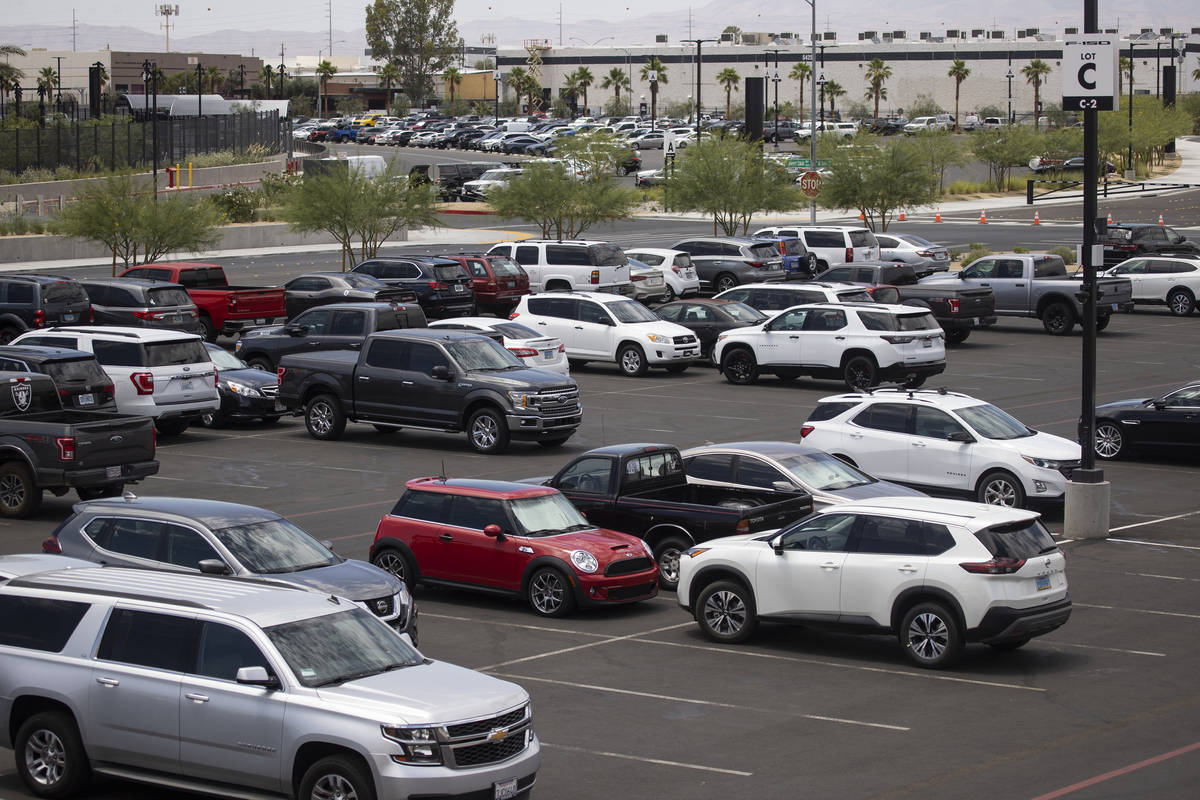 The plan for getting to and parking at Allegiant Stadium was unveiled Thursday by the Raiders, less than a month away from the $2 billion facility's first scheduled major event.
Despite being completed last summer, the stadium has sat mostly empty because of the coronavirus pandemic. But that all changes on July 3 when EDM star Illenium performs at Allegiant Stadium.
President Marc Badain said the Raiders spent $50 million on parking-related expenses for the stadium. He also said team officials worked with business owners and resorts for several years to put together the plan revealed Thursday.
"It's a distributive parking plan," Badain said. "It's not all in one in the same spot. What we've found in other locations at other stadiums, both in rural areas and urban areas, is the more distributive you can get the better it is for both ingress and egress for the entire experience."
Parking
Parking for Raiders home games and other large events at the stadium will be divided into several lots.
There are 35,000 parking spots within 1 mile of the stadium, according to stadium officials, with more than a dozen lots surrounding the area. That includes a limited amount of on-site parking at the stadium for full season parking pass holders and parking garages at the Luxor, Excalibur and Mandalay Bay.
It will cost between $40 and $100 to park a normal-sized vehicle, depending on the location of the lot. There are about 6,000 tailgating spots, which will run a fan between $40 for an offsite tailgate spot to $100 for one on the stadium site. There also is a lot for oversized vehicles that will run $250.
The parking spaces "average about $75, so that's comparable with other NFL stadiums around the league," Badain said.
Luxor President Chuck Bowling said prices for MGM Resorts-controlled spots will be released on June 14.
Single-event and game-day parking passes will be available on the Spot­Hero app and will be required to be purchased ahead of time. The Raiders will launch those sales in the coming weeks, with local personal seat license holders having the first chance to purchase them.
Parking lots will be open four hours prior to kickoff of Raiders games and three hours before other events at the stadium. The lots will close one hour after all events.
One of the largest single lots is the Clark County-owned Tropicana Detention Basin off Wynn and Oquendo roads, where over 2,700 parking spots are planned. The Raiders plan to lease 20 acres of the 100-acre parcel from the county that will be used for employee parking.
Strip role
The Las Vegas Strip will play a large role in game and event days as over 20,000 fans are expected to walk from the Resort Corridor, over the Hacienda Avenue bridge, to the stadium. The bridge will be closed to normal vehicle traffic on events days.
With fans expected to arrive from across the Strip, RTC's Deuce bus service is expected to be a key people mover. The service runs 24 hours a day and has double-decker buses running every 15 minutes, with a 24-hour pass costing $8, available on the rideRTC app.
"If you are anywhere on the Strip … whether you're at your favorite casino, bar or restaurant, you can hop on a Deuce bus and you can take it to the stop in front of Mandalay Bay," Regional Transportation Commission CEO MJ Maynard said. "It's literally a stone's throw from the Hacienda bridge."
When fans arrive at the Hacienda bridge area, they'll find MGM Resorts' "Stadium Walk" in the southeast corner of the Luxor's parking lot. That's where a 130,000-square-foot tailgate space will be set up on large-event days, with live entertainment, food, beverages and activities planned.
"People can gather there, but they can also come inside (the Luxor and Mandalay Bay)," Bowling said. "Each of the bars in the Mandalay Bay and Mandalay shops and Luxor will all be activated for pregame and postgame activities."
The trip across the Hacienda Avenue bridge from Strip to the stadium is about a 10- to 15-minute walk.
Driving and ride services
Those driving to the stadium should note that some other roads in the area will be converted to one-way traffic on event days. Those include Polaris Avenue, Dean Martin Drive, Diablo Drive and Procyon Street.
Those hailing a Lyft, an Uber or a taxi cab to the stadium will have multiple pickup and dropoff points. A designated general zone is on the corner of Procyon Street and Diablo Drive, with a walking path through Diablo leading to the stadium.
There is also the north rideshare lot located off Valley View Boulevard and Bell Drive, two east rideshare lots, one at the Mandalay Bay and the other at the Luxor, and a south rideshare lot planned for Century Park Drive and Quail Avenue, near the hotel properties south of Russell Road.
A lot for shuttles to drop off and pick up event attendees will be located on-site, in the northwest corner parking lot.
Badain urged fans to give themselves plenty of time to get to the stadium, especially before the first few games while everyone gets acclimated.
"We know it's going to be a challenging process; we're not naive to that," Badain said. "People are going to come here, we're going to give them a design of where they should go, but as they say, water seeks its own level."
Contact Mick Akers at makers@reviewjournal.com or 702-387-2920. Follow @mickakers on Twitter.