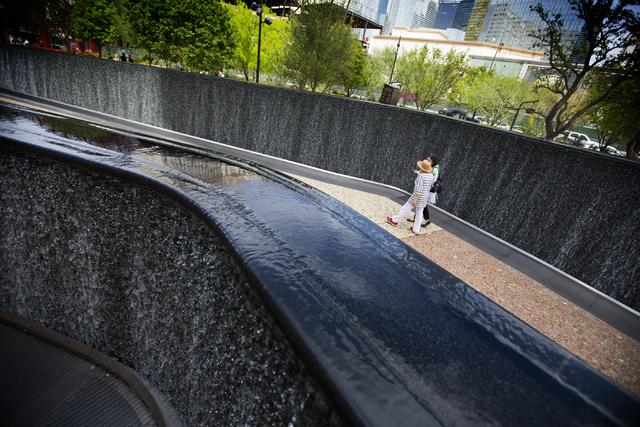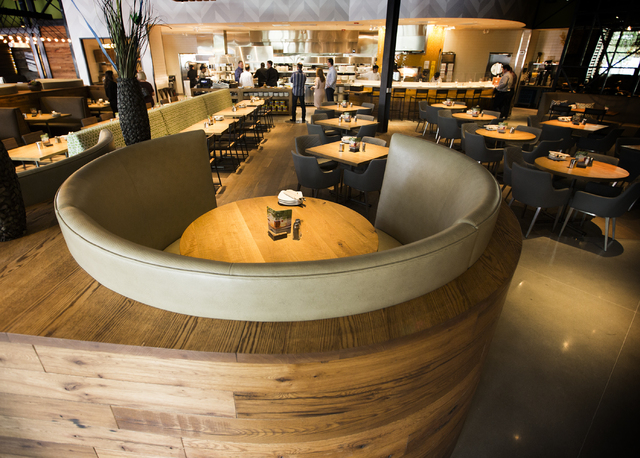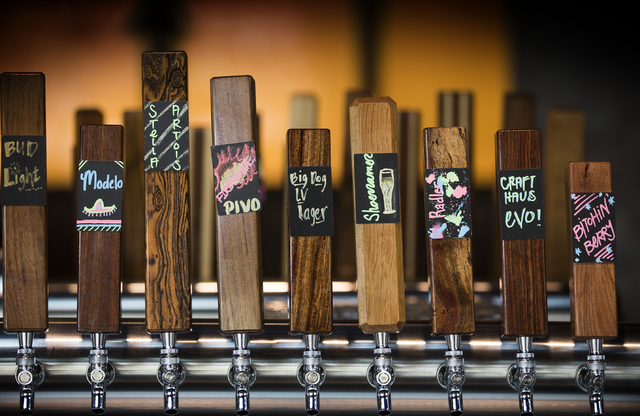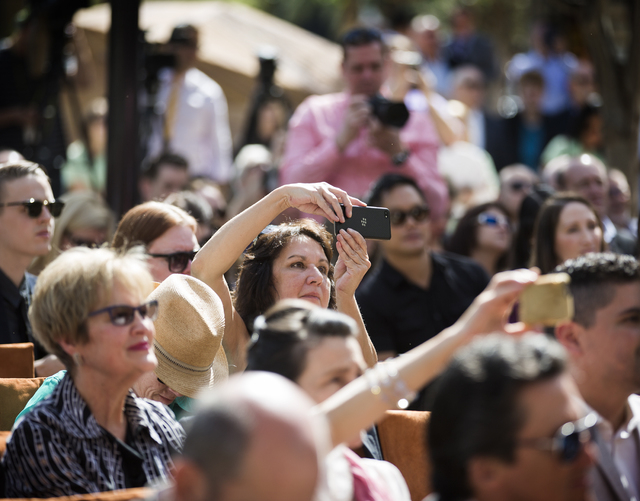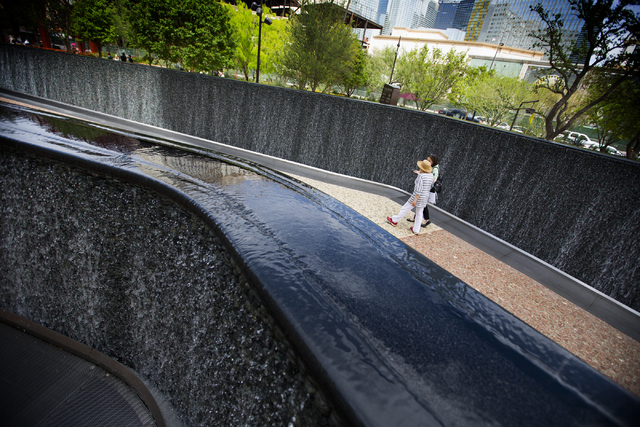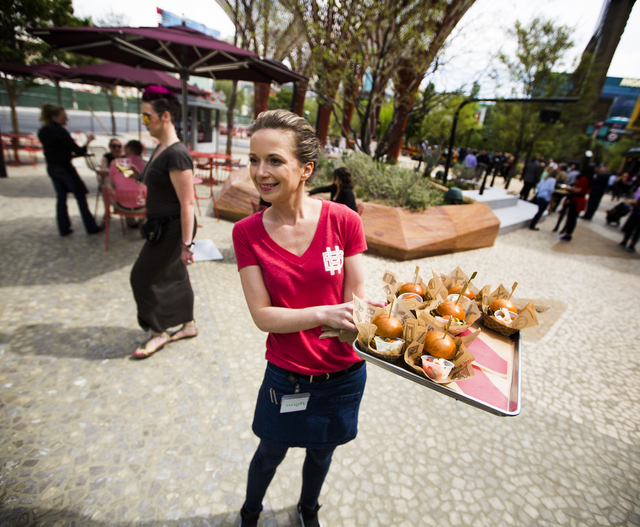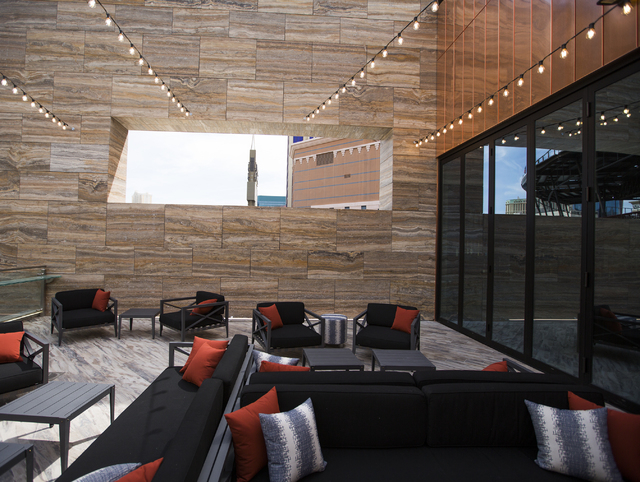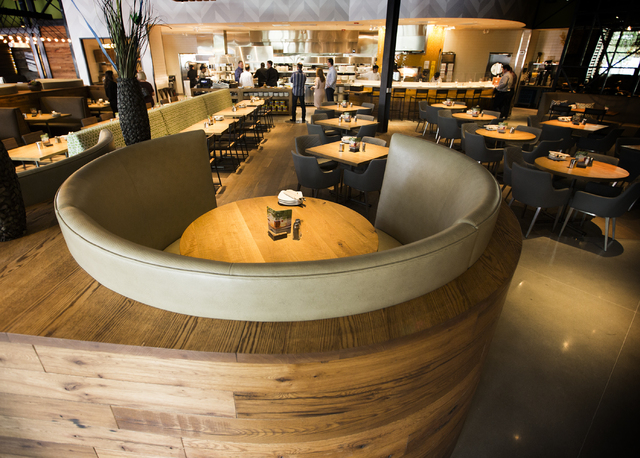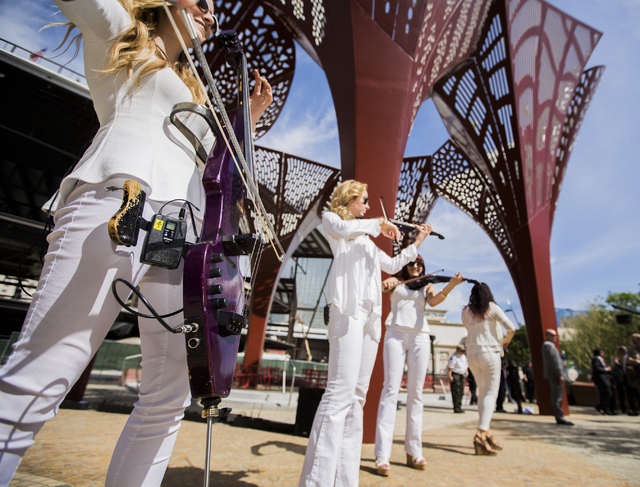 If you plan to enter the new T-Mobile Arena from the Strip, prepare for the pleasure of public art, desert-friendly landscaping, sushi, pizza and chicken and waffles.
MGM Resorts International held a grand opening Monday for The Park, a $100 million, three-acre public space designed to serve not just as a gateway to the 20,000-seat arena, but also as a hangout spot for tourists and locals alike.
"All of the great cities of the world have gathering places where people make friends, meet with friends, chill out and relax," MGM Resorts Chairman and CEO Jim Murren said. "We wanted to deliver that place to congregate for family and friends. That really is what The Park is all about."
The Park's unveiling was the first public event in a week of festivities surrounding the Wednesday opening of T-Mobile Arena, the $375 million, 20,000-seat venue that MGM Resorts International built in partnership with AEG Worldwide. The arena debuts with a concert featuring local rock band the Killers, as well as longtime Strip headliner Wayne Newton and Shamir, a singer and songwriter from Las Vegas. The week's main event comes Friday and Saturday, when Guns N' Roses reunites for the first time in 23 years, with Seattle rock giants Alice in Chains opening.
Nevada Gov. Brian Sandoval, on hand for the opening, called The Park "one of those 'wow' moments for our city and our state," and labeled the development MGM's "most community-oriented" project yet.
"MGM Resorts' decision to allocate premium Strip land for a public park is another example of the change of focus for the gaming industry and the vision and commitment MGM has for the Las Vegas community," Sandoval added.
The Park's land use and purpose aren't its only unusual elements.
It focuses on public art, with one-of-a-kind pieces including "Bliss Dance," a 40-foot steel sculpture of a dancing woman. The sculpture, created by artist Marco Cochrane and first displayed at Burning Man in Northern Nevada in 2010, will feature a nightly lights show using 3,000 colored LED lights.
Its 16 shade structures were built by IHC Studio Metalix, a shipbuilder based in the Netherlands. The structures, which reach 75 feet in height and 44,000 pounds in weight, double as color-changing art installations.
The Park's landscaping takes its cues from the Mojave Desert, with plant species including yucca and agave, as well as acacia and mesquite trees. Its drip irrigation uses 72 percent less water than traditional sprinklers, and it incorporates a device that controls water features based on wind speeds.
For its efforts, The Park received a 2016 Water Hero Award from the Southern Nevada Water Authority.
The Park's restaurants include Beerhaus, a beer hall that serves bar food including sandwiches of rotiserrie beef brisket and chicken; gourmet waffle house Bruxie; sushi and Japanese eatery Sake Rok; California Pizza Kitchen; and burger place Shake Shack.
There'll also be live entertainment, including acoustic guitarists, dancers and sand artists.
"We had to make sure we helped Las Vegas continue to evolve to be that kind of place where people from around the world need to go to see the new, the exciting and the very different," Murren said. "We believe Las Vegas is stronger than ever, and we are committed to making sure Las Vegas keeps its pre-eminence as the Entertainment Capital of the World."
Contact Jennifer Robison at jrobison@reviewjournal.com. Follow @_JRobison on Twitter.
RELATED
Watch 'Bliss Dance' go up in The Park — VIDEO
'Bliss Dance' artist Marco Cochrane reminds viewers to see humanity within
Here's what Las Vegans would have named the T-Mobile Arena
10 cool things about the new Strip arena