Southwest aims for Las Vegas expansion in wake of holiday chaos
Updated January 27, 2023 - 8:13 pm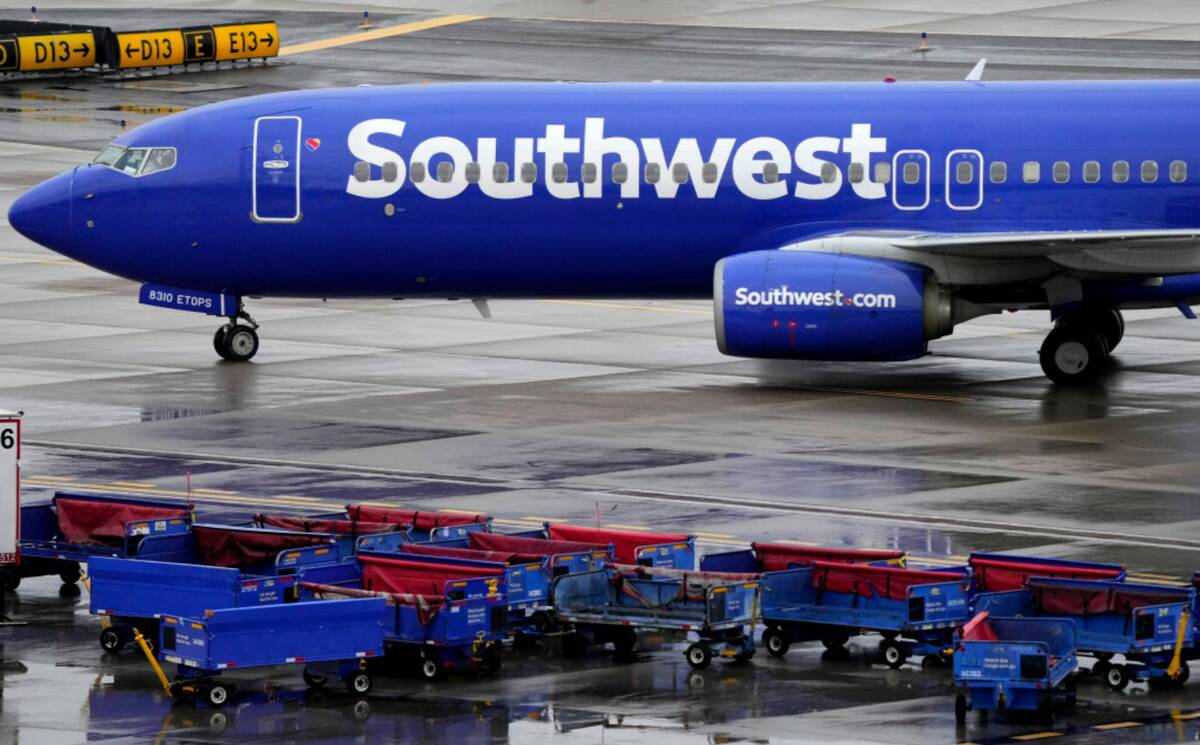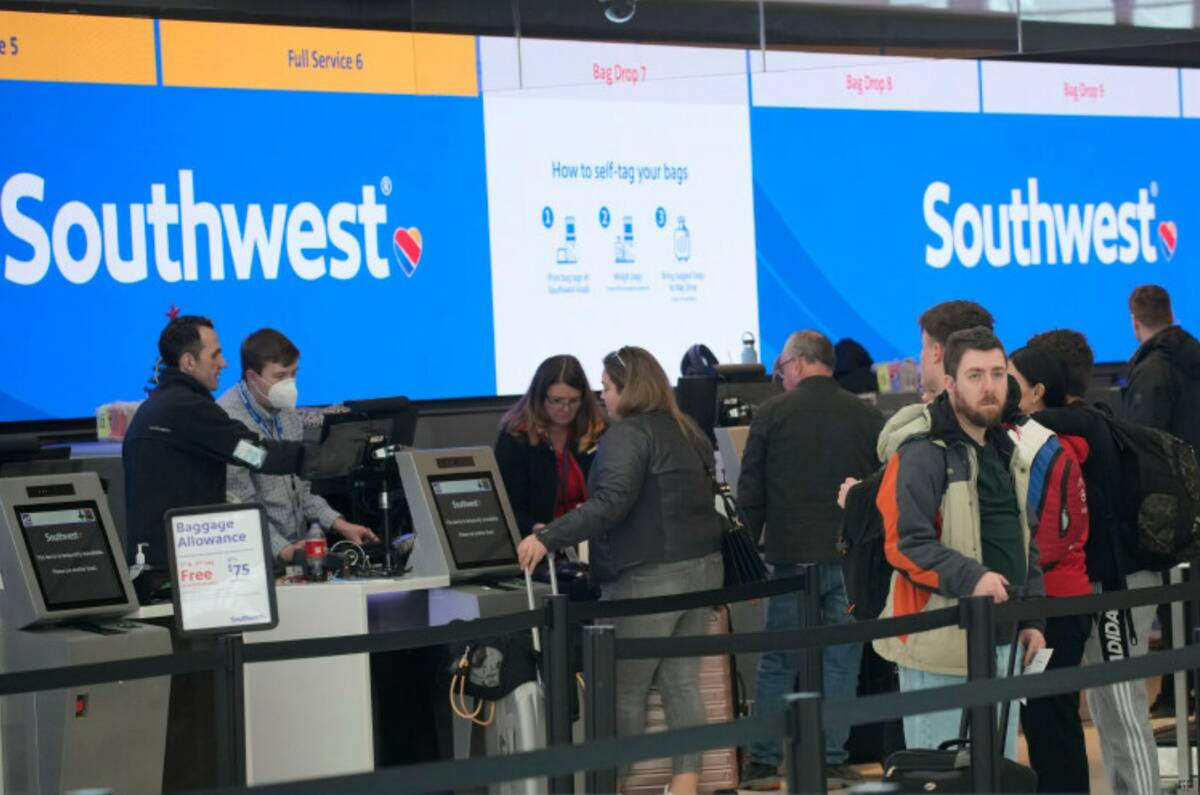 Southwest Airlines' plans to expand its Las Vegas schedule this spring will press forward, despite the airline's costly plan to upgrade technology and reimburse passengers affected by its thousands of flight cancellations in December.
The Dallas-based airline, the busiest commercial air carrier operating at Harry Reid International Airport, confirmed the expansion plans during its Thursday fourth-quarter earnings call.
"We currently plan to stick with our 2023 growth plans," Southwest CEO Bob Jordan said in the call. "We were properly staffed for our 2022 flight schedules, including the holidays, and we continue hiring this year to be properly staffed for our 2023 flight schedules. Our plans call for adding over 7,000 new employees for 2023. Nearly all planned 2023 capacity additions will go to restoring the network adding breadth and depth in existing Southwest markets."
Southwest in September announced plans for the largest Las Vegas schedule in the airline's history.
The schedule for flight bookings through April 10 listed 243 daily arrivals and departures, surpassing the earlier capacity of 240 flights. At the time, Adam Decaire, vice president of network planning for Southwest, said the company only had been held back by not having enough personnel to expand. The airline was in the process of hiring more pilots, flight attendants and staff members. More Boeing 737 jets were on order and are expected to be available for further expansion by summer.
The airline also was working with Reid airport to be able to manage the additional baggage that will come with additional flights.
But a major meltdown of Southwest's network just before Christmas soured passengers' view of the airline after an estimated 16,700 flights were canceled, many of them affecting Las Vegas passengers.
Southwest executives spent several minutes during Thursday's call explaining how travel on the airline went from bad to worse after weather disrupted flights and then communications broke down during efforts to have planes and flight crews in the right location to restore network operations.
Jordan said disruptions resulted in a negative impact of $800 million on the airline's bottom line.
"With regard to the operational disruptions, I am deeply sorry for the impact to our employees and customers," Jordan said. "We have swiftly taken steps to bolster our operational resilience and are undergoing a detailed review of the December events. In addition, our board of directors has established an Operations Review Committee that is working with the company's management to help oversee the company's response. As part of our efforts, we are also conducting a third-party review of the December events and are re-examining the priority of technology and other investments planned in 2023."
Jordan said the company has nearly completed reimbursing customers, refunding expenses and offering additional points to customers through Southwest's Rapid Rewards loyalty program. The company also plans to spend $1.3 billion on technological upgrades to prevent an incident like the one in December.
Southwest also was on the hook for spending more in overtime pay to employees who assisted customers during the disruption.
As a result of the added expenses during the disruption, the airline reported a net loss of $220 million, 37 cents a share, on record fourth-quarter revenue of $6.17 billion for the period ending Dec. 31. A year earlier, Southwest reported net income of $68 million, 11 cents a share, on revenue of $4.05 billion.
The airline also expects to lose money in the first quarter of 2023.
"However, we are encouraged by current booking trends in March 2023," Jordan said. "Our 2023 plan continues to support solid profits with year-over-year margin expansion for full year 2023. We remain intent on achieving the long-term financial goals outlined at our December 2022 Investor Day. We also intend to regain our 51-year reputation for operational excellence."
Contact Richard N. Velotta at rvelotta@reviewjournal.com or 702-477-3893. Follow @RickVelotta on Twitter.
SOUTHWEST AIRLINES
Fourth-quarter revenue and earnings for Dallas-based Southwest Airlines Co., the busiest commercial air carrier at Harry Reid International Airport. (NYSE: LUV)
Revenue
4Q 2022: $6.17 billion
4Q 2021: $4.05 billion
Change: +52.4%
Net income/(loss)
4Q 2022: ($220 million)
4Q 2021: $68 million
Earnings/(Loss) per share
4Q 2022: ($0.37)
4Q 2021: $0.11