Toys R Us expected to start liquidation sales Thursday
Updated March 21, 2018 - 5:55 pm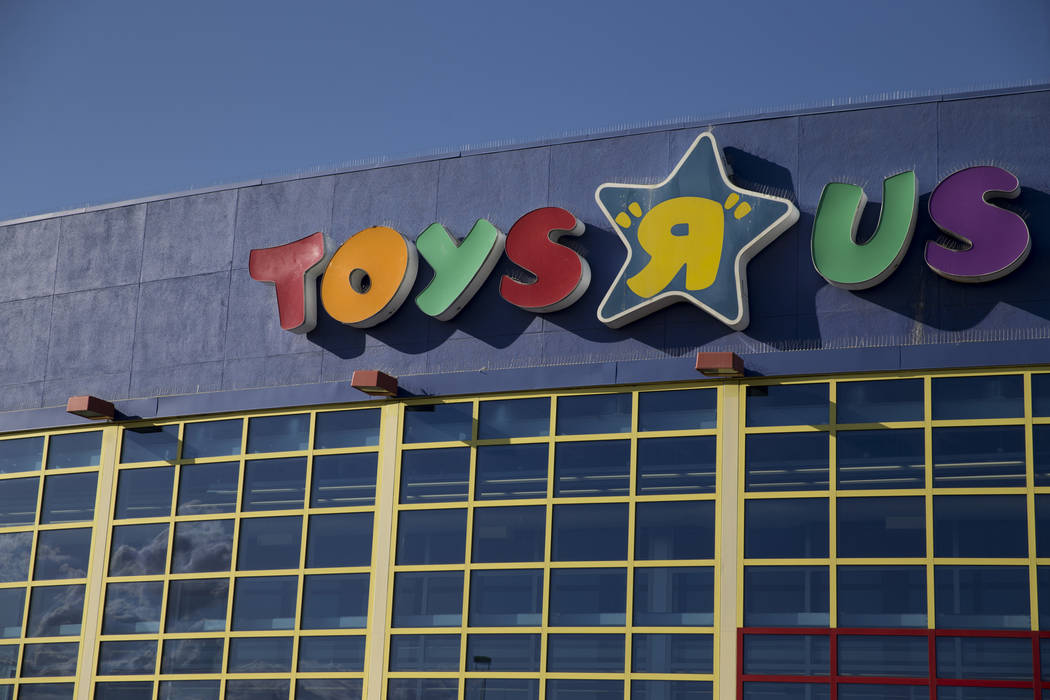 Toys R Us plans to start liquidation sales at most of its U.S. stores Thursday, according to a report.
The USA Today is reporting the sales are expected to start Thursday, with a goal to complete the sales by July 1.
Last week, Toys R Us management told its employees that it will sell or close all of its U.S. stores.
The Las Vegas area is home to fewer than 10 Toys R Us and Babies R Us stores.
The stores at 2150 N. Rainbow Blvd. and at 7020 Arroyo Crossing Parkway were among those included in a January announcement of closures.
4 tips to navigating store liquidation sales
Liquidation sales may sound like a deal-hunter's dream, but they don't always offer the best discounts, the Associated Press reports.
Shoppers need to compare prices as they navigate the sales racks, and carefully check the quality of the merchandise since they can't return items.
Shoppers also need to understand the store's policy of redeeming gift cards. When stores go into the bankruptcy, they petition the court to decide whether gift cards can be honored — and for how long, says Shelly Hunter, a representative of Giftcards.com, which has tracked gifts cards from stores like Borders to Coldwater Creek in bankruptcy.
Toys R Us honored gift cards while it was trying to reorganize under bankruptcy protection. But after the chain said it would liquidate its remaining 735 U.S. stores last week, it says that the cards will be worthless after 30 days.
Here are four tips that shoppers should follow:
1. Check out prices before the liquidation sales: The goal for liquidators is to squeeze as much money they can from a sale. Robertson says many liquidators, particular those who manage sales of big chains, increase the prices to the manufacturers' suggested level and then take a discount. That creates the illusion of a better deal. So checking out prices before and after the actual liquidation sale starts is a good idea.
2. Use price comparison apps: Robertson says most of the big liquidators start at about a 20 percent discount and lower prices from there. Shoppers should keep checking the store being liquidated to keep track of the discounts. But if they wait too long, they might not get the best selection, he says. Robertson says bigger discounts can be found on clothing and toys, which have larger profit margins. In comparison, consumer electronics have razor-thin margins.
3. Use gift cards immediately: When shoppers have gift cards from a store that's in financial trouble, experts recommend using them immediately. Hunter points to when Borders shuttered its stores in 2011. The courts initially acknowledged that gift card holders were due a settlement, but it didn't tell them to file claims. So when the deadline passed, the courts ultimately ruled it was too late to file a claim.
And gadget seller Sharper Image stopped accepting gift cards when it filed for Chapter 11 bankruptcy in 2008. A month later, it said they would be accepted only if the holder spent double the value of the gift card in redeeming it. That resulted in a class-action suit, which the company ended up settling. Sharper Image, which shut its stores, has been revived and now sells gadgets online.
4. Examine the merchandise carefully: Liquidation sales generally last five to seven weeks and most often sales are final. Toys R Us said that shoppers can't return items once the liquidation begins. So shoppers should scrutinize their items to make sure there are no defects.
— The Associated Press contributed to this report.