Verizon upgrading to North Las Vegas site for 5G broadband
December 8, 2017 - 2:03 pm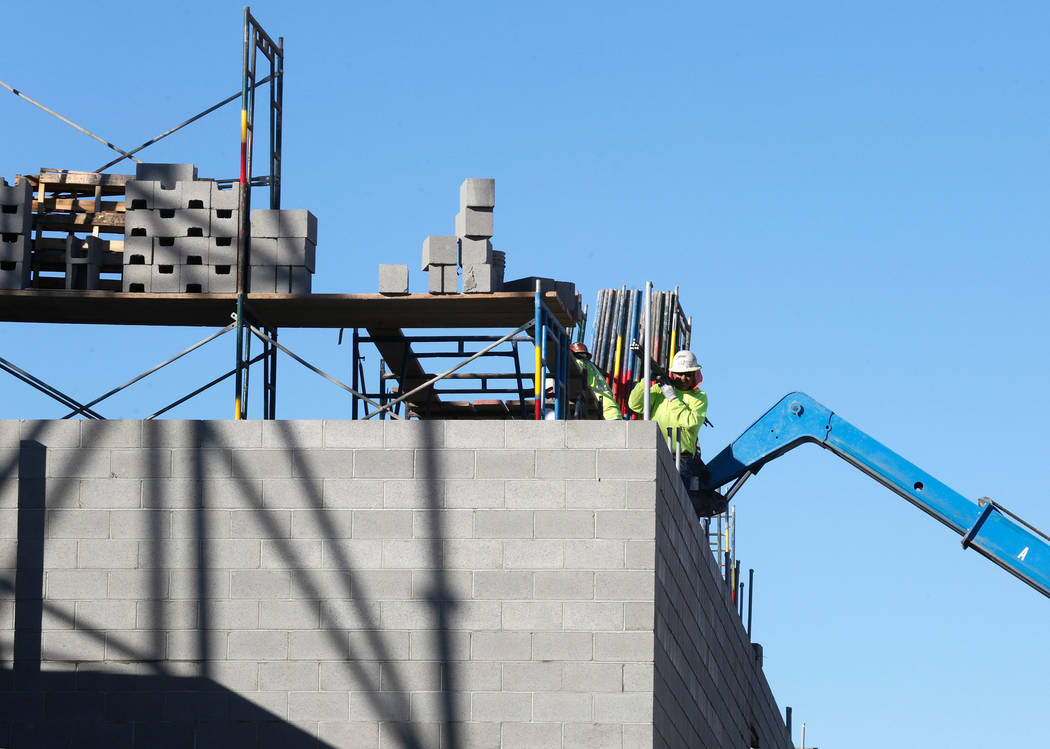 Telecommunications giant Verizon has started updating a North Las Vegas site for 5G, the next standard for wireless technology that's still years away.
City-issued permits detail about $16 million of work to upgrade Las Vegas' so-called network switch, which handles voice calls and wireless data transmissions for the region.
The work includes an 8,000-square-foot addition to the building near the intersection of Gowan Road and Commerce Street and remodel of an existing power plant and network room on site.
The upgrades accommodate new technology and increased customer demand for data, Verizon spokeswoman Jeannine Brew said.
The technological improvements are part of Verizon's road to 5G, Brew said.
"Not only do they provide very tangible benefits today, but they also lay the groundwork for our next generation network," Brew said. "We're expecting to be first to market with 5G."
Construction
The standard Verizon now uses is called 4G Long Term Evolution, which uploads and downloads data at about 10 times the speed of previous standard 3G.
The 5G networks will move data about 10 times the speed of currently available 4G technology.
Construction is set to finish in about six months. Las Vegas is the only place in Brew's 12-state market to undergo this construction due to Verizon's maintenance schedule.
"In this case, the existing size and scope of the facility would not accommodate future needs," she said. "We are similarly planning before it's an issue."
The construction does not necessarily mean Las Vegas will be one of the first Verizon markets to get 5G, she said.
In November, the company announced that five markets will have 5G broadband services for residents in 2018. The only market named so far is Sacramento, which is scheduled to get 5G during the second half of the year.
Race to 5G
Verizon, whose corporate headquarters are in New York, isn't the only telecommunications company trying to reach 5G first.
Sprint, based in Overland Park, Kansas, will use low-powered nodes to expand its cellular coverage and increase network capacity to give customers better service in more places at more times, spokesman John Votava said.
Declining to give specifics, Votava said a large number of small cells are planned for the Las Vegas market. The company announced in its last earnings call that capital spending will grow to about $5 billion a year starting with fiscal year 2018.
The new networks will create advances in fields like health, energy, public safety and transportation, he said.
"The build-out of 5G is the most important U.S. infrastructure investment of the decade," he said. "It will have massive impacts on the U.S. economy."
Earlier this year, Dallas-based AT&T announced it has invested more than $200 million in its Las Vegas networks over the past three years.
In July, T-Mobile announced that it had partnered with the city of Las Vegas to launch internet-connected sensors to warn residents before floods, monitor light poles and light the city. The company's American headquarters are in Bellevue, Washington.
To boost wireless service on the Strip, earlier this year Clark County hired a broadband planning company to help regulate anticipated contracts with major wireless carriers.
Contact Wade Tyler Millward at wmillward@reviewjournal.com or 702-383-4602. Follow @wademillward on Twitter.