Driver who killed 5 bicyclists sentenced to prison
Updated June 9, 2021 - 6:46 pm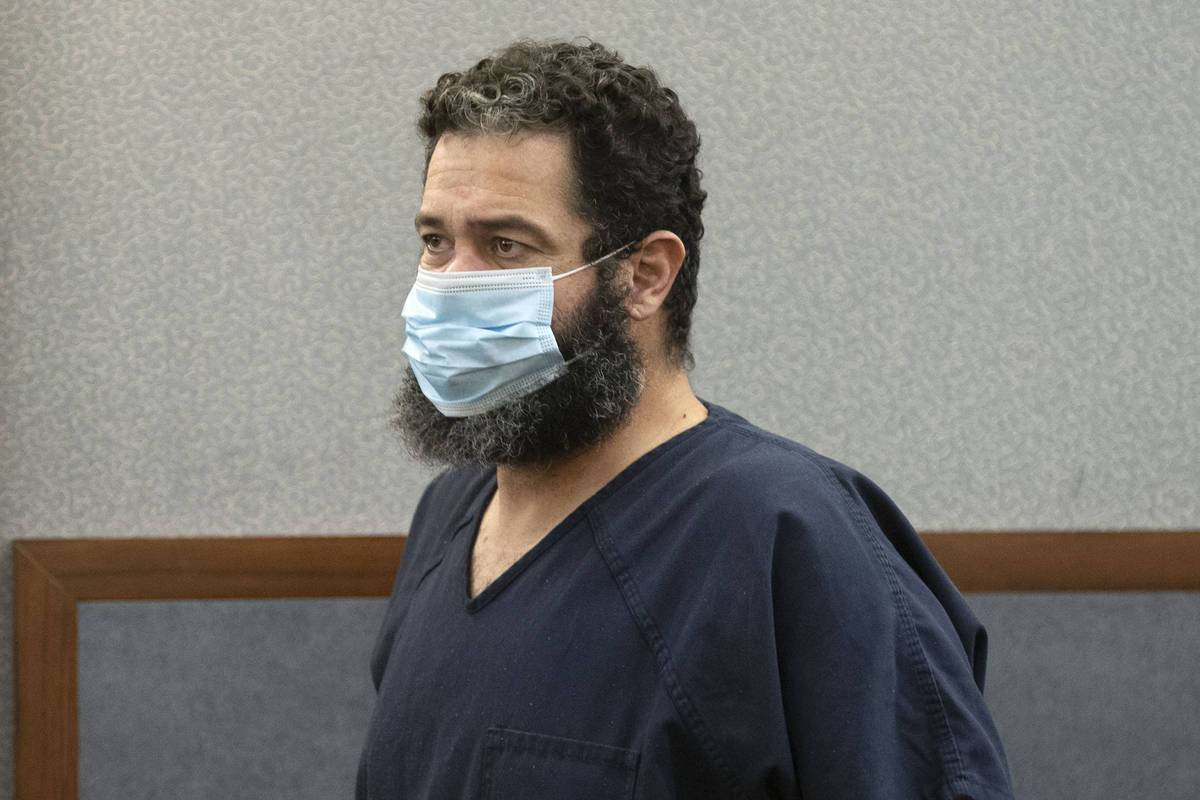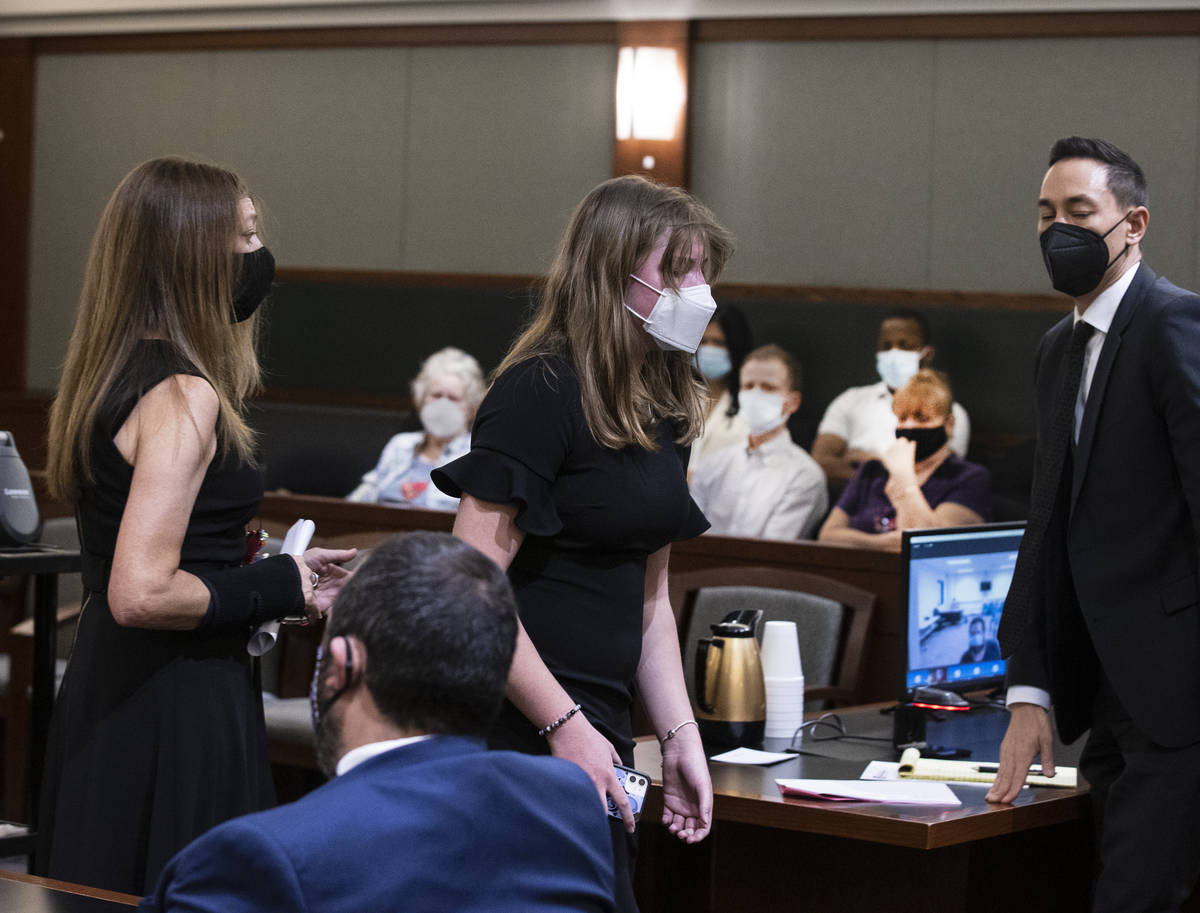 A judge handed down the maximum sentence Wednesday for a man who was high on methamphetamine when he plowed a box truck into a group of Las Vegas bicyclists, killing five.
After what she called an "emotional and difficult" two-day hearing, District Judge Bita Yeager, choking back tears in a courtroom filled with family and friends of those who died, ordered Jordan Barson to serve a prison term of between 16 and 40 years.
Barson, 45, hit the cyclists in December as they rode along U.S. Highway 95 near Searchlight. The judge read each of the victims' names aloud and called the crash a "catastrophe."
The victims were Erin Michelle Ray, 39; Gerrard Suarez Nieva, 41; Michael Todd Murray, 57; Aksoy Ahmet, 48; and Tom Trauger, 57.
Six relatives spoke Wednesday, including Nieva's widow, Cristina Gonzalez, who told the judge that she was doing so on her birthday, longing for another hug from her husband.
"I wish he was still here," she said. "I wish I had my red roses today. I wish he was here to celebrate my day, but instead I'm standing here, asking, begging for justice for my husband and his cycling mates, justice that they deserve."
Plea bargain
Barson pleaded guilty in April to two counts of DUI resulting in death. He originally faced five counts of DUI resulting in death, two counts of DUI resulting in substantial bodily harm and seven counts of reckless driving.
After Wednesday's hearing, Trauger's widow, Donna, told reporters that "justice was not served" with Barson's sentence, noting that he would have faced a maximum of 100 years in prison if he had been convicted of all the original charges.
She also pointed to a "coerced blood draw" and a lack of a search warrant from the Nevada Highway Patrol at the time of Barson's arrest.
"I was told NHP was busy victim blaming, and their observations became clouded by judgment," she said, standing beside high-profile personal injury attorney Robert Eglet, who declined to discuss any plans for a lawsuit. "An opportunity was missed" because of "embarrassing negligence" on the part of state troopers, the widow said.
A spokesman for the state troopers could not be reached Wednesday.
Barson's defense attorney Damian Sheets said Tuesday that questions about whether Barson consented to a blood draw could have led to further litigation in the case before the plea deal was negotiated.
Along with the deaths, four others were injured. The plea agreement also accounts for two of the victims — Jose Vasquez and Jerome Ducrocq — who suffered substantial bodily harm in the crash.
"I know that even when their bodies heal, it will still be quite a long time before they are able to overcome the trauma that they experienced," the judge told Barson. "Each of these individuals that you killed by making that poor decision have mothers, fathers, siblings, spouses, children, nieces, nephews and grandchildren, and their lives are forever affected because of that poor choice."
'Immeasurable pain'
Angela Ahmet said the maximum sentence was inadequate "for five lives and immeasurable pain."
"I should have another 40 years with Aksoy," she told the judge.
The man's daughter, Jasmine, pointed out that Thursday would mark six months since the bicyclists died.
"I should be talking to him about what sports I'm going to play this year, and laughing at him whenever he makes silly faces just to see me smile," she said. "Instead, I'm standing here today with his ashes around my neck. Nothing is the same without him."
Records show that Barson had more than nine times the amount of methamphetamine in his system needed to be considered legally impaired at the time of the crash. The defendant watched testimony on Tuesday and Wednesday through a video stream from the Clark County Detention Center.
Sheets said Barson had struggled with addiction since he was 17.
"I don't think he'll ever forgive himself," the attorney said.
The bicyclists were with a group of about 20 that set out from Henderson that morning to complete the roughly 130-mile Nipton Loop.
All of the bicyclists who were killed or injured were seeking cover from the wind and riding behind the group's safety escort vehicle when the box truck Barson was driving crashed into them, according to a Highway Patrol report.
Nieva's sister, Ria Pitts, said she visited the crash site before Wednesday's hearing.
"Because even though I wear his ashes around my neck every day," she said, "it's the only thing we can do to feel more connected to him."
Contact David Ferrara at dferrara@reviewjournal.com or 702-380-1039. Follow @randompoker on Twitter.