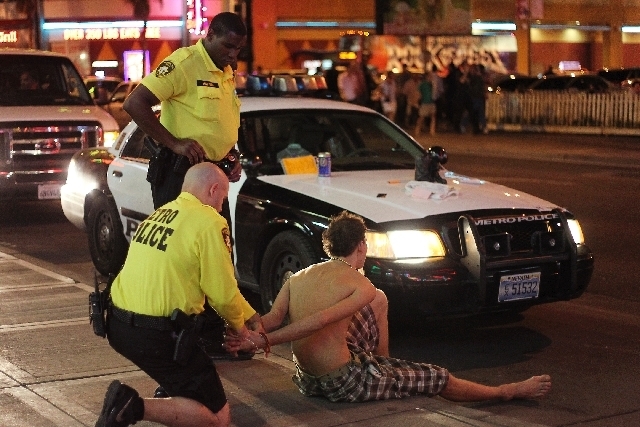 Attempts by Las Vegas police to establish law and order during a popular party night on Fremont Street are still missing the mark, at least when it comes to matching enforcement with city codes.
The latest police effort to instill calm in the Fremont East party district during First Fridays included barriers that kept pedestrians on the sidewalks and barred people from carrying beverage containers into the fenced area.
The result was a calmer atmosphere than previous First Fridays but it also included police preventing pedestrians from engaging in seemingly legal activity.
For example, Metropolitan Police Department officers posted at entry points to Fremont from Las Vegas Boulevard and Sixth Street stopped people from bringing beverage containers onto the block, regardless of whether they contained alcohol.
"To sort of prohibit anyone form walking down the street carrying any kind of container whatsoever would appear to be going too far," said Allen Lichtenstein, general counsel for the American Civil Liberties Union of Nevada.
Lichtenstein, who along with the ACLU has clashed with the city over past efforts to assert control over Fremont Street, isn't the only one who acknowledged the latest effort by police appeared to enforce laws that don't exist.
According to City Attorney Brad Jerbic, there are no prohibitions whatsoever of non-alcoholic beverages on city sidewalks. And even when it comes to booze, the rules against drinking on the sidewalk have plenty of wiggle room.
"Merely carrying a container alone is not a crime," Jerbic said.
It is legal for people to purchase alcohol from an establishment with a tavern license and consume it on a public sidewalk, he said.
For example, a customer could buy a beer or cocktail at the El Cortez and legally consume it during a stroll to the Fremont Street Experience.
However, bars that hold a tavern limited license, such as the majority of those in the Fremont East area, are required to keep their patrons from leaving with a beverage in hand.
But that still leaves wiggle room for the consumer in that it is generally the responsibility of the bar, not the customer, to prevent beverages making it from tavern limited premises to the sidewalk.
The only instance in which it is clearly illegal to drink booze on the sidewalk is if the beverage comes from a sealed container, such as a bottle or can from a liquor store, and is opened or consumed within 1,000 feet of a liquor store, an area that would include the Fremont Street Experience, Fremont East and beyond.
But Jerbic said he has declined to prosecute many people issued citations for drinking on a public sidewalk because police haven't always documented the source of the booze, which is critical to establishing guilt.
"If they literally saw someone leave a package liquor place and consume it then the consumer is breaking the law," Jerbic said.
While some have questioned the prohibition on containers, other aspects of the stepped-up enforcement have received high marks.
Using barriers between the sidewalk and the street, for example, was effective in keeping people safe from moving traffic.
"We did that because that's too many people too close to traffic," said Capt. Shawn Andersen, the downtown area commander.
Andersen also said it was important for police to assert crowd control to prevent fights and other problems, not only in Fremont East but under the Fremont Street Experience canopy as well.
Restricting alcohol consumption is part of the effort, he said.
"There is too much drinking going on down here," Andersen said. "We have a lot of young people down here; it is a recipe for bad things to happen."
Businesses for the most part have supported police efforts.
Mike Nolan, general manager of the El Cortez and president of the Fremont Street Entertainment District board, said members of the group met Tuesday and agreed the First Friday scene was improving.
"What everybody was happy about was there was a lot of activity and nobody was hurt," Nolan said of the most recent Friday.
Nolan acknowledged, however, that some people felt the police presence seemed a little heavy handed.
On Friday Chris LaPorte, owner of Insert Coins video game bar, said the dozen or so police cars on the street was off-putting to some.
"Some people just don't feel comfortable with too many cops," LaPorte said.
Contact reporter Benjamin Spillman at bspillman@reviewjournal.com or 702-383-0285. Follow him on Twitter @BenSpillman702.