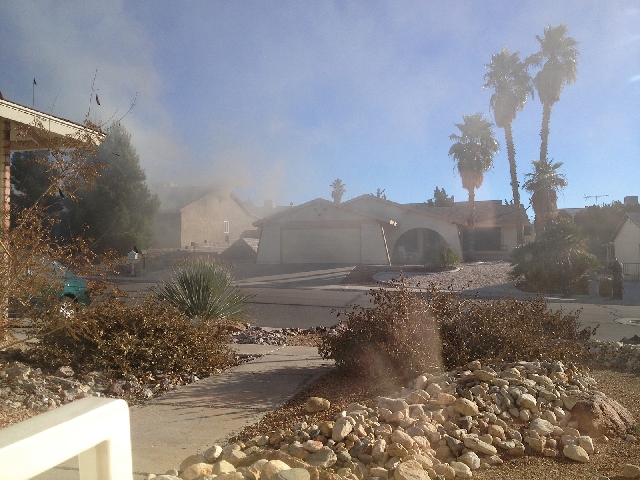 On the morning of Jan. 21, Las Vegas police Lt. Hans Walters called a 911 dispatcher and told her he had killed his family.
"I just shot and killed my son, Max, and my wife, Michelle," a relatively calm Walters told the dispatcher. "I killed her because she's in such chronic pain from her neck and back — and on more medicine that she's not going to survive," according to a 911 call released by authorities Monday.
Walters also told the dispatcher that he set fire to his Boulder City home and if firefighters responded, he would shoot them. He ended the call with contrition: "Please forgive me for my sins."
Before the murder-suicide, Walters told family and friends that dealing with his wife's chronic back problems was taking a toll on him, according to reports released by Henderson police. Henderson investigators interviewed family, friends and responding officers to get a better understanding of the incident.
"I don't know that I can deal with this. You know, keep taking care of (her). It's getting really hard," Greg Watkins, the wife's brother, recalled Walters saying .
Kathryn "Michelle" Walters, 46, their 5-year-old son, Maximilian, and Hans Walters, 52, all died from gunshot wounds to their heads from Walters' Glock pistol.
Police said when officers responded to the burning home, Walters was carrying a gun. He ignored officers' commands and returned to the house, where he killed himself.
A friend of Michelle Walters' recalled Hans Walters alluding to the possibility his wife abused pain medications, a report said. The friend told an investigator that Hans Walters also appeared to be struggling with his wife's back pain and that she acted erratically, sometimes falling asleep at strange times.
Those who knew Michelle Walters described her as caring. The retired Las Vegas police officer spent more than a decade volunteering for child cancer groups and ran summer camps to serve critically ill children and their siblings.
She left the Metropolitan Police Department in 2005. Two years later, she gave birth after years of fertility treatments.
Contact reporter Antonio Planas at aplanas@reviewjournal.com or 702-383-4638.