Ex-Marine to serve 18 years after attempt to run over Las Vegas pastor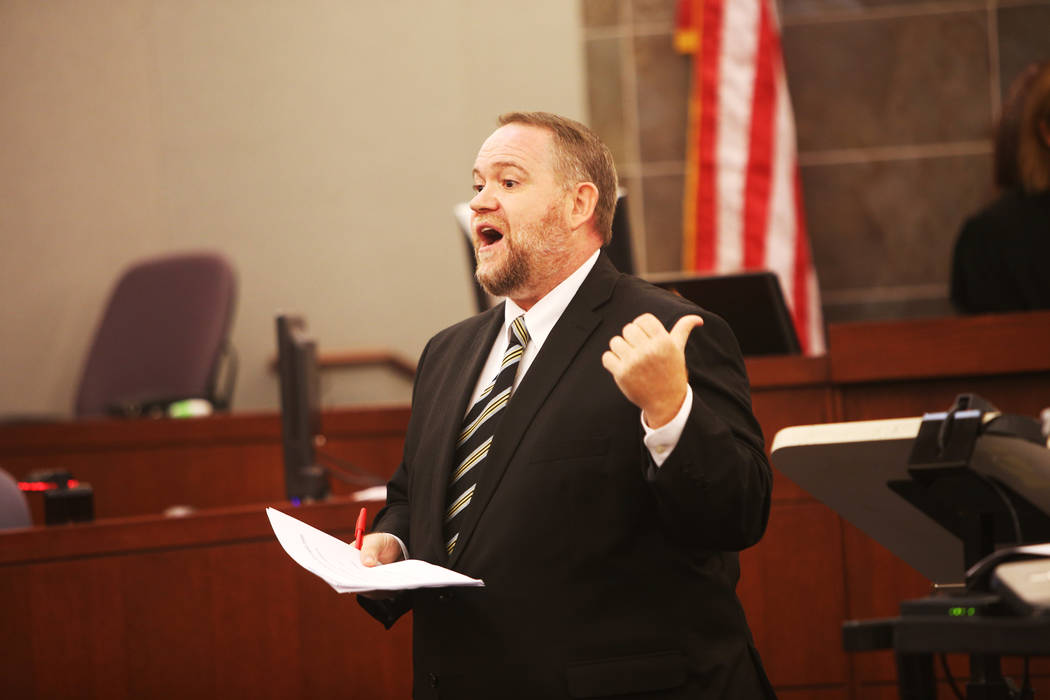 A former Marine convicted of menacing his neighbors and attacking a Las Vegas pastor was ordered to serve up to 46 years behind bars on Tuesday.
Walter Laak was found guilty but mentally ill in August after prosecutors argued that he knew his actions in September 2016 were illegal, while acknowledging that the Iraq War veteran suffered from post-traumatic stress disorder.
District Judge Jennifer Togliatti sentenced Laak to a minimum of more than 18 years in prison before he would be eligible for parole.
Jurors convicted Laak of all but one of the 13 counts he faced, including attempted murder with a deadly weapon, discharging a firearm into an occupied structure, aggravated stalking, assault with a deadly weapon and throwing a deadly missile. He was acquitted of one count of assault with a deadly weapon.
Laak, who served two tours of duty in Iraq, was accused of beating and attempting to run over a Las Vegas pastor with his vehicle, then driving to the victim's home and firing multiple gunshots into it while the pastor's wife and children were inside. It was the third serious crime for which Laak faced charges since his return from combat. He was given a general discharge in 2005.
Prosecutor Elizabeth Mercer, who asked the judge to order Laak to serve as many as 51 years in prison, said she was "very pleased with the sentence and relieved that the community will be safe for a significant period of time."
Laak's attorney, James Ruggeroli, had argued at trial that the 38-year-old was not guilty by reason of insanity and should have been sent to a mental health facility.
"It's a tragedy all the way around," the lawyer said. "I'm thankful nobody else was hurt more, and a worse tragedy could have happened. But I feel terrible for Walter and his family, because he's basically going away for so long without the kind of treatment I wish he had gotten years ago."
At trial, prosecutors pointed to Laak's actions and statements as evidence of his awareness of criminal behavior.
He shot at a building from a distance, later telling authorities he did not want to incriminate himself, and fled from police, prosecutors said.
Laak has told the Las Vegas Review-Journal that his experience in Iraq led to his ongoing struggles and said he believed the pastor, a former neighbor, was an FBI "snitch."
In June 2007, Laak shot and killed 19-year-old Juan Cordova in Las Vegas, but he was acquitted a year later by a jury on grounds that he acted in self-defense. Authorities returned his 9 mm Beretta handgun a month later, but he said he sold the weapon because of "bad memories."
Two years after the shooting, Laak was arrested with another man and charged with multiple felony counts of sexual assault with a deadly weapon. He received probation in 2012 after pleading guilty to a single gross misdemeanor charge of conspiracy.
"The defendant has a history of being a very dangerous individual," prosecutor Chad Lexis said. "The jury finally held him accountable on this particular case, as did the judge."
In a sentencing memo filed last week, Ruggeroli argued for mental health court, along with 364 days in jail and a "significantly long suspended sentence" with Laak placed on probation while he obtained treatment.
The attorney included a letter from Laak's mother, Song Ae Laak, who wrote to the judge: "when he went (into the) military he went to Iraq too many times and after coming home he is not normal. Please give him treatment. Please give him a chance."
Contact David Ferrara at dferrara@reviewjournal.com or 702-380-1039. Follow @randompoker on Twitter.