Las Vegas police find missing toddler's body
Updated May 12, 2021 - 11:31 pm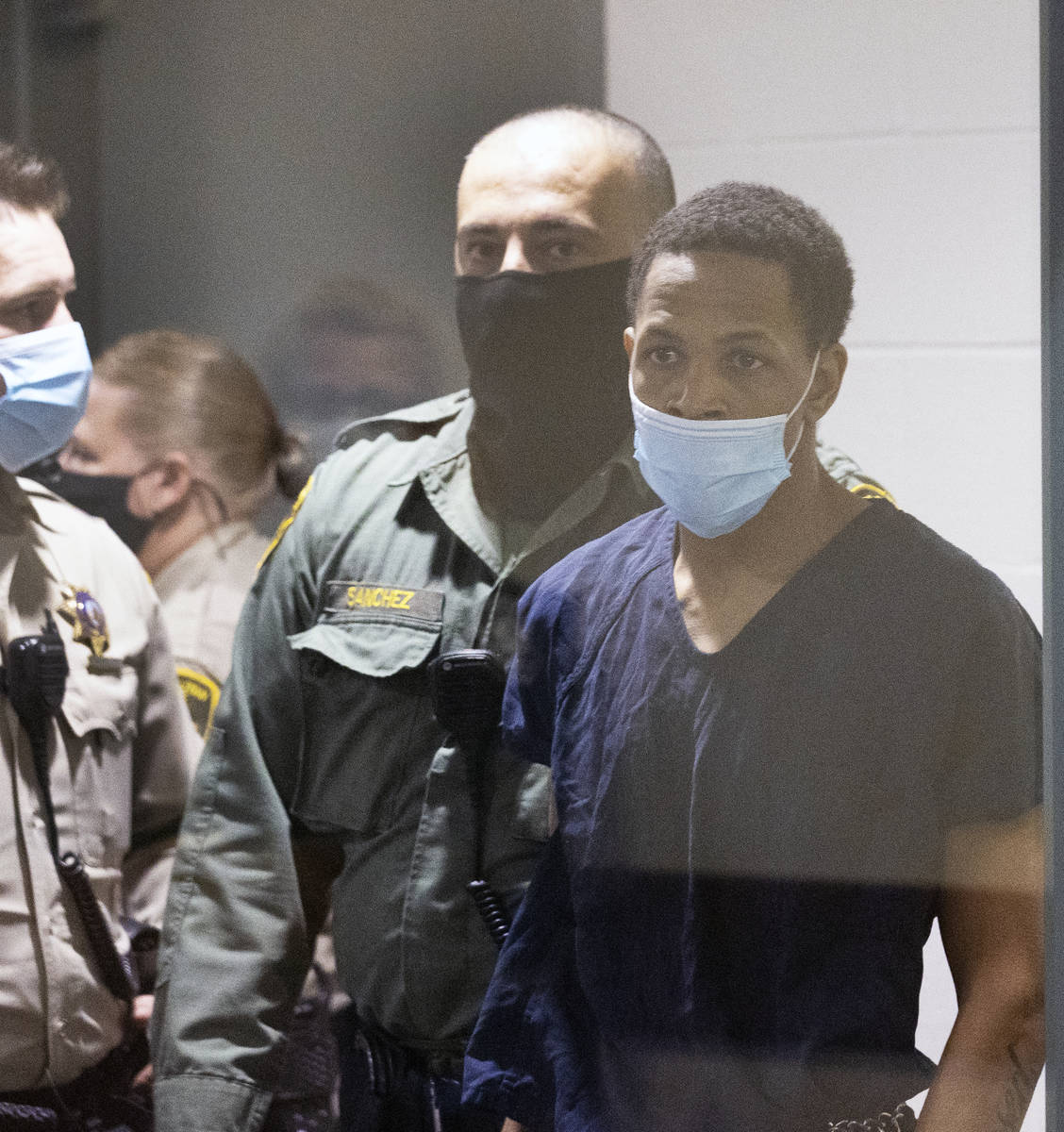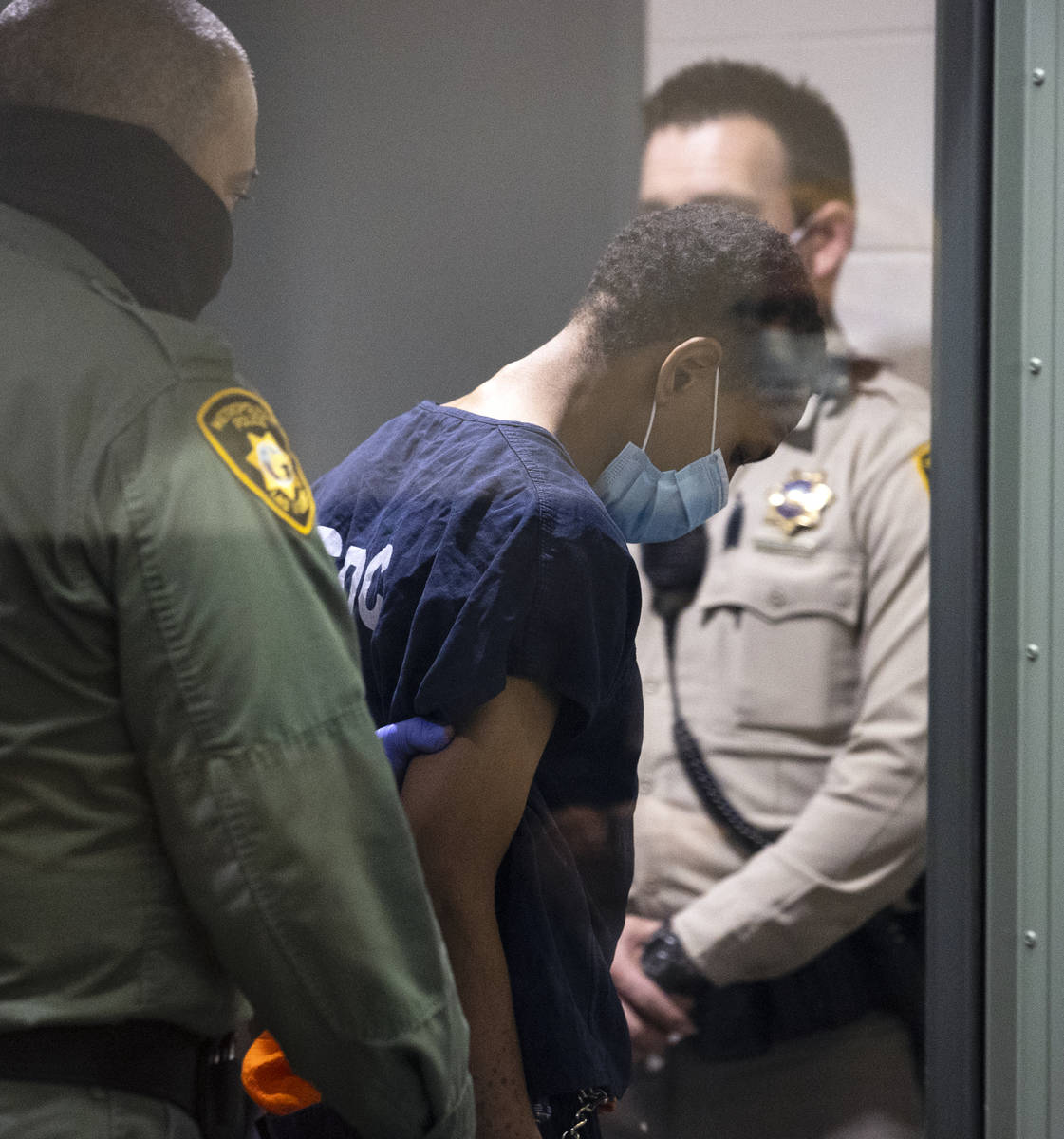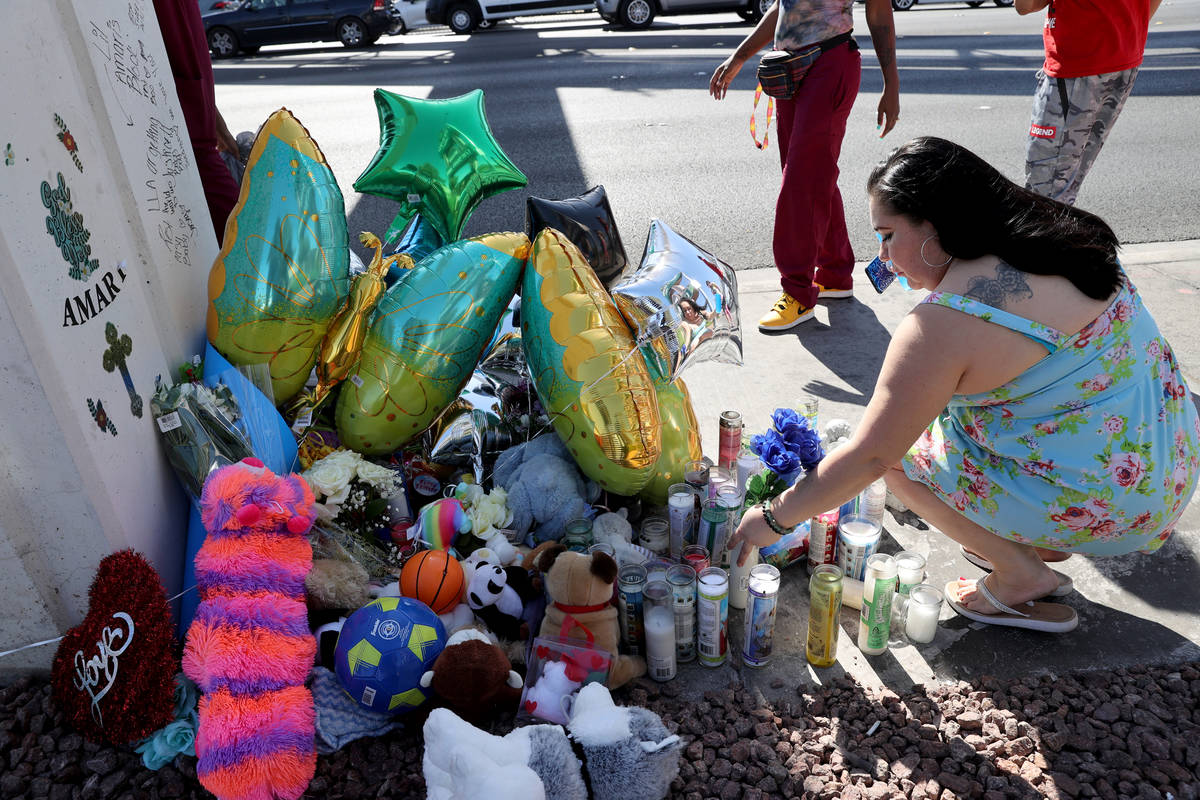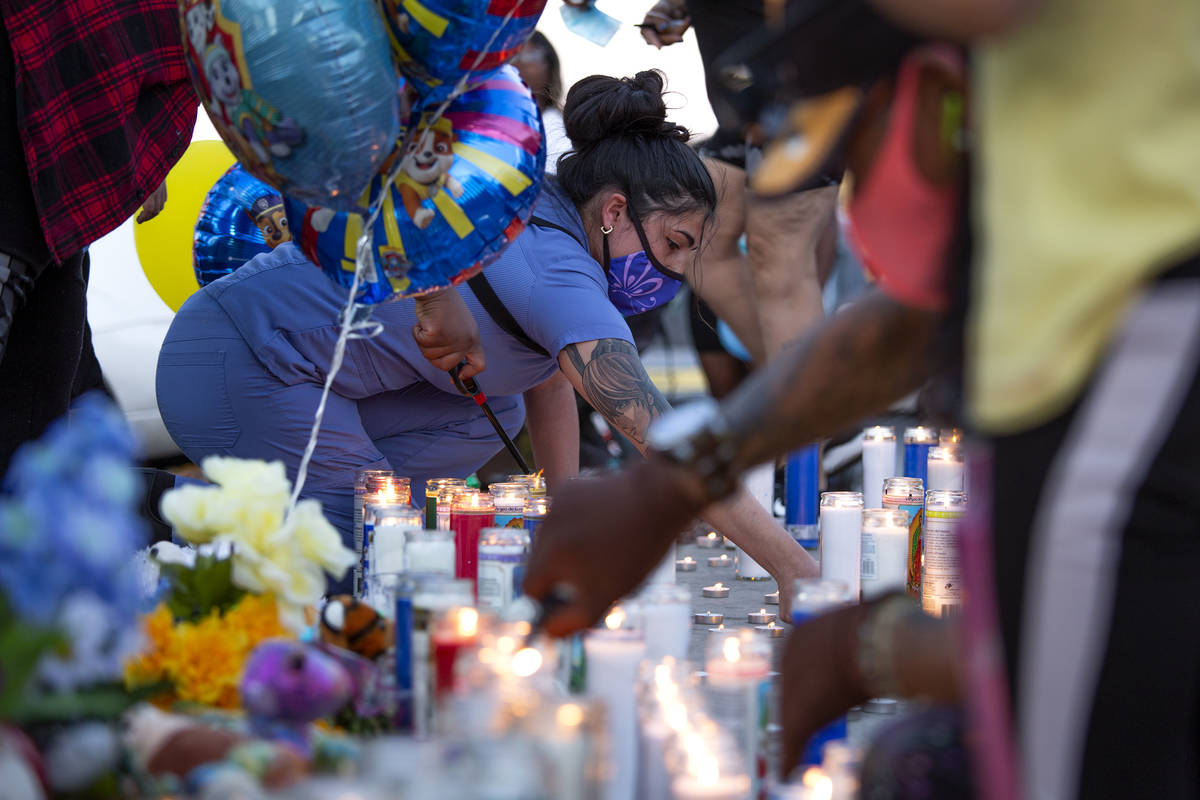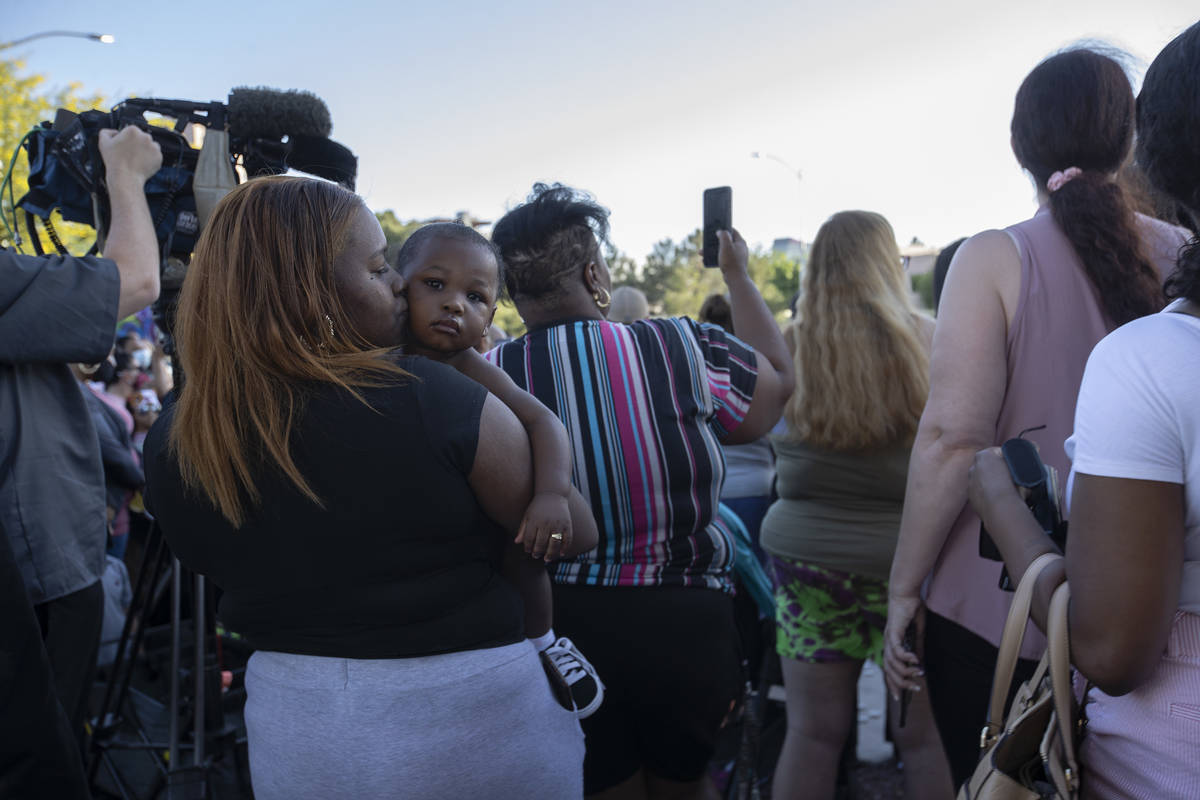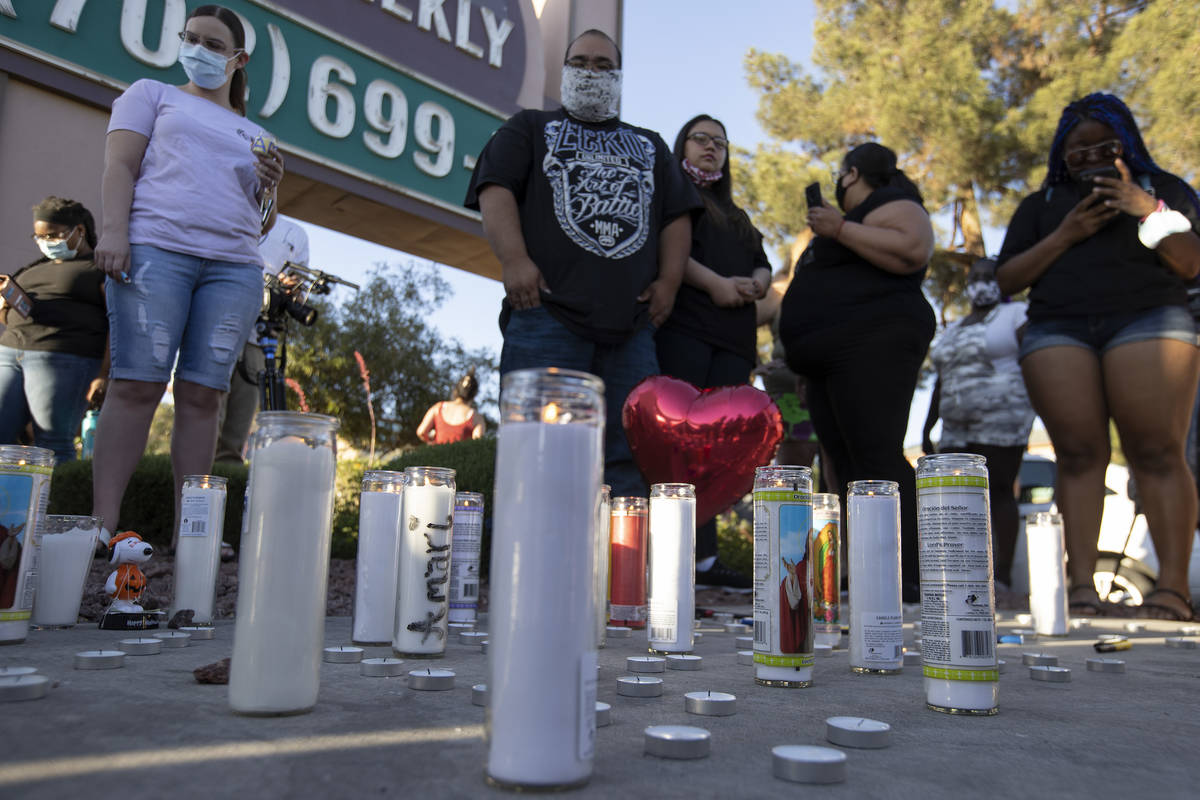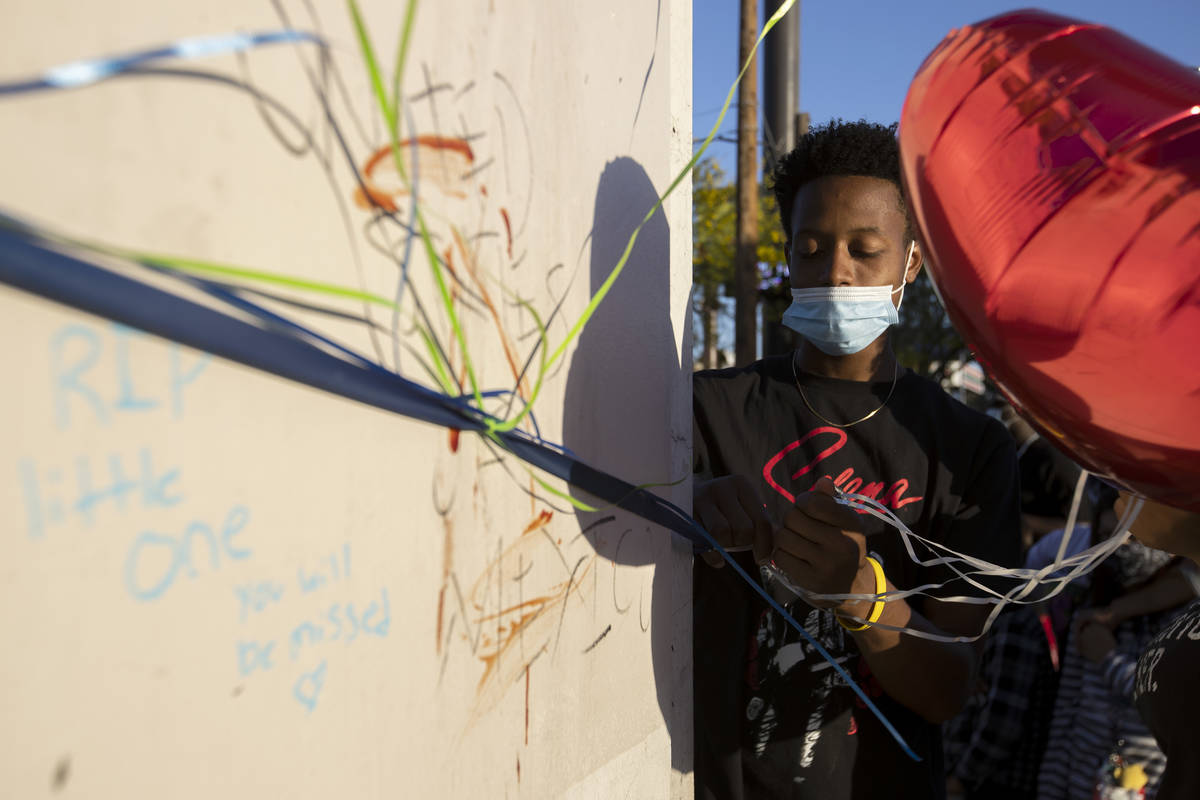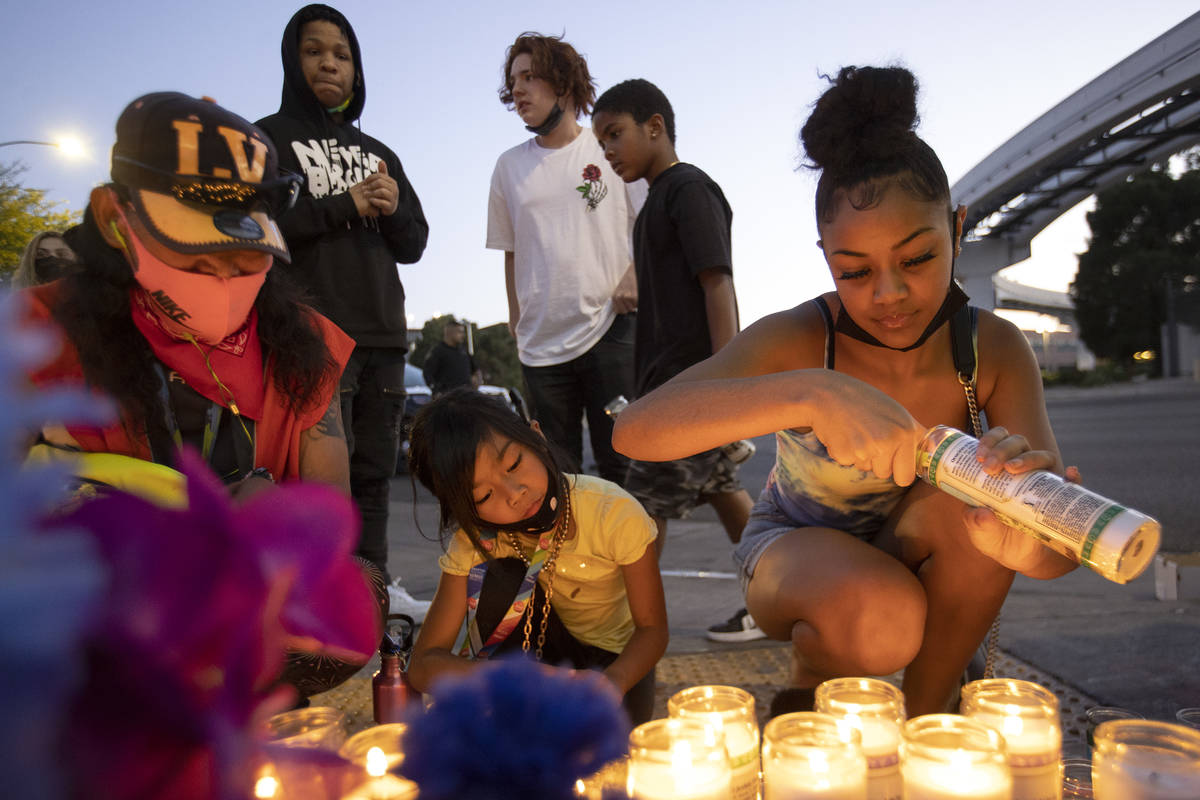 Police located the body of missing Las Vegas toddler Amari Nicholson on Wednesday, hours after the man charged in the boy's death was ordered held without bail.
Amari's body was found near the 400 block of East Twain Avenue, the Metropolitan Police Department said in an afternoon statement — less than a mile from the Emerald Suites at 3684 Paradise Road, where the 2-year-old boy was last seen May 5. No further information was released about the discovery.
But near the scene about 2 p.m. Wednesday, about a dozen police vehicles and a Clark County coroner's office van had descended on the parking lot of the Siegel Suites at 454 E. Twain Ave., which backs up to the rear border of the Emerald Suites complex, where Amari's mother, Tayler Nicholson, and the suspect, her boyfriend Terrell Rhodes, shared an apartment. Yellow crime scene tape blocked off the Siegel Suites property.
To the west of the Siegel Suites complex, in a McDonald's parking lot, Amari's mother could be seen speaking with multiple officers. Police have given no indication that she was involved in her son's death. She later drove away from the scene.
Wednesday evening, a crowd of about 100 gathered in front of the Emerald Suites with piles of stuffed animals, blue balloons and candles spelling Amari's name.
People in the crowd voiced anger at the boy's mother, who was not present. But others said the attention should be on Amari.
"At the end of the day, my nephew needs to be remembered for his life, not for how he was killed," family friend Arielle Mathews yelled, her voice rising above nearby road traffic.
Court appearance
Rhodes, 27, lied to authorities for about a week but later admitted to investigators that he had abused Amari and "hit the child numerous times, causing his death," Chief Deputy District Attorney Tim Fattig said in court Wednesday morning.
The prosecutor said Rhodes hid the body, and police later found blood on a wall of his apartment, with soiled child's clothing.
Las Vegas Justice of the Peace Joe Bonaventure ordered Rhodes to return to court on Monday.
The boy's mother wrote on Facebook late Tuesday that she "never knew anything" about the alleged involvement of her boyfriend in the disappearance of her son, screenshots of the since-deleted post show.
Amari vanished a week ago from the Emerald Suites complex. His disappearance prompted an extensive search by police, Amari's family members and a cadre of volunteers who hoped to find the child alive.
But on Tuesday evening, Las Vegas police announced that Rhodes had been arrested on suspicion of murder in Amari's disappearance.
In an interview with the Las Vegas Review-Journal on Wednesday morning, Clark County Sheriff Joe Lombardo said Rhodes told investigators where the boy's body could be found, but "that proved to be false." About 1:10 p.m., police announced that Amari's body had been located.
Nicholson addressed Rhodes' arrest and the apparent death of her child on her Facebook page Tuesday night.
"My baby is gone & is never coming home," according to screen saves of Nicholson's post that were circulated on social media.
"I never knew He did this he never said anything to me about his involvement," Nicholson wrote in the post. "I trusted him and he betrayed me. He took my whole world from me my son comes first before anybody!! I never knew anything."
Nicholson previously pleaded for the public's help in finding her child on the same Facebook page, which had apparently since been deleted.
"Please help look and please share all posts of Amari help bring our baby home," she wrote last week.
The Review-Journal requested a jailhouse interview with Rhodes after his arrest, but Metro officials said in a Wednesday statement that he was unavailable "due to current custody classification."
Vigil to honor Amari
Near the scene where Amari's body was found, Juana Salazar said she had been helping with a small, informal community search for the boy's remains Wednesday afternoon when police began concentrating on the western property line of the Siegel Suites.
She watched as police spoke with the boy's mother nearby. She did not know Amari or his family, but felt like she had to help search for him over the past four days, she said.
"I feel a little bit of relief now that I know he's going to be laid to rest now, and he's not by himself, and he's not suffering," she said.
On Wednesday evening, as community members gathered to honor Amari, the boy's maternal grandmother, Carrie Howard, watched through a video call with family friend Mathews. Howard, 41, was unable to travel from her home in Colorado, she told the Review-Journal. Amari's death "ruined" her.
Amari was "an angel," Howard said — sweet and funny with a smile always on his face.
"The love from people though has been amazing," Howard said. "It's nice to know that we have so many prayers going up to Amari."
The vigil was organized on Facebook groups, where Las Vegas residents had been sharing information about Amari since he was reported missing, hoping for a different ending.
"We're moms, so for us, it hurts knowing that a child was not protected," one of the event's three organizers, Erica McCoy, said.
JD Nalls attended the vigil wearing a shirt reading "Dad of the wild one," made for Amari's first birthday party, he said. Nalls helped raise Amari from the time the boy's mother was pregnant until about six months ago.
Amari loved Mickey Mouse and Scooby Doo and never cried, not even when he was born, Nalls said. He called Tayler Nicholson "a great mother — she's always been a great mother" and said he's waiting for answers about Amari's death.
The little boy inspired him to be a better man, he said.
"I can't put it together that I won't be able to check in and see how he was doing, or be able to see him," Nalls said. "I won't be able to go to the park with him no more, or play ball, or watch his favorite shows."
Contact Katelyn Newberg at knewberg@reviewjournal.com or 702-383-0240. Follow @k_newberg on Twitter. Contact David Ferrara at dferrara@reviewjournal.com or 702-380-1039. Follow @randompoker on Twitter. Contact Glenn Puit by email at gpuit@reviewjournal.com. Follow @GlennatRJ on Twitter.