Las Vegas police ID suspect in manicurist's death — VIDEO
January 3, 2019 - 1:20 pm
Updated January 3, 2019 - 6:34 pm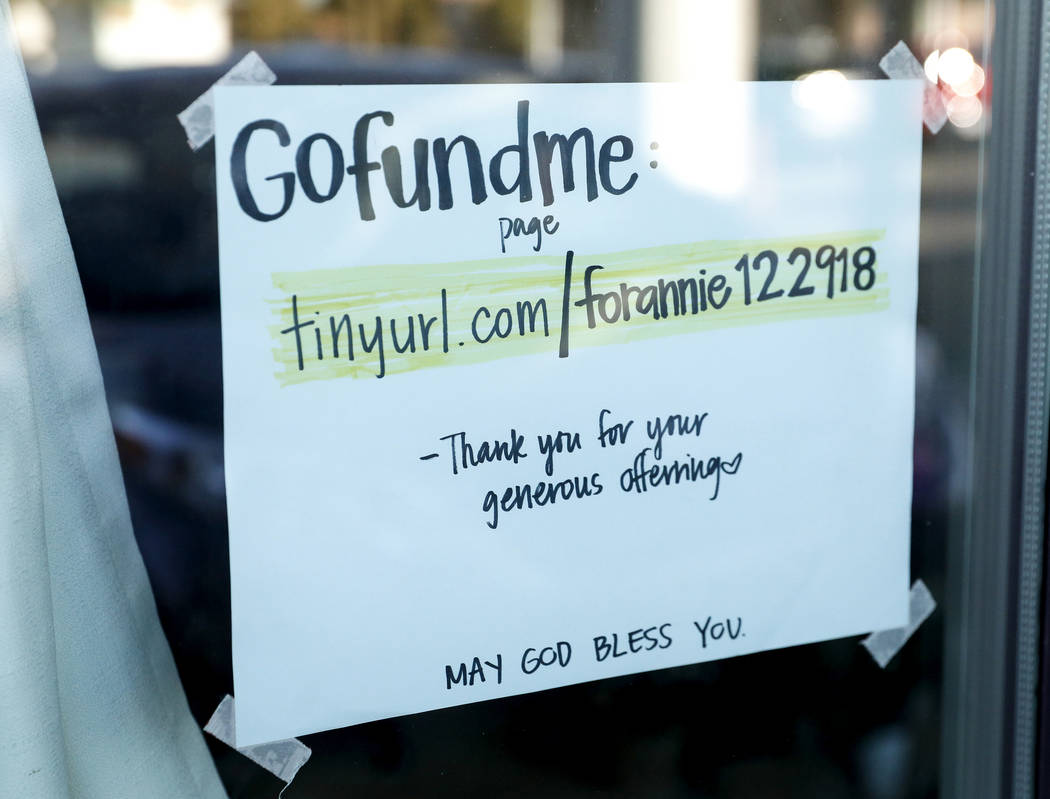 Las Vegas police have identified a suspect in the death of a manicurist who died Saturday after she was dragged by a car outside the salon where she worked.
Police announced on Thursday that they are looking for 21-year-old Krystal Whipple.
They also released a booking photo of Whipple from an arrest in April and a video that includes surveillance footage of the moments leading up to the manicurist's death.
Police were called about 3:45 p.m. Saturday to Crystal Nails &Spa, 4983 W. Flamingo Road, near South Decatur Boulevard, where a woman had been hit and dragged by a customer in a rental car who had left the salon without paying, Metropolitan Police Department Lt. Ray Spencer said Saturday night.
The woman died at University Medical Center. She was Ngoc Q. Nguyen, 53, according to the Clark County coroner's office. Nguyen had been identified earlier as Nhu Nguyen by her boyfriend and co-worker of 12 years, Sonny Chung.
According to Chung, Nguyen's customer had tried to pay for her $35 manicure with a credit card that was declined. After the card was swiped three or four times, the customer told Nguyen that she was going to get money from her car.
Nguyen and Chung followed the woman outside to try to stop her from leaving after she got behind the wheel of a stolen black Camaro. She struck Nguyen with the car, dragging her about 50 feet, Chung said.
The video released by police shows a woman walking out of the nail salon, getting into a car and backing out of her parking spot.
Nguyen is seen running out of the salon and jumping in front of the car, which already had begun to drive forward out of the parking lot.
Chung is seen clinging to the back of the car as it drives away from the salon.
By Saturday night, officers had found the Camaro unoccupied at a nearby apartment complex. The rental car had been reported stolen about three weeks prior to the killing, police said.
Although police would not say how they identified Whipple as a suspect in Nguyen's death, department spokeswoman Laura Meltzer said Thursday that the booking photo they released of Whipple was from April, when she was arrested on multiple warrants.
One warrant resulted from Whipple's failure to show up to court on several traffic-related citations, including speeding and driving without a driver's license, Meltzer said. The second warrant was issued in a 2016 case in which Whipple pleaded guilty to attempting to possess a stolen vehicle.
According to Clark County court records, Whipple received probation in the stolen vehicle case.
The judge in that case issued a warrant for Whipple's arrest after she failed to make payments in the case and failed to show up to court for a status check. Whipple was arrested on the warrant, her probation was revoked, and she was sentenced to four months in the Clark County Detention Center, the court records show.
"Please take a close look at this photo," Lt. Spencer said at the end of the video released Thursday. "It is important we get this suspect into custody as the victim's family and this community deserve to have her answer for this horrible crime."
Spencer urged anyone involved in a payment dispute to call police rather than take matters into their own hands.
"Do not attempt to confront or apprehend someone," he said in the video.
Anyone with information about Whipple is urged to call police at 702-828-3521 or, to remain anonymous, call Crime Stoppers at 702-385-5555.
Contact Kimber Laux at klaux@reviewjournal.com. Follow @lauxkimber on Twitter.