Las Vegas police officers won't face charges for killing Jorge Gomez
Updated May 20, 2021 - 6:09 pm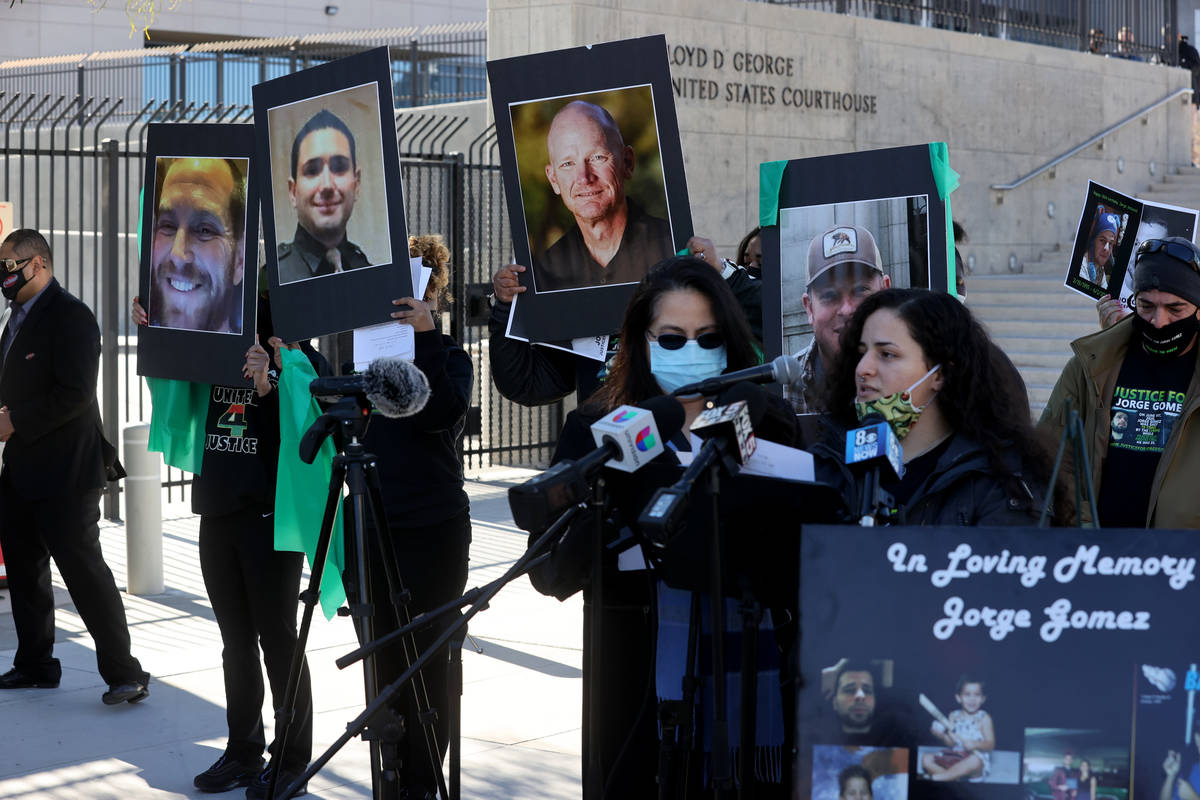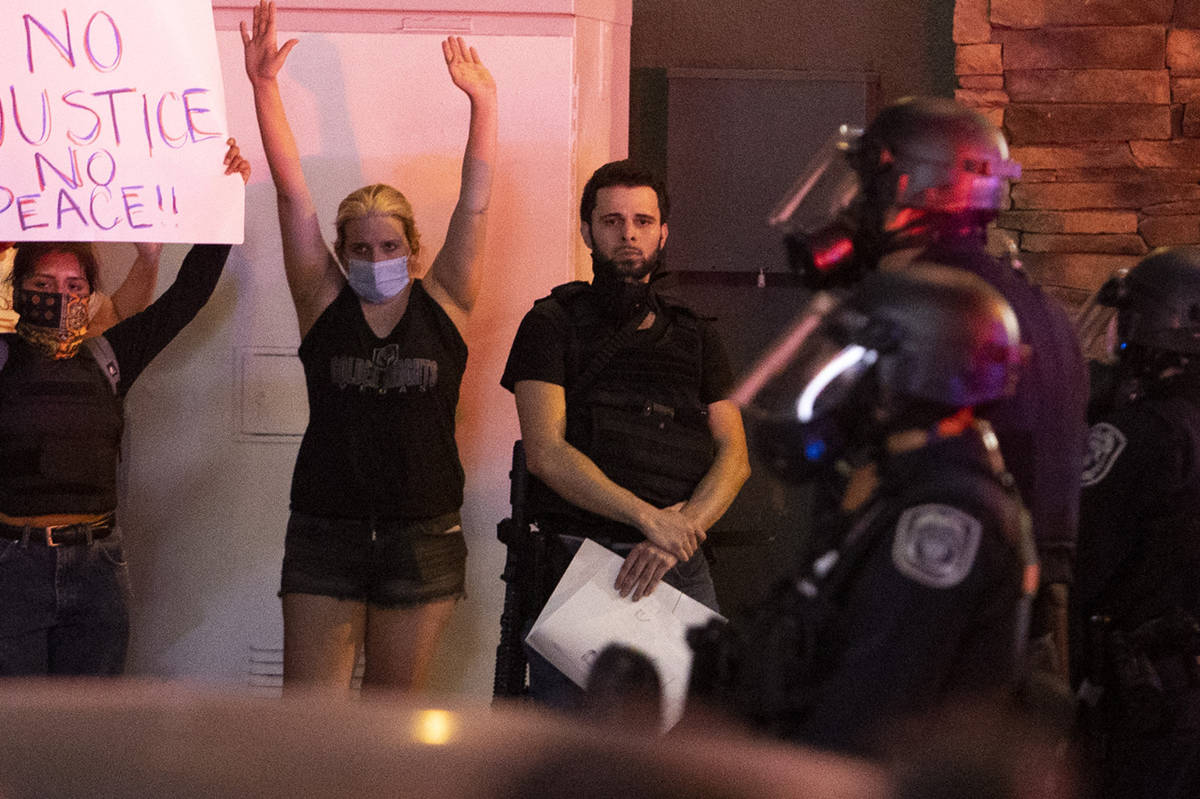 Clark County's district attorney will not pursue criminal charges against the four Metropolitan Police Department officers who shot and killed armed protester Jorge Gomez last year during a Black Lives Matter demonstration in downtown Las Vegas.
In a 79-page legal analysis released Thursday, District Attorney Steve Wolfson wrote: "As there is no factual or legal basis upon which to charge, unless new circumstances come to light which contradict the factual foundation upon which this decision is made, no charges will be forthcoming against the shooting officers."
The highly publicized shooting occurred on the evening of June 1, the third straight night of major demonstrations in Las Vegas prompted by the May 2020 murder of George Floyd, an unarmed Black man, while in Minneapolis police custody.
Metro officers Ryan Fryman, Dan Emerton, Andrew Locher and Vernon Ferguson claimed that Gomez, 25, had raised one of his guns at a group of officers positioned outside the federal courthouse on Las Vegas Boulevard, prompting them to fire a combined 19 rounds in less than three seconds. Shortly before Gomez was shot, it was broadcast on Metro's radio channels that a Las Vegas police officer had been shot in the head at another Black Lives Matter demonstration outside Circus Circus.
Wolfson's decision came as no surprise to Gomez's mother, Jeanne Llera, who predicted the outcome last month as she arrived outside the Clark County Commission chambers for a public review of evidence in her son's death — formally known as a fact-finding review.
"I already know the DA wasn't going to press charges since the first moment I spoke with him," Llera said at the time.
On Thursday, she doubled down on that sentiment, telling the Las Vegas Review-Journal: "These officers can do anything they want. No one's going to hold them accountable. How could that even happen without an independent investigation? They're investigating themselves. It's like asking robbers to investigate robbers."
Wolfson's decision, in part, was based on an investigative report penned by Metro Detective Jason Leavitt, who led the investigation into his colleagues' deadly use of force.
'Tense and chaotic'
In the year since Gomez's death, police accountability activists also had little faith that the case would result in charges.
"I don't think that there is any interest from the district attorney's office in holding officers engaged in misconduct accountable for their actions," said Athar Haseebullah, executive director of the American Civil Liberties Union of Nevada. "They've consistently greenlighted misconduct, and we can see that in the number of officers they've prosecuted throughout the years in deadly police interactions."
Had Wolfson pursued a criminal case in Gomez's death, it would have marked the third time in Metro history that charges were filed in connection with an in-custody death or fatal police shooting. Metro was formed in 1973.
Neither of the two prior cases resulted in convictions.
Haseebullah added that the ACLU plans to review "every element" of Wolfson's legal analysis and issue its own legal assessment at a later date.
After reviewing the analysis in its entirety on Thursday, attorney Rodolfo Gonzalez, who is part of a team of civil attorneys retained by the Gomez family, told the Review-Journal: "I'm extremely disappointed in the false narrative that they provided in the report. Metro and the DA's office hopes that if they keep repeating the same false narrative, the city of Las Vegas will believe them instead of what the videos show. There's a lot of information in Wolfson's report that is completely contradicted by the videos."
For nearly 10 months after the shooting — until last month's fact-finding review — Metro officials maintained that Gomez had aimed one of his guns at the officers outside the courthouse.
That evening, the protester had a Glock 19 handgun holstered on his hip and a Glock 23 pistol, nestled into a carbine conversion kit, slung over his shoulder. A third weapon, which Metro said had been converted into a short-barreled rifle, later was found in his backpack. He also was wearing what has been described as a ballistics vest.
But at the fact-finding review, Leavitt, the investigating officer, revealed during roughly four hours of informal questioning that video footage captured by surveillance cameras and witnesses did not support the officers' narrative.
His big reveal, which drew applause from the audience, was elicited by attorney Josh Tomsheck, who had been appointed as an ombudsman to represent the interests of the Gomez family and the public.
"When you watched the video evidence in this case, did you see Mr. Gomez level a weapon?" Tomsheck asked the detective.
"I did not," Leavitt said.
Tomsheck continued: "Do you agree with me that, from the evidence, there is not a clear depiction of him raising the weapon?"
"I would agree with that," Leavitt responded.
The district attorney elaborated on that issue in his legal analysis.
"The known facts and circumstances surrounding this incident indicate Decedent posed an imminent danger to officers and/or citizens, and a reasonable person in a similar situation would believe himself or another person to be in danger. Here, the atmosphere was tense and chaotic," the analysis states.
It continues: "Additional evidence, beyond the scope of what officers knew at the time of the shooting, supports the conclusion that Decedent actually did point or raise a firearm at officers and/or citizens, or at the very least he was acting in a manner that would lead one to reasonably believe he was pointing the firearm."
The shooting
Gomez's death unfolded outside the Lloyd George U.S. Courthouse in a matter of minutes, if not seconds, in a series of fast-moving events.
His parents have said he was trying to get to his red pickup truck, parked a block away from the courthouse, when he encountered Metro officer John Squeo, who was among the group of officers stationed on the steps of the courthouse.
According to Leavitt's testimony last month, Squeo, who resigned from Metro in March on the heels of an unrelated disorderly conduct case, instructed Gomez to stay away from a set of barriers set up around the courthouse steps.
"What barriers?" Gomez apparently responded.
Squeo then fired nonlethal beanbag rounds at Gomez, around the same time officers Fryman, Emerton, Vernon and Locher happened to be driving past the courthouse.
Gomez was pronounced dead at the scene. He was shot eight times, according to the Clark County coroner's office.
Authorities have said that had he survived the shooting, he would have faced charges of carrying a concealed weapon without a permit, unlawful possession of a short-barreled rifle and four counts of assault with a deadly weapon on a protected person — because of the claims made by the four officers who shot him that he had leveled a gun at police.
A lawsuit against Metro, the four officers who fired the fatal shots and Squeo was ongoing as of Thursday.
Llera, Gomez's mother, said any money awarded in the lawsuit would be used to create a nonprofit organization in her son's honor aimed at supporting causes that Gomez believed in: animal rights and homeless outreach.
She said Gomez, a vegetarian, was a true outdoorsman who loved hiking, kayaking and fishing. He was born and raised in Florida with his siblings but had always thought of Las Vegas as home, "because he loved the mountains."
In addition to his mother, Gomez is survived by his father, Jorge Sr.; stepmother, Rene Amador; older brother, Johnathan; younger sister, Jazmin; and nephew, Xavian.
"He was just the best of all of us," Llera said. "He had the best attributes of all of us: humble, kind, giving, super honest."
Contact Rio Lacanlale at rlacanlale@reviewjournal.com or 702-383-0381. Follow @riolacanlale on Twitter.
Report on Use of Force – Jorge Gomez by Las Vegas Review-Journal on Scribd