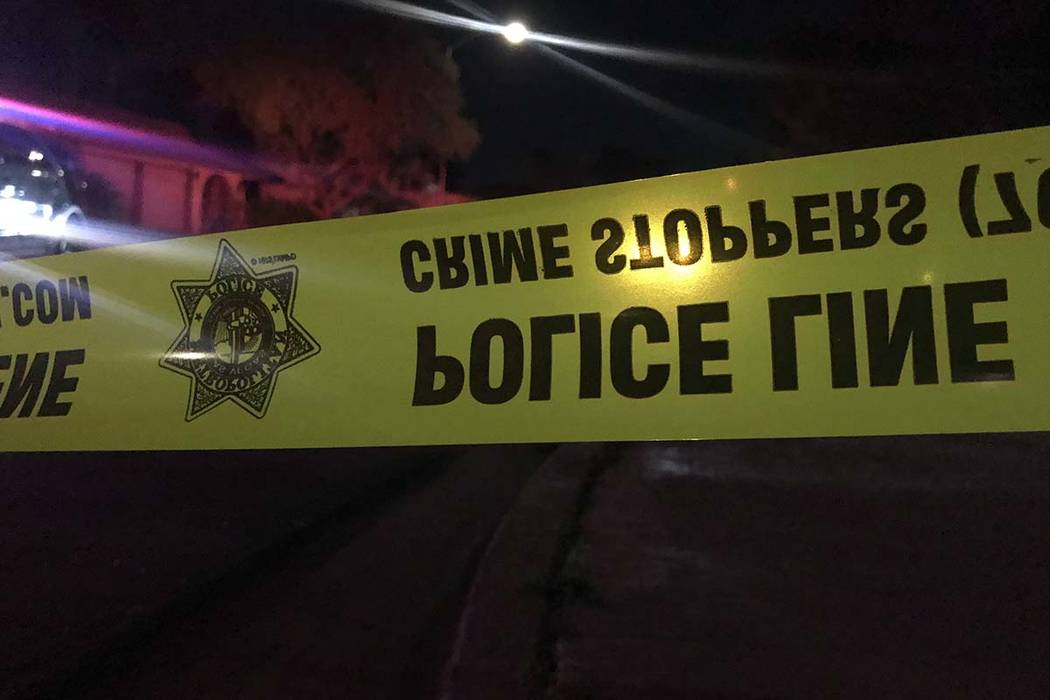 A man and a woman are dead after the second murder-suicide inside a vehicle in less than a week in the Las Vegas Valley.
About 11:20 p.m. Sunday, Metropolitan Police Department officers were called to the 4300 block of Alderbrook Court, near Torrey Pines Drive and Flamingo Road, where a car was parked with its engine running, police said. The man and woman, whom police said were in a relationship, were found inside, both with gunshot wounds to the head.
The woman was pronounced dead at the scene, while the man died at University Medical Center, according to police.
Neighbors who were hosting a barbecue told officers that they heard what they thought were fireworks nearby about 10:45 p.m. Sunday. Thirty minutes later, as guests were getting ready to leave, they noticed the vehicle and called police after realizing the occupants had been shot, police said.
Police believe the man, identified as 25-year-old Treasure Munhenga, shot his girlfriend, then shot himself. The Clark County coroner's office had not confirmed Munhenga's identity or released the woman's identity as of Monday.
The shooting marked the 30th homicide investigation in Clark County this year, and the 20th for Metro, according to Las Vegas Review-Journal records.
Previous deaths
Their deaths followed a murder-suicide inside a vehicle last week. Wednesday morning, a driver heading north on Eastern Avenue between Russell Road and Hacienda Avenue dialed 911 about 2:40 a.m. after watching a southbound car hit a curb and drive across all of the lanes, eventually coming to a stop in the northbound lanes, police said.
Inside, Sonya White, 23, and Shiloh Jeremiah Delph, 22, were found dead of gunshot wounds. Police believe Delph shot White before turning the gun on himself.
The two murder-suicides of young people have left "many in our community asking how and why?" SafeNest CEO Liz Ortenburger said in a statement.
"The most important thing to do is for young people to have conversations about what healthy relationships should look like," Ortenburger said.
That can be particularly true if someone grew up in a household with domestic violence, she said. About 75 percent of children in such households are likely to "repeat the cycle" of domestic violence as a victim or a batterer, she said.
"If that's your mom, then trying to navigate what you saw as a child and what you're going through as a teen" further compounds the problem, she said.
Changes in behavior, such as dressing differently, appearing more withdrawn or experiencing major anxiety about ones cellphone can be warning signs for domestic violence, Ortenburger said.
She urged anybody who feels they may not be in a healthy situation to reach out to a friend, loved one or an organization like SafeNest and loveisrespect.org, a resource that addresses dating abuse among young people.
Contact Mike Shoro at mshoro@reviewjournal.com or 702-387-5290. Follow @mike_shoro on Twitter. Review-Journal staff writers Lukas Eggen and Rio Lacanlale contributed to this report.
Resources for victims of domestic violence
— The Family Justice Center, 861 N. Mojave Road, offers a place for victims to seek free legal advice, file police reports, find temporary housing and receive help filing protection orders.
— SafeNest offers a shelter for domestic violence victims at a confidential location. Call 702-646-4981 or visit safenest.org.
— Shade Tree offers shelter for homeless women and children, along with domestic violence victims. Call 702-385-0072 or visit shadetree.org.
— The 24-hour hotline at the SAFE House shelter is 702-564-3227. For the Counseling and Advocacy Center, call 702-451-4203. Visit safehousenv.org.