Las Vegas police share details on 2 fatal shootings
Updated January 3, 2023 - 7:42 pm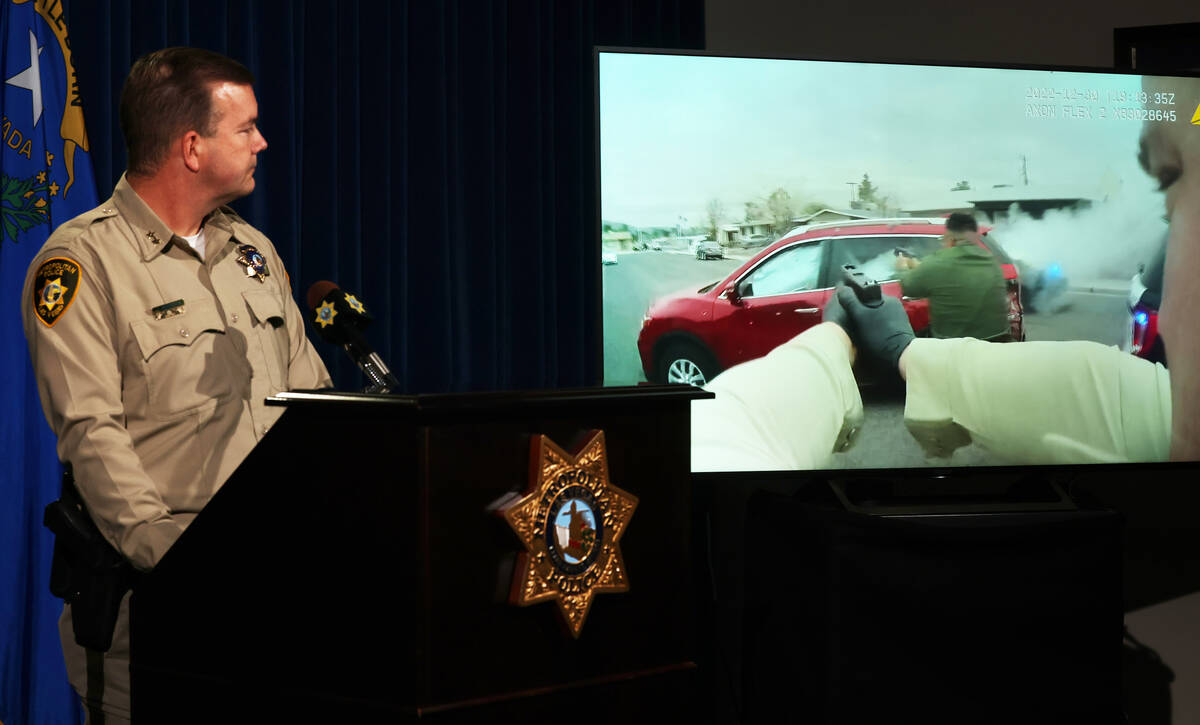 Las Vegas police provided more details Tuesday about the fatal shootings of two men by officers.
Metropolitan Police Department officers were dispatched at 11:01 a.m. Friday to the intersection of Nellis Boulevard and Bonanza Road, Assistant Sheriff James Seebock said. A biker "waved" at William Konkol, a 60-year-old Las Vegas resident, who was driving a car that the motorcyclist believed was stolen from a friend, police said.
Konkol yelled at the biker and pulled a Glock 23 on him, Seebock said. Before Konkol drove off, he ran over the motorcycle. The biker was unharmed.
An hour later when police tried to pull him over a few streets away, he led police on a two- to three-minute high-speed police chase that ended on 4000 block of Colusa Circle, according to police. In the body-camera footage, Konkol drove onto a dead-end where he tried to make a U-turn. Officer Justin Terranova, 28, slammed into the car.
From the body camera footage, when Terranova got out of the police vehicle, Konkol shot from his car. Officers Fernando Sotelo, 28, Alberto Guzman, 27, and Terranova began to shoot at Konkol.
"Konkol was able to put his vehicle in gear and then drove towards the officers," Seebock said. "Officers once again fired their weapons at Konkol, who then crashed into a brick wall in front of the house."
Officers fired a total of 41 rounds at Konkol, according to police.
If he had survived the shooting, police said. he would have faced charges of assault with use of a deadly weapon, evading, three counts of attempted murder on a public officer, three counts of assault with a deadly weapon on a public officer, resisting with a firearm, discharge a firearm from a vehicle, and grand larceny of a firearm.
Konkol was the eighth fatal police shooting of 2022, according to police.
In the second officer-involved shooting Friday, police were dispatched at 7:44 p.m. to the 10500 block of Angel Dreams Avenue in Summerlin, Assistant Sheriff Sasha Larkin said.
In this case, the fatal shooting was not caused by the officer, as an investigation determined that the deceased died of a self-inflicted gunshot wound, Larkin said.
The person, identified as 58-year-old Paul Horn Jr., shot himself just as officer Larry Jones fired a round from a rifle that wounded the man.
The Clark County coroner's office concluded that Horn fired the fatal shot, Larkin said.
Jones, 25, who has been with the department since 2019 and is assigned to the Summerlin area command, used his service weapon, a Geissele Super Duty 5.56 caliber rifle, to fire at the suspect, Larkin said.
The confrontation began after police received a call from a male and female, who are not being identified, about an alleged assault with a deadly weapon.
They reported that a man armed with a gun had "confronted them about speeding down the neighborhood," Larkin said.
At the news conference Tuesday, police showed video clips taken from Horn's surveillance system, in which he walks out and yells at a car in the street. After someone in the car said something to him, he turned and went back into his residence.
Officers, de-escalate the situation, established a containment maneuver around Horn's home. They used a patrol vehicle's public address system, instructing him to give up peacefully, according to Larkin.
From surveillance video taken at Horn's residence and shown at the conference, the panicked voice of an unidentified female can be heard, apparently trying to restrain Horn.
Jones was part of the containment team outside Horn's home. A female, who was not identified, immediately left Horn's home and followed instructions given to her by officers, according to Larkin.
About a minute later, Horn came out of the home's front door, again armed with his handgun, and "appeared agitated," Larkin said.
He made it to the sidewalk and ignored commands from officers to stop while he headed quickly in their direction, she said.
"As Horn walked toward officers, he raised the firearm in the direction of the officers and pointed the gun to his own head, firing one round from his handgun, and shot himself," Larkin said.
"Simultaneously, officer Jones discharged his rifle, striking Horn," she said.
Emergency personnel took Horn to University Medical Center, where he was pronounced dead shortly thereafter, she said.
Video camera worn by Jones only recorded audio during the shooting, which was played by police at the conference.
A male voice is heard saying: "Doors open, doors open, doors open, doors open, doors open, stepping out, very agitated. He's armed. Gun to his head. Shots fired, shots fired."
Images shot from a camera at Horn's front door showed him exiting the door with a handgun, then walking out front. Police halted the video during the conference when it was about to show Horn shot.
Contact Jeff Burbank at jburbank@reviewjournal or 702-383-0382. Follow him @JeffBurbank2 on Twitter. Contact Jimmy Romo at jromo@reviewjournal.com or call 702-383-0350. Follow @jimi_writes on Twitter.